An early transition to a carbon-free society is now a major global challenge, as we face the growing danger of climate change with its destructive planetary impact on the economy and social systems, among others. Climate change risks and a transition to a low-carbon society are bound to impact all industrial sectors. At Shionogi, we are carefully assessing climate change risks relating to our business activities, devising and implementing measures based on our EHS policy to minimize negative repercussions.
Climate change risks and opportunities
At Shionogi, we view global warming and other climate change-related issues as management challenges that we should tackle in earnest. Accordingly, we are pursuing an accurate understanding of climate change risks and opportunities. The table on the following page summarizes the climate change risks and opportunities that we have thus far identified as particularly relevant to Shionogi.
In this process of identification, we extracted risks and opportunities with reference to the Task Force on Climate-related Financial Disclosures (TCFD) recommendations and the Representative Concentration Pathways 2.6 and 8.5 (RCP2.6, RCP8.5) presented in the Intergovernmental Panel on Climate Change (IPCC) Fifth Assessment Synthesis Report (AR5). We thus measured the financial impact and probability of occurrence of the risks and opportunities, which were reported to the Corporate Executive Meeting and on which the Board of Directors passed a resolution.
In the future, the need for further energy conservation is expected to lead to regulatory reinforcement. In anticipation of the risk of imposition of more rigorous energy-saving targets, we are promoting a switch to more energy-efficient equipment according to schedule, while considering the introduction of renewable energy, including solar energy for power generation.
Climate change leading to localized extreme meteorological phenomena (typhoons, torrential downpours, etc.), as well as resultant disasters and accidents (damage to facilities, flooding, power outages, etc.), point to the risk of Shionogi's factories and domestic and international suppliers being affected, or becoming unable to maintain their production or supply systems. Therefore, we are formulating company-wide business continuity plan (BCP) measures in anticipation of such eventualities, including a dual-vendor system, to prepare for a long recovery time that could otherwise result in discontinued supply. Regarding manufacturing sites in Japan, to reduce the risk of short supply following a disaster or accident, necessary measures are put in place, including plant-specific BCP measures covering various aspects including even the restoration of manufacturing equipment and inventory control, to establish a stability-assured supply system for pharmaceutical products.
We can lower the operating costs of manufacturing equipment by effectively working on climate change-related issues and pursuing activities to further reduce CO2 emissions. In addition, given the worldwide trend of rapidly growing ESG investment, vigorous promotion of such initiatives represents the opportunity to improve external assessment by our stakeholders, enabling us to attract more investors. Shionogi is therefore actively implementing CO2 emission-reducing measures toward medium- and long-term targets, including science-based targets (SBT), and also publishing these efforts and the results therefrom to gain positive responses from our stakeholders.
Rising average atmospheric temperatures are expected to increase the number of infectious disease outbreaks and alter the distribution of organisms transmitting infectious diseases. These developments are likely to expand the need for medicines for infectious diseases. This represents an important business opportunity for a pharmaceutical company if it is capable of adequately responding to these needs. Accordingly, Shionogi is actively pursuing several policy measures to be able to provide necessary treatment medications, while maintaining the production of its existing drugs for infectious diseases. These measures include the research and development of drugs for new infectious diseases (including drugs for neglected tropical diseases or NTDs) and contributing to and receiving funds from the Global Health Innovation Technology (GHIT) Fund for the development of antibiotics.
Description
Financial impact
Probability of occurrence
Remarks
Transitional risk
(regulatory reinforcement)
Additional investment for energy conservation
Medium
(capital investment)
Intermediate
Supposing regulatory reinforcement on SBT criteria
Physical risk (extreme meteorological phenomena)
Discontinued operation due to damage to own plants
Large
(discontinued operation)
Low
Supposing damage to plants due to an extreme meteorological phenomenon equivalent to the July 2018 torrential rain
Physical risk (extreme meteorological phenomena)
Discontinued operation due to damage to the supply chain
Large
(discontinued operation)
Low
Supposing an increase in extreme meteorological phenomena in Asia affecting the supply chain
Opportunity (improved external assessment)
Increased investment by investors
Medium
(investment opportunity)
Intermediate
Supposing improvement in ESG assessment resulting from active information disclosure via Integrated/EHS Reports
Opportunity
(CO2 emissions reduction)
Reduced electricity cost through further energy conservation
Medium
(lower operating cost)
Intermediate
Supposing power consumption upon attaining conformity to SBT criteria
Opportunity
(new market entry)
Profit increase from climate change-related drug discovery
Medium
(profit)
Low
Supposing change in the market for tropical infectious disease (malaria) drugs
SBT (science-based targets), emissions targets based on scientific data, are also known as the corporate version of the 2-Degree Goal of the 2015 Paris Agreement. It is an international initiative to limit global warming to within 2°C above pre-industrial levels. To this end, corporations are urged to set targets compatible with a climate science-based emissions reduction scenario. Corporations adopting SBTs with a full awareness of global warming risks, and opportunities are likely to be viewed positively by institutional investors and financial organizations practicing ESG (environmental, social and governance) investment.
In FY 2018, Shionogi joined the SBT initiative of the Ministry of the Environment of Japan. With the SBT approval benchmark being revised from the 2-Degree Goal to the 1.5-Degree Goal in October 2019, it is becoming necessary to engage in energy-saving activities far more vigorously. Shionogi intends to incorporate SBTs in drawing up next medium-term goal setting, not to mention doing the necessary to respond to the 1.5-Degree Goal.
The Shionogi Group is actively working to reduce CO2 emissions to contribute to global warming mitigation.
The Federation of Pharmaceutical Manufacturers' Associations of Japan (FPMAJ) has adopted the goal of reducing CO2 emissions by pharmaceutical companies by 23% in FY 2020 (Phase I) and by 25% in FY 2030 (Phase II) from the FY 2005 benchmark as part of the FPMAJ's action plan to realize a low-carbon society. As an FPMAJ member, the Shionogi Group has set similar targets, including some voluntarily set above those of the trade organization. We also have an energy efficiency improvement target, a 1% improvement in specific energy efficiencies each year, toward which we are promoting the installation of highly energy-efficient equipment to reduce energy consumption. Moreover, we review our operational methods continuously.
Shionogi's CO2 emissions have been steadily decreasing, even following a marked drop in FY 2014 attributed to the fuel switch.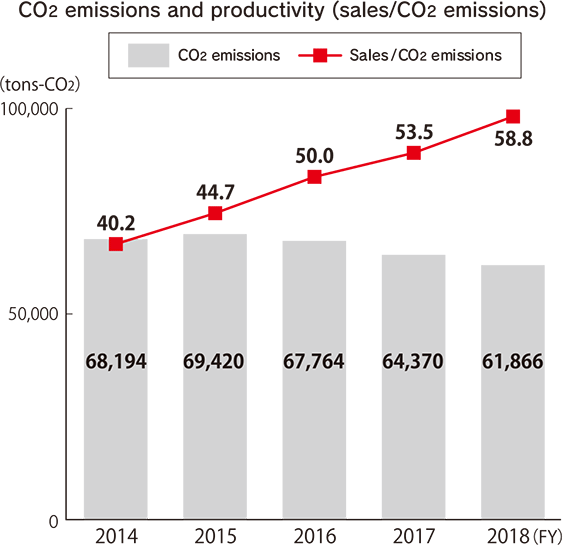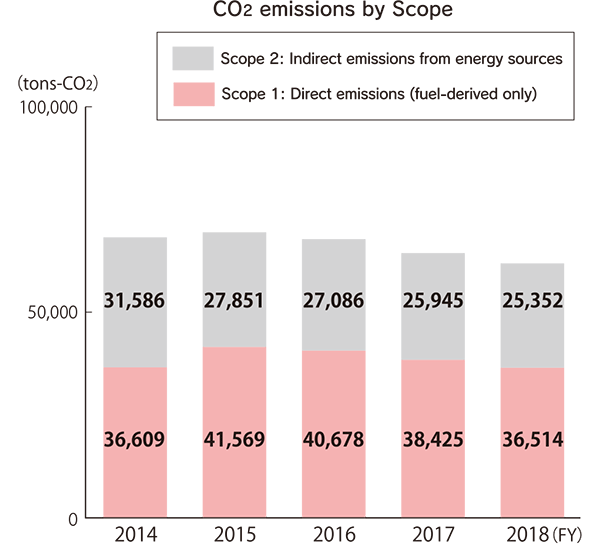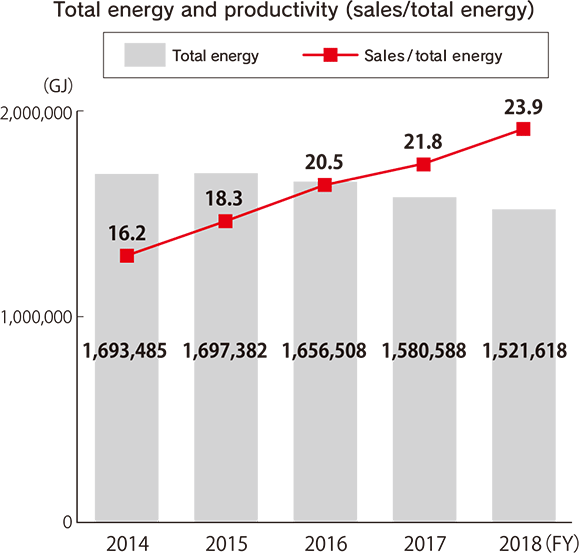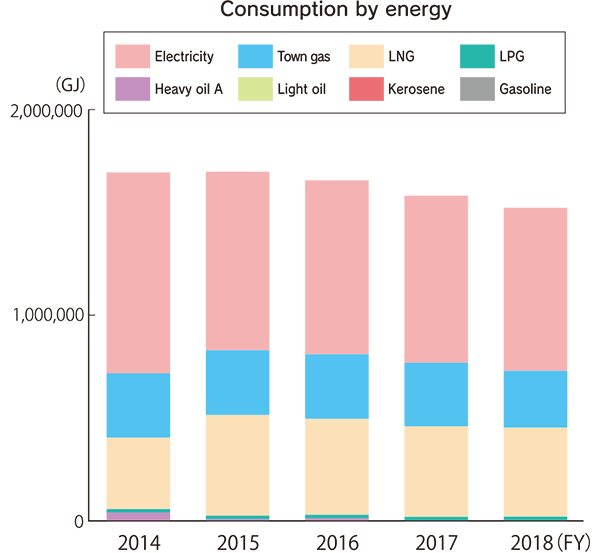 In April 2015, the revised Act on Rational Use and Proper Management of Fluorocarbons came into force, making it mandatory for business operators to inspect refrigeration and air-conditioning equipment and report leakage. Accordingly, Shionogi has identified applicable equipment, commencing systems of conducting simplified and periodic inspections, filing records, and calculating the amount of leakage. 
In FY 2018, Shionogi's calculated Fluorocarbon leakage amounted to 599 tons-CO2. With the Kigali Amendment to the Montreal Protocol[*1] now in force, we are promoting a switch to Fluorocarbon-free or low-GWP[*2] equipment on the occasion of renewal.
※1

The Montreal Protocol on Substances that Deplete the Ozone Layer, based on the Vienna Convention for the Protection of the Ozone Layer, restricts substances likely to destroy the ozone layer, namely chlorofluorocarbons (CFCs) and hydrochlorofluorocarbons (HCFCs). The Kigali Amendment to the Montreal Protocol, in force since January 2019, includes the restriction of production and consumption of hydrofluorocarbons (HFCs), a non-ozone-depleting CFC alternative with a high greenhouse effect.

※2

GWP: Global Warming Potential
Vehicles for sales activities
Shionogi is striving to reduce CO2 and gas emissions by improving fuel efficiency through, for example, promoting the introduction of more fuel-efficient hybrid vehicles (HVs) to be rented by our medical representatives (MRs). All vehicles for use by MRs in Japan are now HVs, except in cold regions.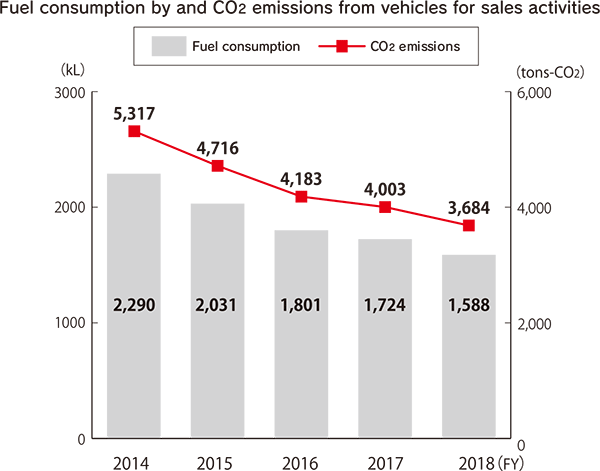 Scope 3 (Greenhouse gas emissions throughout the supply chain)
A company's business activities form a supply chain of its trade partners through purchasing, sales and so forth. For truly effective CO2 emission control, it is essential to measure CO2 emissions not only from the company's own activities but also throughout the supply chain.
At Shionogi, we measure our CO2 emissions throughout the supply chain of purchase/procurement, manufacturing, distribution, and sales in accordance with the "Basic Guidelines on Accounting for Greenhouse Gas Emissions Throughout the Supply Chain" published by the Ministry of the Environment and the Ministry of Economy, Trade and Industry of Japan.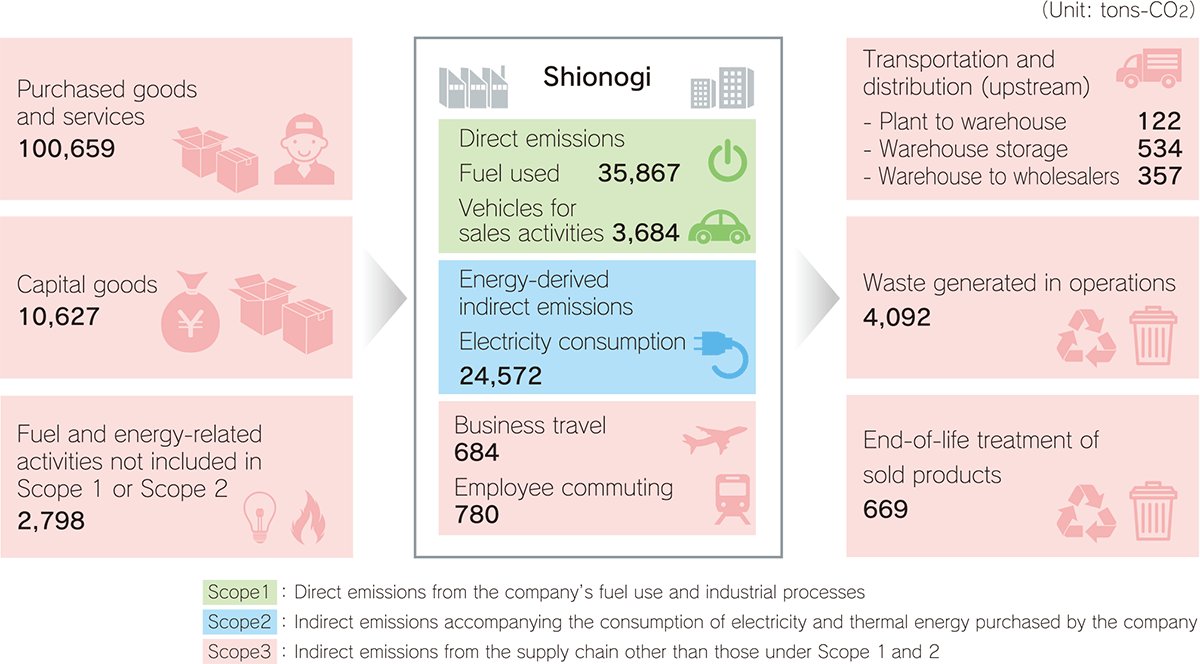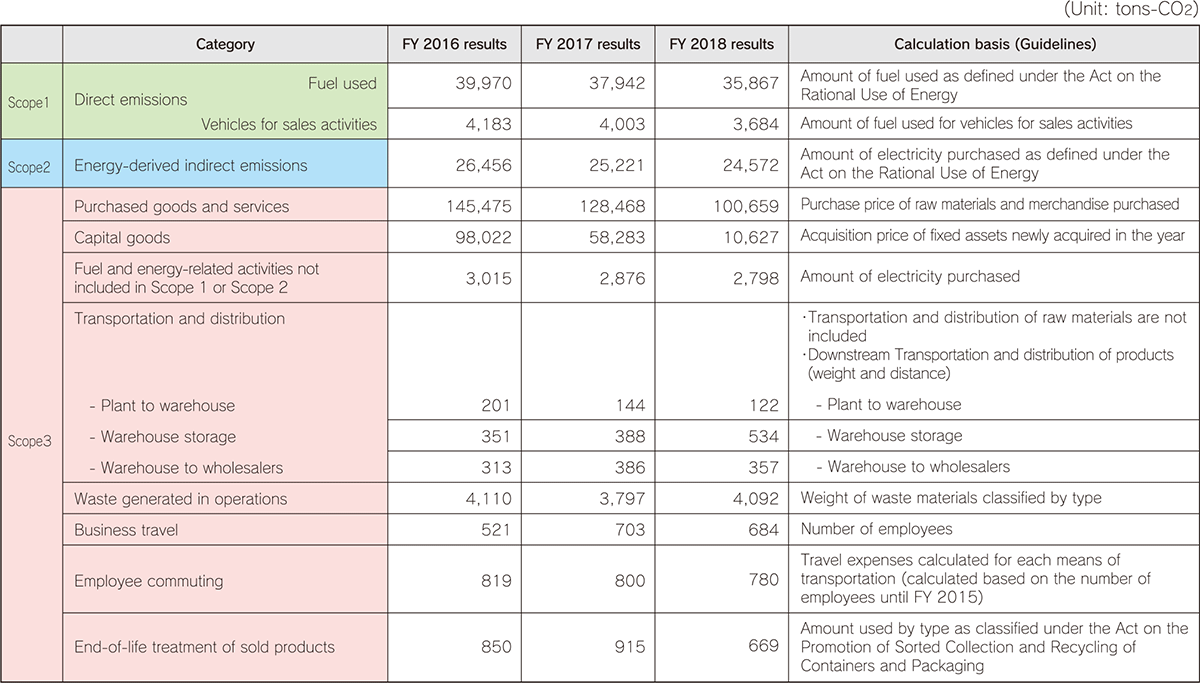 The calculation bases are as indicated in the "Basic Guidelines on Accounting for Greenhouse Gas Emissions Throughout the Supply Chain (Ver. 2.5)" of the Ministry of the Environment and the Ministry of Economy, Trade and Industry of Japan.
Commendation by the Chairman of the Iwate Prefectural Liaison Council on Environmental Protection
In May 2019, the Kanegasaki Plant was commended by the Chairman of the Iwate Prefectural Liaison Council on Environmental Protection in recognition of the plant's excellent environmental consideration as a business establishment. Concretely, the plant was highly evaluated for its co-generation system and energy-saving and flexible power consumption regulating systems making the most of the LNG satellite station, among many other measures for environmental protection.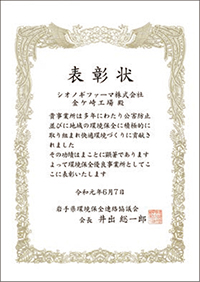 Ranked "S" for the fourth consecutive year in the assessment of business operators under the Energy Conservation Act
In FY 2016, a system was established under the Energy Conservation Act to evaluate and classify business operators into four ranks (S, A, B, and C) according to their energy conservation initiatives, thereby publicly announcing their environmental performance. Shionogi has been ranked "S" for the fourth consecutive year as an excellent business operator practicing advanced energy-saving initiatives.