The world population increase and economic expansion have brought about mass production, mass consumption, and mass disposal in our society, giving rise to serious environmental problems such as the depletion of natural resources, the destruction of the natural environment, and the rapidly growing need for sites for final waste disposal. Now the conservation of natural resources and environmental impact reduction are strongly being called for. More recently, environmental pollution due to marine plastic waste has also become a global issue.
In such a situation, Shionogi is striving to restrict waste generation and promote the reuse and recycling of resources based on its EHS policy, as it uses and disposes of numerous resources as raw materials of pharmaceutical products and research materials. With regard to plastics, Shionogi is promoting appropriate disposal and reduction in the amount of plastics used for products.
Shionogi disposes of about 3,800 tons of waste and 260 tons of plastic, and uses about 730 tons of plastics for products. Their impact on the environment is slight, but Shionogi is determined to continue to work on this social challenge of minimizing the negative impact on the environment.
Strategies for the reuse and recycling of plastic waste
At the G20 Summit held in Osaka in June 2019, the governments agreed on the reduction of additional plastic inflow to the ocean to zero by the year 2050, against the backdrop of the growing urgency of the problem of marine plastic waste. At Shionogi, we have been actively implementing measures to reduce negative environmental impact related to the products we sell. With regard to containers and packaging materials, we have thus far adopted measures to reduce their actual volumes and to switch to materials made of more environmentally responsible components. Specifically, we have been promoting a switch to carbon-neutral biomass plastic and the use of reused plastic of assured quality, while giving due consideration to our product quality and stable supply.
3R (Reduce, Reuse and Recycle) initiative concerning containers and packaging materials
By FY 2018, we completed the measures summarized in the table below.
For "Reduce," the volume of plastic we used dropped by 2.2 tons in FY 2018.
Measures
Description
Products concerned
Reduce
Change of material of trays(from plastic to paper)
All drugs provided in ampoules, vials and tubes
Change of thickness of eye drop containers (made thinner)
All eye drops
Change of thickness of PTP packaging materials (made thinner)
Flomox tablets
Discontinuation of use of plastic cushioning materials for bottles
Irbetan tablets, etc.

Reuse

Recycle

Inscription of plastic container/packaging material identification marks
All products
Adoption of mechanically recycled PET film
Intuniv tablets
Renewable

Biomass bottles
Cymbalta capsules, Irbetan tablets, Pirespa tablets
Shionogi uses biomass bottles (plant-derived polyethylene bottles) for Cymbalta capsules, Irbetan tablets and Pirespa tablets.
Biomass bottles are packaging containers made of polyethylene derived from materials left over in sugarcane processing. A switch from conventional petroleum-derived polyethylene bottles to biomass bottles reduces CO2 emissions and conserves fossil fuel resources (6 tons-CO2 reduced in FY 2018).
Since our biomass bottles are more than 90% made of sugarcane-derived polyethylene, they conform to the standards established by the Japan BioPlastics Association for biomass plastic identification labeling (the product container bears the label shown in the photo).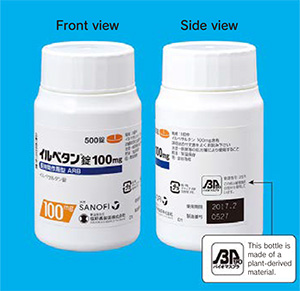 Biomass plastic identification labeling
Biomass plastic products are those that contain organic (such as plant-derived) materials in excess of a specified percentage as their plastic component. The Japan BioPlastics Association certifies products that meet the criteria and permits them to bear the mark.
Mechanically recycled PET film
Shionogi uses mechanically recycled PET (polyethylene terephthalate) film in the packaging (aluminum bags) of Intuniv tablets (production commenced in FY 2019). Mechanically recycled PET film is taken from used PET bottles, which are broken into pieces, cleansed, and subjected to high-temperature decompression treatment. The replacement of virgin PET film in the outermost layer of the aluminum bags with mechanically recycled PET film results in reduced CO2 emissions and fossil fuel conservation, while maintaining the quality of the packaged products.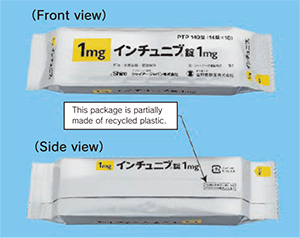 Prevention of illegal dumping
To prevent illegal dumping of industrial waste, Shionogi takes great care in selecting the business operators to whom we consign waste transportation, treatment or disposal. In our selection, we give priority to those officially recognized for their quality services, followed by others selected on the basis of their business licenses, treatment/disposal facilities, operational conditions, document management status, implementation of emergency drills, and so forth, using our contractor evaluation sheet. Upon selecting the operators, we ensure the appropriate management of contractual documents, licenses, and manifests (waste management sheets), conducting at least one on-site inspection per year for each operator.
Reuse and recycling of product containers and packaging materials
In compliance with the Containers and Packaging Recycling Act, a part of the containers and packaging materials used for the products sold by Shionogi are reused or recycled. At Shionogi, we are striving to reduce our environmental impact by modifying container materials and packaging forms, while making sure to maintain and improve product quality.
Containers and packaging materials used, amount consigned for reuse/recycling (FY 2018 results) (tons)
| | Containers and packaging materials used | Amount consigned for reuse/recycling |
| --- | --- | --- |
| Plastic | 735 | 155 |
| Paper | 483 | 12 |
| Glass (transparent) | 38 | 8 |
| Glass(brown) | 8 | 2 |
Reuse/recycling consignment fee: 8,755,000 yen
Resource Conservation and Waste Treatment
As part of its voluntary action plan to realize a reuse-and recycling-oriented society, FPMAJ has adopted the goals of reducing the amount of industrial waste disposed of as landfill in FY 2020 by 70% from the FY 2000 actual results and of reusing or recycling at least 55% of industrial waste in FY 2020. To contribute to the achievement of these goals as an FPMAJ member, the Shionogi Group has set its numerical targets for FY 2020, considering the manufacturing situations at the operating sites and the progress of related measures.
Waste materials generated within the Shionogi Group mainly include waste oils resulting from its manufacturing processes, sludge from used water treatment, and plastics used in product containers. We practice the "3R" approach (Reduce, Reuse, and Recycle) mainly by improving manufacturing processes, selling collected usable plastic and metal waste, and reducing liquid waste. With regard to plastics, we are striving to reduce the amount of waste by implementing thorough sorting of waste materials, ensuring appropriate handling by commissioned waste disposal service providers, and participating in community-based waste collection to prevent marine inflow.
Shionogi obtains its recycling rate by taking the amount of waste sold plus the amount reused/recycled and dividing it by the amount of waste generated. The landfill rate is defined as the amount disposed of as landfill divided by the amount of waste generated.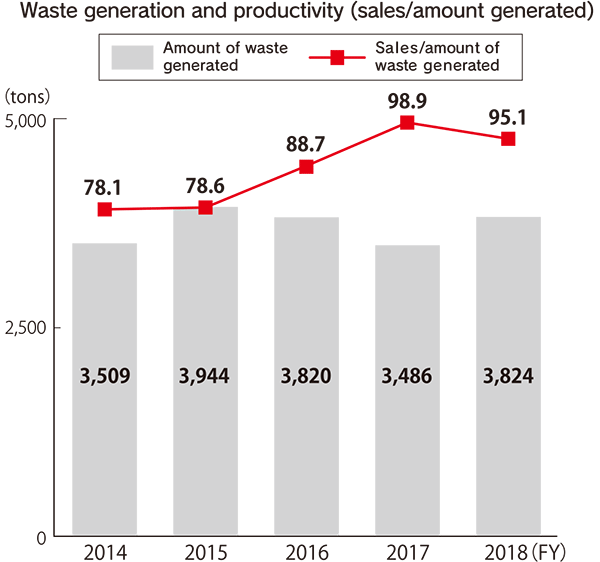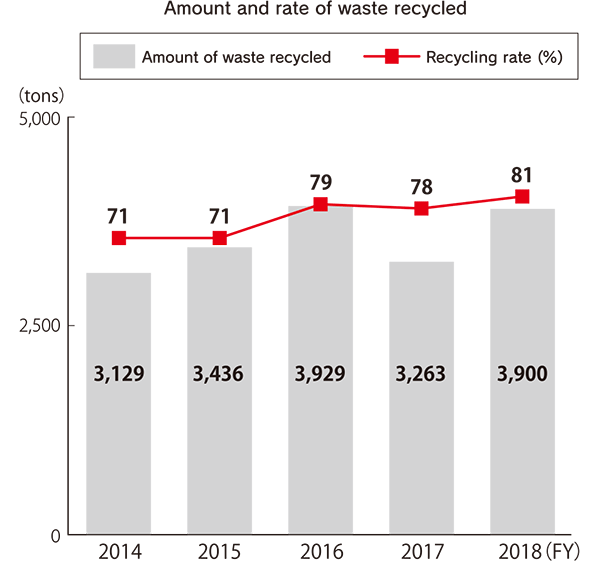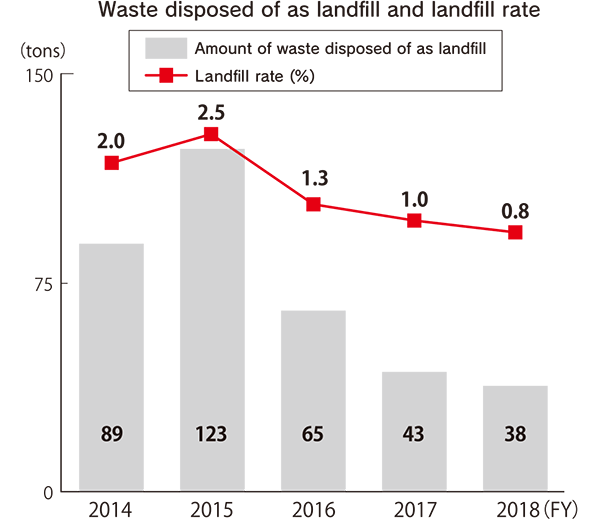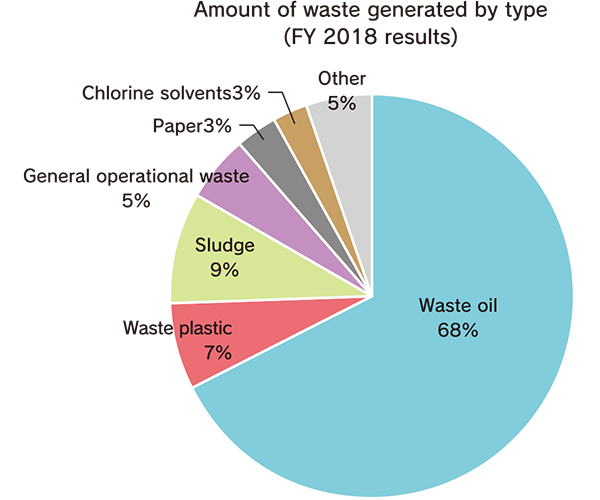 In-house reuse/recycling of resources
Organic solvents used during the manufacturing process of active pharmaceutical ingredients at the Kanegasaki Plant, such as dichloromethane, ethyl acetate, and methanol, are collected in-house for reuse, thus ensuring the effective use of resources and regulating waste generation.
Shionogi promotes green purchasing. Shionogi's intranet-based purchasing system facilitates searches for, and identification of, environment-friendly products, with the indication of "green product marks" attributed to such items. This system encourages the purchase of environmentally responsible office supplies that conform to formally recognized standards, such as those of the Eco Mark and the Green Purchasing Network.
Environmental pollution caused by marine plastic waste has become a major global issue. Since plastic waste generated overland can flow into the sea, carried by rain and wind via rivers, Shionogi personnel at the respective operating sites participate in clean-ups along the surrounding roads, removal of illegal posters, and other such initiatives organized in the local communities.