The world population increase and economic expansion have brought about mass production, mass consumption, and mass disposal in our society, giving rise to serious environmental problems, such as the depletion of natural resources, the destruction of the natural environment, and the rapidly growing need for final waste disposal sites. It is now imperative to conserve natural resources and reduce negative impact on the environment.
Environmental pollution due to marine plastic waste has also become a global issue. In such a situation, Shionogi is striving to be environmentally responsible. The Shionogi Group uses and disposes of resources as pharmaceutical ingredients, as well as research materials, equipment, and instruments, generating in FY 2019 some 3,100 tons of waste. As for plastic, in FY 2019 we used about 640 tons of plastic and generated about 280 tons of waste plastic.
We are striving to restrict waste generation and reuse and recycle resources while promoting the responsible disposal and implementing measures to reduce the amount of plastics used for our products.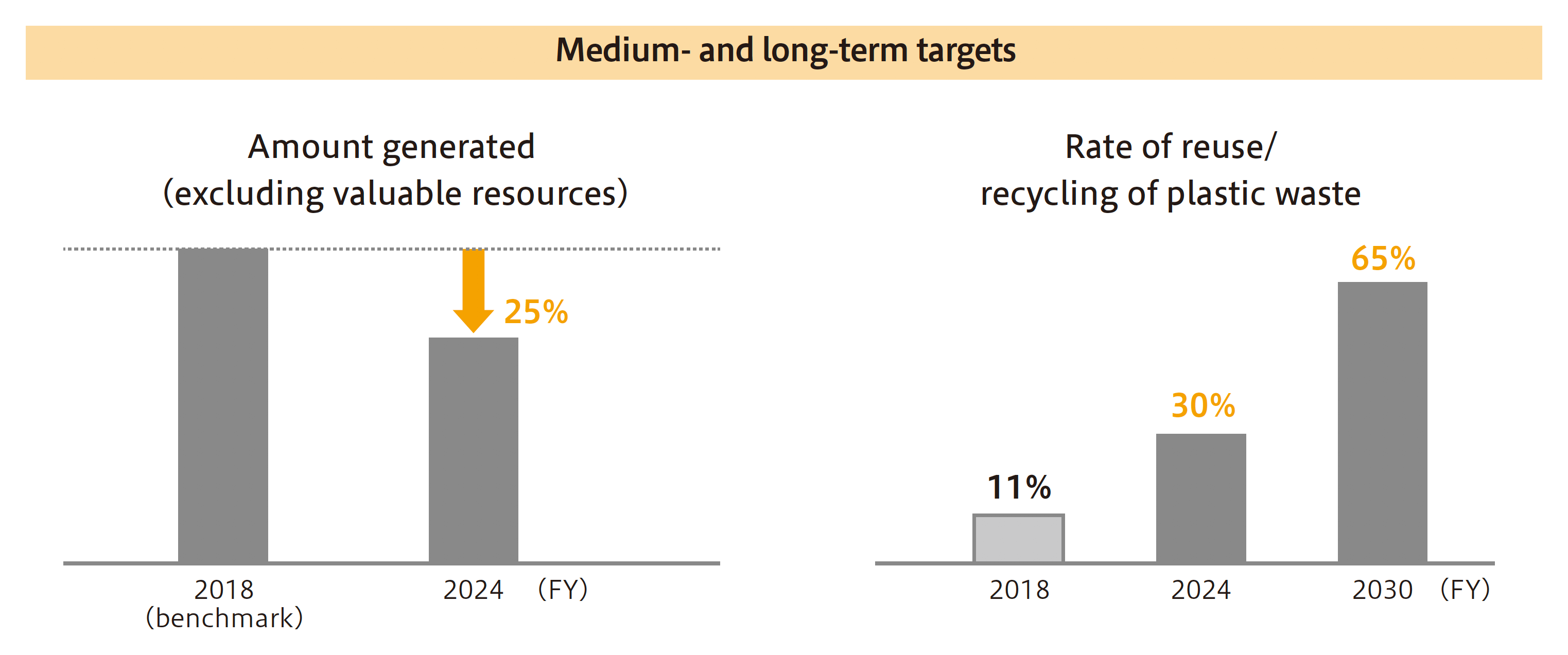 Waste Generation, Reuse and Recycling, and Disposal by Landfill
As part of its voluntary action plan to realize a reuse- and recycling-oriented society, the FPMAJ has adopted the goals of reducing the amount of industrial waste disposed of as landfill in FY 2020 by 70% from the FY 2000 actual amount and of reusing or recycling at least 55% of industrial waste in FY 2020. As an FPMAJ member, the Shionogi Group also set its numerical targets for FY 2020, considering the manufacturing situations and the progress of related measures at the operating sites.
Waste materials generated within the Shionogi Group mainly include waste oils resulting from its manufacturing processes, sludge from wastewater treatment, and plastics used in product containers. We practice the "3R" approach (Reduce, Reuse, and Recycle) through various measures, such as improving the manufacturing processes, selling waste liquids, plastics and metals, and reducing the amount of waste liquids generated. (For Shionogi's efforts to reduce plastic use, refer to "Strategies for the reuse and recycling of plastic waste" on Page 9.)
Shionogi obtains its rate of reuse and recycling by taking the amount of waste sold plus the amount reused/recycled and dividing it by the amount of waste generated (including valuable resources). 
The landfill rate is defined as the amount disposed of as landfill divided by the amount of waste generated (including valuable resources).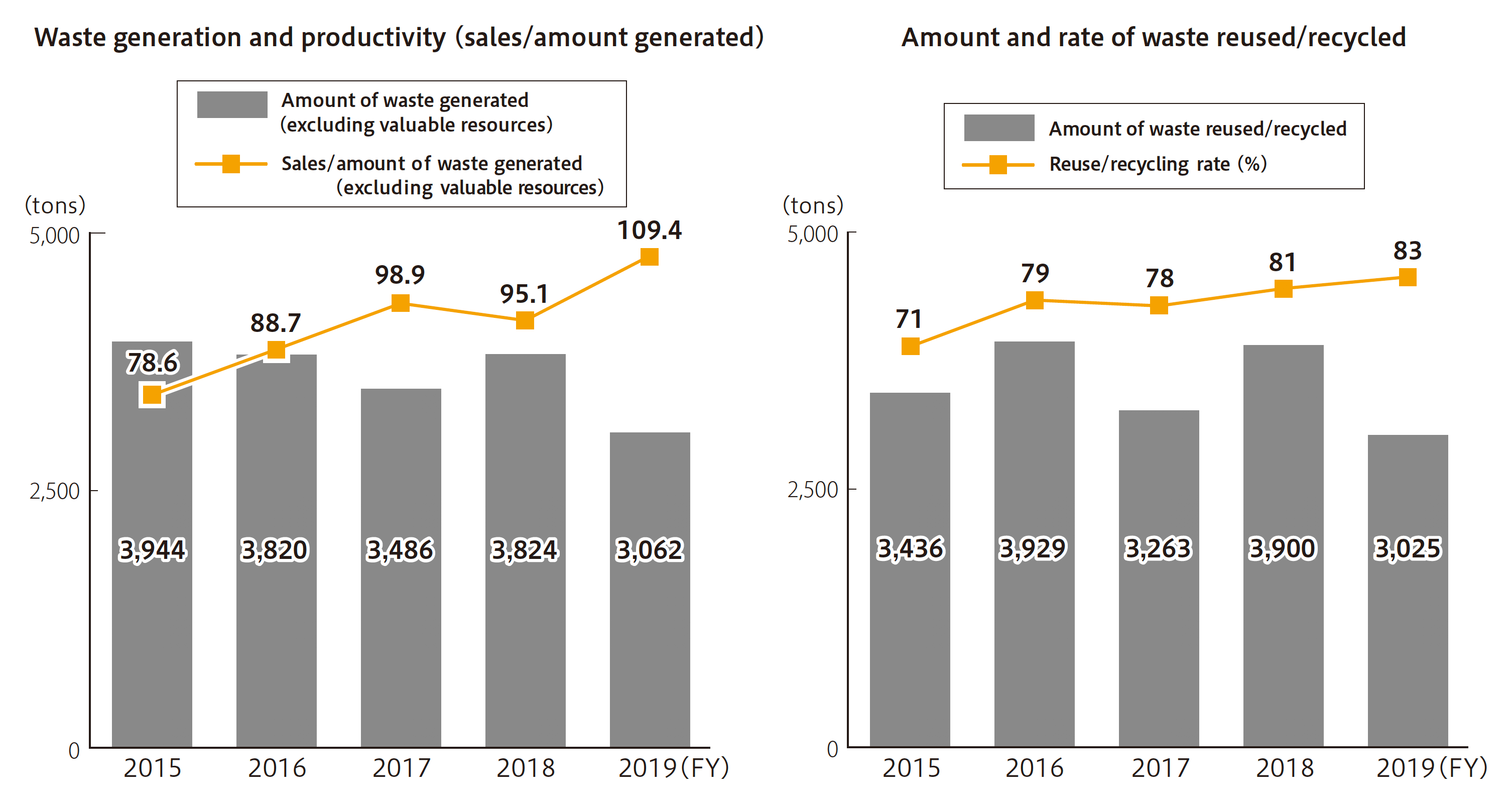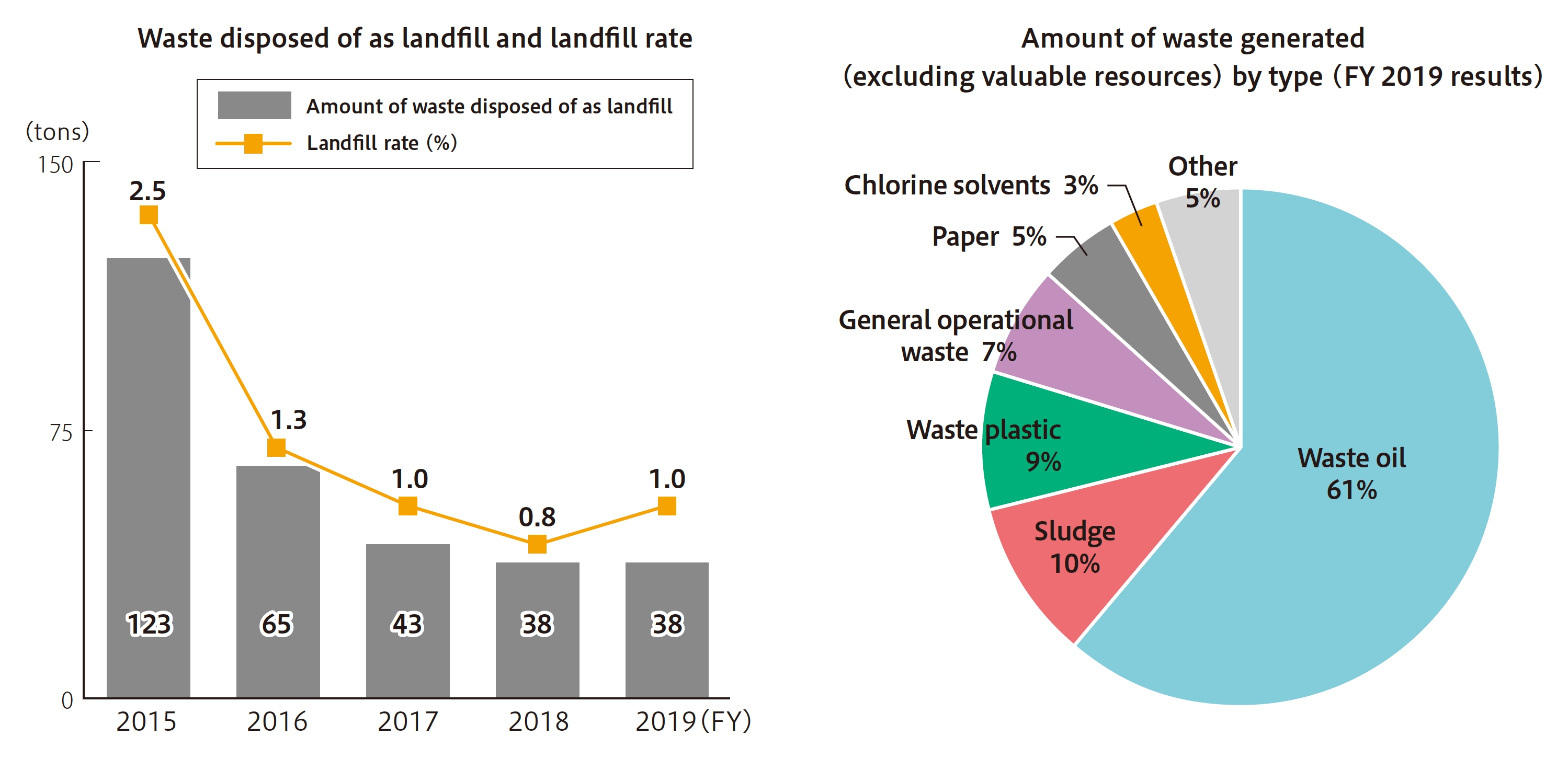 Prevention of illegal dumping
To prevent illegal dumping of industrial waste, Shionogi takes great care in selecting the business operators to whom we consign waste transportation and treatment/disposal, giving priority to those officially recognized for their quality services. In addition, we verify the quality of their operation on the basis of their business licenses, treatment/disposal facilities, operational conditions, document management status, implementation of emergency drills, and so forth, using our contractor evaluation sheet. Upon selecting the operators, we ensure the appropriate management of contractual documents, licenses, and manifests (waste management sheets), conducting at least one on-site inspection per year for each operator.
Reuse and recycling of product containers and packaging materials
In compliance with the Containers and Packaging Recycling Act, we put to reuse and recycling a part of the containers and packaging materials used for the products we sell. We are also striving to reduce our environmental impact by modifying container materials and packaging forms while making sure to maintain and improve product quality.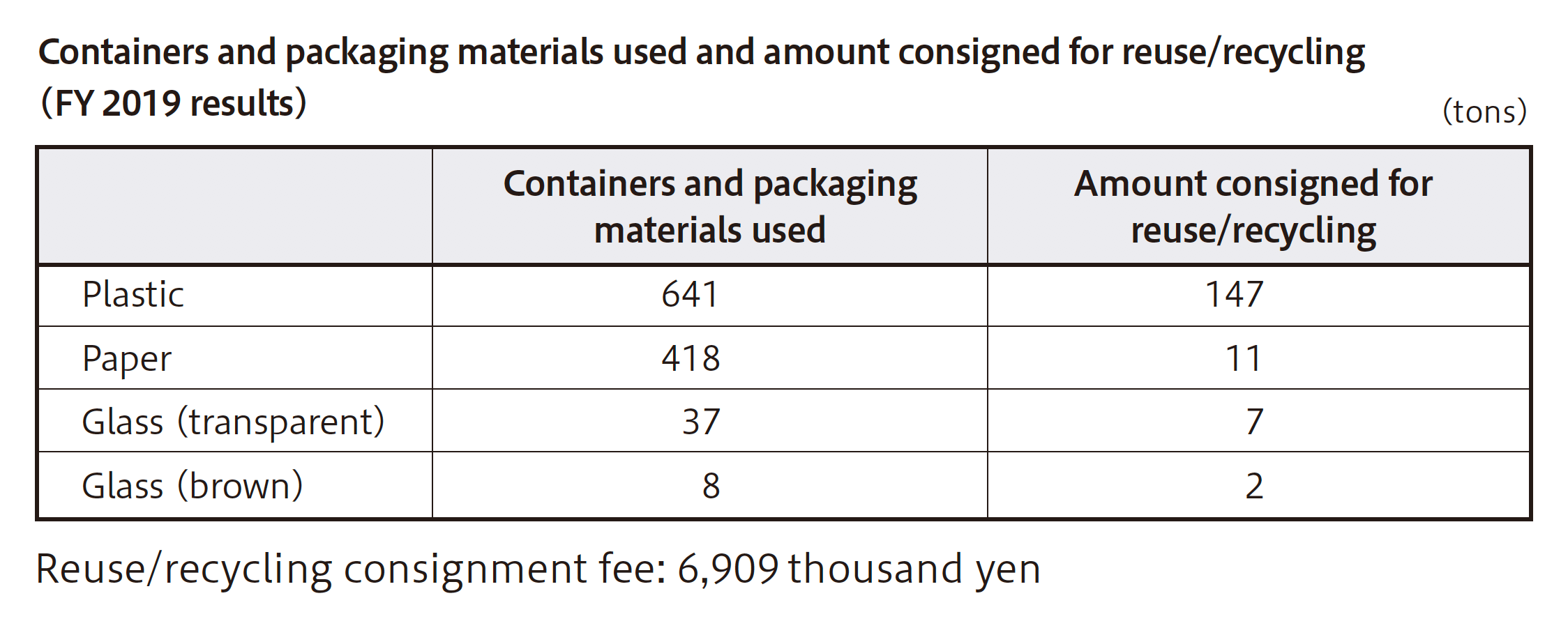 In-house reuse/recycling of resources
Organic solvents used during the manufacturing process of active pharmaceutical ingredients (API) at the Kanegasaki Plant, such as dichloromethane, ethyl acetate, and methanol, are collected in-house for reuse, thereby effectively using resources and regulating waste generation.
Environmental pollution caused by marine plastic waste has become a major global issue. Marine plastic waste can partly be traced back to plastic waste generated overland and carried into the sea by rain and wind via rivers. Therefore, personnel at Shionogi's respective operating sites participate in clean-ups along the surrounding roads, removal of illegal posters, and other such initiatives organized in the local communities.