Second Term Project (Kilifi County): Year 2 Activity Report
Year 1
Year 2
Year 3
April 2020 to March 2021
April 2021 to March 2022
April 2022 to March 2023
Main activities
Establish a base for health professionals and systems
Strengthen and expand community activities
Establish a sustainable community health system

Conduct a baseline survey
Build health facilities (obstetric ward)
Deliver basic technical training for medical professionals
Train health professionals in the local communities
Launch and train advocacy groups

Build health facilities (obstetric ward, clinical lab, etc.)
Build water supply facilities
Deliver health and nutrition refresher training
Monitor health and nutrition activities in the local communities and strengthen guidance on these activities

Monitor health and nutrition activities in the local communities and strengthen the system of guidance on these activities
Evaluate activity results and identify issues
Strengthen cooperation with government officials
YEAR 2 Progress of project activities
Improving access to maternal and child health services
Building community-based systems for improving people's nutritional and water hygiene habits
Enhancing health system management
Improving access to maternal and child health services
Limited access to health services
People who have no health facilities within 5 km from home
Over 60%
Mobile clinic users
(Vaccination, nutritional status monitoring, anthelmintic, Vitamin A provision)
10,635 persons
Clinical laboratory construction
2 wards
Number of patients served at healthcare facilities
(Prenatal examination, delivery at a childbirth/healthcare facility with the assistance of a specialist, vaccination, Vitamin A provision, etc.)
61,726 persons
Improving access to maternal and child health services
Shortage of medical professionals and their skills
# of medical personnel at a local health facility
1 or 2
Training for medical professionals, community health workers, and MTM groups
Maternal and child health
Nutrition and hygiene
Malaria
Family planning
Establishment of Mother to Mother (MTM) groups
33 groups in 3 regions
444 members in total
Building community-based systems for improving people's nutritional and water hygiene habits
Limited access to safe and clean water
Usage rate of improved hygiene facilities (toilets)
5%
Water supply facilities
Water storage tank
1 unit
Training in sanitary facility construction
16 villages
Hygiene in communities
Provision of disinfectant and hand soap: 64 schools, 3 clinics, and 3 MTM groups
Building community-based systems for improving people's nutritional and water hygiene habits
Lack of knowledge of local residents, drought and the consequent water shortage, and difficulties cultivating crops
Severe malnutrition and a high poverty rate
46.4%
Provision of chickens to community residents
2,000 chickens
Provision of guidance on poultry farming
Nutritional status screening for children under 5 years old
1,024 children
Enhancing health system management
Insufficient commitment of local governments (medical budget/cooperation)
Local government medical budget
26%
Training for advocacy groups (for creating a budget)
39 persons
Regular meetings with regional government officials and partners
Twice
Reported period: April 2021 to March 2022
Description of activities
Improved access to maternal and child healthcare services
Healthcare facilities (maternity ward, clinical laboratories, etc.)
Opening ceremony for maternity wards
An opening ceremony for maternity wards was held on October 13, 2021 at Midoina and Jaribuni.
Construction of a maternity ward, clinical laboratories and staff accommodation is currently underway at Rima Ra Pera, and required equipment is being supplied.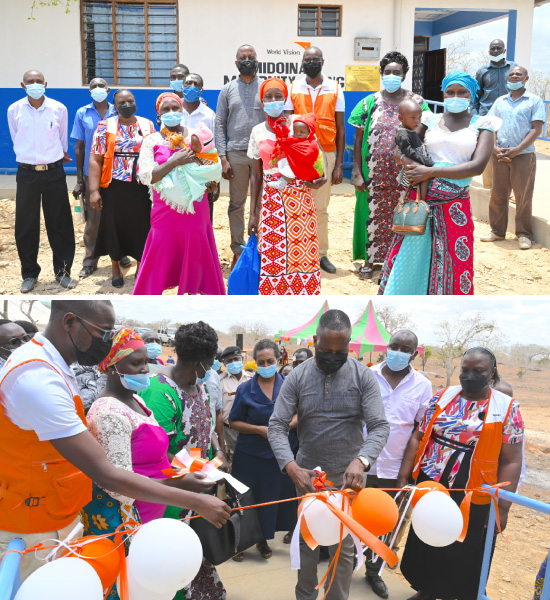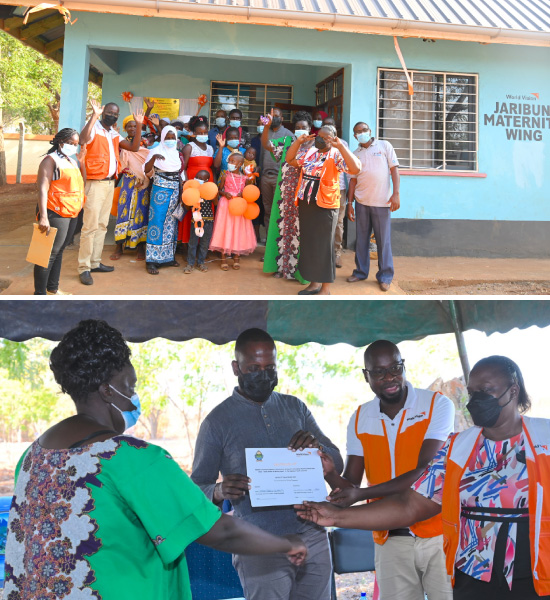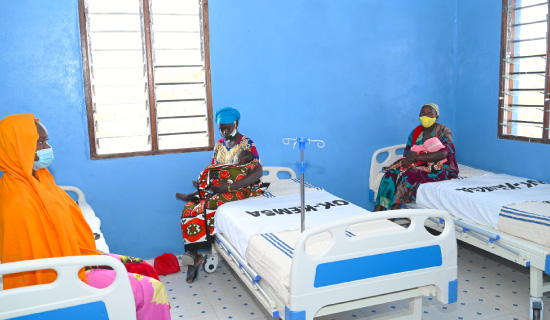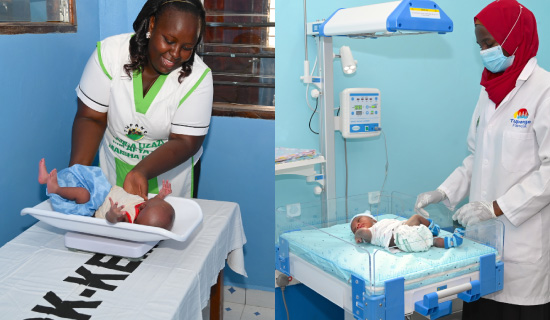 Mothers and children receiving healthcare services in the newly constructed maternity ward
Training for healthcare professionals
Implementation of Supportive Supervision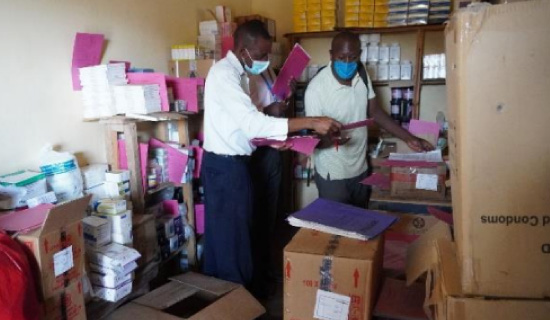 Visits by the sub-county's Ministry of Health and project staff to each healthcare facility to:
review operations including facility management, provision of services, inventory management of medical supplies
check the status of the preparation of documents and data for record-keeping and reporting
These visits found inadequacies in the inventory of medical supplies and record-keeping on the status of services provided. The clinics were instructed to liaise with the sub-county procurement officials to proceed with purchasing.
Training on data management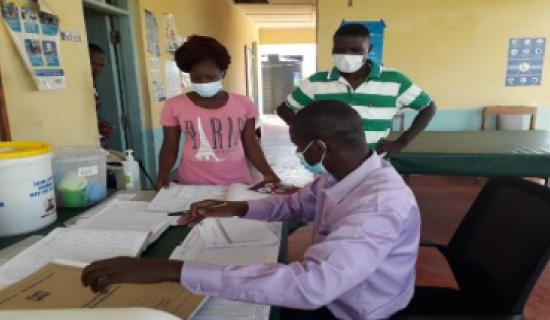 Data review meetings on maternal and child health and nutrition at each clinic
Data review and validation (comparison with previous years)
The proportion of households with mothers delivering at a facility and the percentage of expectant mothers who received antenatal care four or more times are improving. The percentage of children who are fully vaccinated is considerably lower than government targets (target: 85% vs. actual: 50%).
These current conditions were revealed in the review of data, providing opportunities to discuss how healthcare services can be made accessible to more people.
Training for Community Health Volunteers, Community Health Assistants, and Community Health Committees
Community Health Volunteers (CHVs)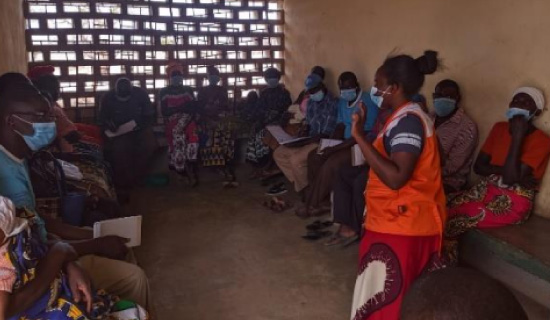 Monitoring activities by Ministry of Health officials and discussions on issues
Monthly meetings
CHVs expressed concerns about impacts on agricultural production due to lower rainfall than in previous years, and shared the challenges they face (i.e., knowledge gap between healthcare workers, difficulties in visiting households located far away, limited construction of toilet facilities, etc.)
Mother to Mother (MTM) group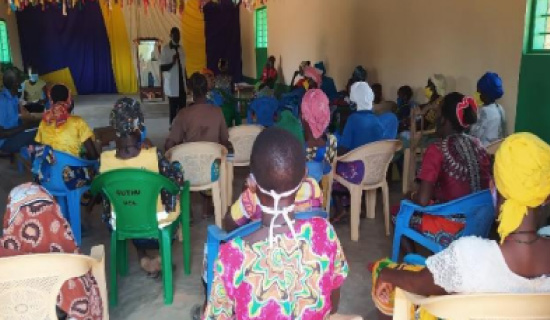 Trainings on maternal and child health and nutrition
Monthly meetings
Information shared among mothers (i.e., on the construction of sanitation facilities in communities and kitchen gardens, etc.)
Establishment of mechanisms for improving nutrition and water hygiene practices
Strengthened efforts to improve nutrition in communities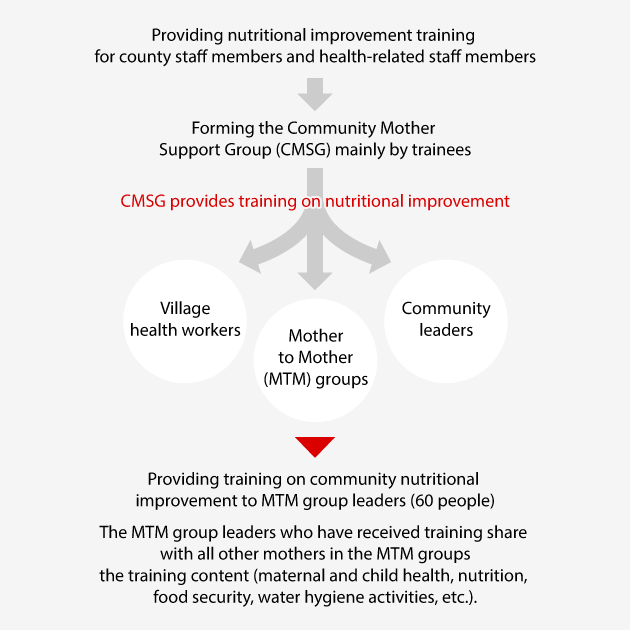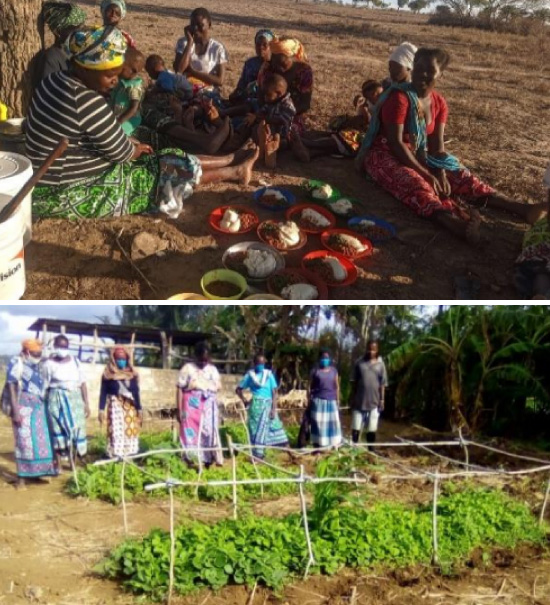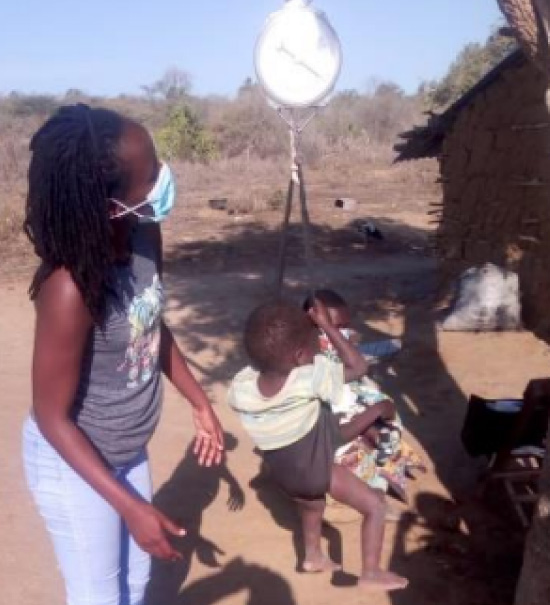 Development of water supply facilities and sanitation training for communities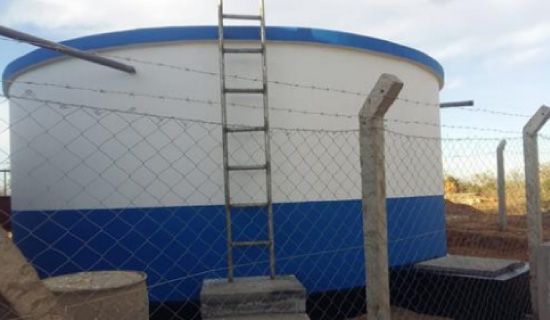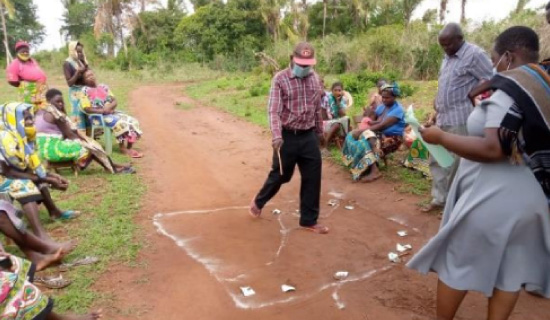 Strengthening the health system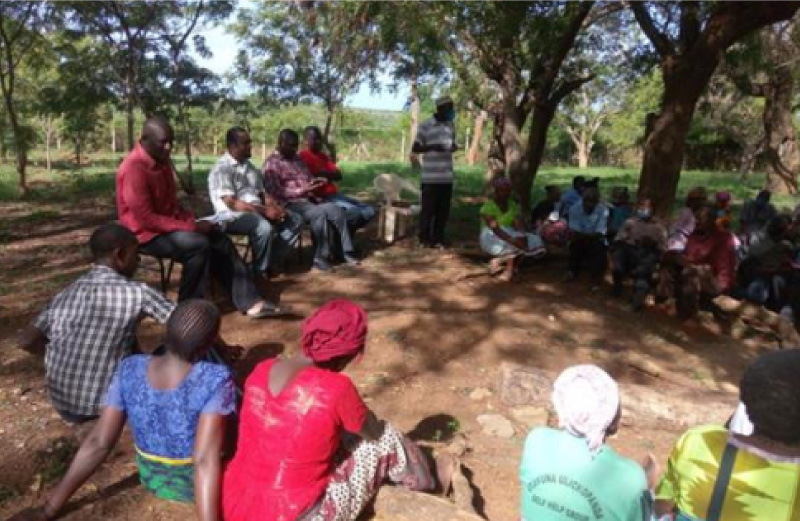 Voices from the community
Jacob Mwangi, Medical Laboratory Coordinator in Ganze Sub-County
Before the Mother to Mother project began, there were only 3 clinical laboratories and 5 laboratory technicians in Ganze Sub-County. With limited equipment and supplies, it was a challenge to provide prenatal checkups for all pregnant women in the area. Currently, with the support of the Mother to Mother project, I visit the health facilities in Rima Ra Pera and Jaribuni once a month, which has enabled us to provide health services to a total of 453 local mothers. In addition, the project has provided us with microscopes and other laboratory equipment, allowing us to provide more advanced health services. We are very grateful for your support.