The Shionogi Group appoints a Senior Executive Officer as Corporate Officer in Charge of EHS Affairs to supervise overall EHS management. The Corporate Officer in Charge of EHS Affairs heads the Shionogi Group Central EHS Committee comprising representatives of Shionogi's respective divisions and the Group company presidents, who are responsible for EHS affairs at the respective companies. The Central EHS Committee sets goals, measures the status of their achievement, identifies future challenges, and conducts risk assessment and other reviews, thereby promoting EHS activities. A system is in place that allows EHS initiatives by the Shionogi Group as a whole to be reported to the Board of Directors via the Corporate Executive Meeting.
With regard to measures for energy conservation and global warming control, the Energy Conservation Committee, chaired by the Corporate Officer in Charge of EHS Affairs and placed under the Central EHS Committee, assumes duties such as setting medium-and long-term goals, managing progress, and assessing the status of legal and regulatory compliance.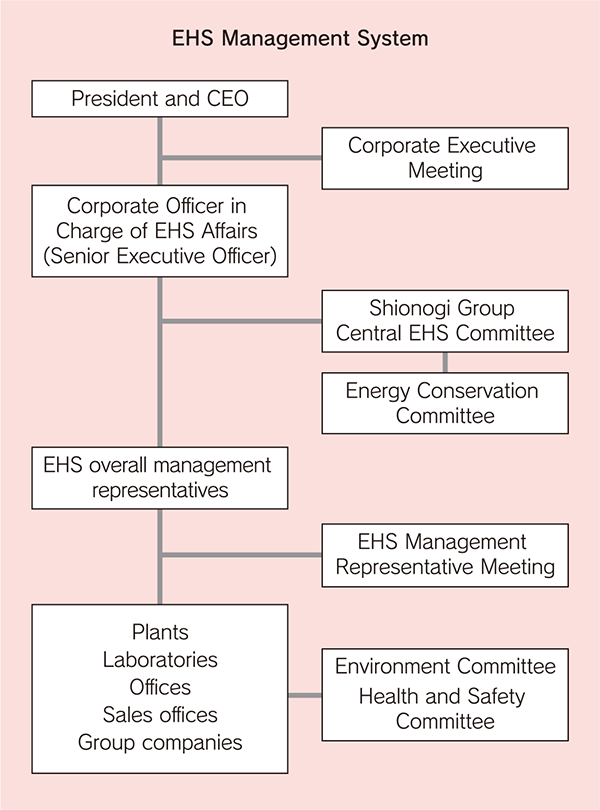 The Shionogi Group uses management systems established in-house in conformity with ISO14001.
The Shionogi Group's EHS activities, including risk management, are reviewed as a whole each year by the Central EHS Committee to verify their efficacy and suitability. Matters of importance are reported to the Board of Directors via the Corporate Executive Meeting.
Shionogi conducts the following audits.
| Audit | Description |
| --- | --- |
| External audits | Conducted by external accreditation organizations to verify that Shionogi's ISO 14001- and OHSAS 18001-certified management systems are operated in conformity with the standards |
| Internal audits | In-house self-inspection required under ISO 14001 and OHSAS 18001 conducted to confirm system suitability and status of conformity |
| EHS audits | Conducted by the EHS Office, which supervises the Shionogi Group's EHS initiatives, as directed by the management team; conducted separately from internal audits, to check whether EHS activities at Shionogi's operating sites and Group companies are appropriately implemented and maintained in compliance with the management systems, while pursing continuous improvement |
| EHS audits of suppliers | Audits of Shionogi's suppliers of raw materials and intermediates; conducted by EHS Office personnel in compliance with the PSCI Principles |
Shionogi recognizes the importance of employees' being fully aware of the challenges of EHS initiatives in connection with their respective operations and actively pursuing them. Accordingly, the employees are provided with training programs on environment-related subjects, as well as preliminary education relating to operations with high environmental impacts, such as the management of waste materials and the handling of chemical substances. At each operating site, personnel are clearly informed of the target and actual figures of CO2 emissions and the quantities of generated waste materials to encourage vigorous employee involvement. Education on health and safety is also carried out at each site in accordance with the risks it faces.
EHS is closely related to the whole spectrum of corporate life, ranging from raw material procurement to research, development, manufacturing, sales, use and disposal.