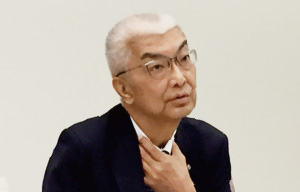 Yoshiaki Kamoya
Corporate Officer in Charge of EHS Affairs
Senior Executive Officer

In 2015, the United Nations adopted the Sustainable Development Goals (SDGs) as goals that should be achieved by 2030 on a worldwide scale in terms of poverty and hunger, health, energy, climate change, peace in society, and so forth. Along the same line of thought, in Japan, where Shionogi is headquartered, the importance of measures to address the declining birth rate and populating aging, reinforced actions to combat climate change, and expansion of ESG investment[*1] are being increasingly recognized. In this situation, we at Shionogi have renewed our commitment to activities to find solutions to social challenges so that we may continue to grow hand in hand with society as a drug-discovery-based pharmaceutical company, enjoying trust and expectations in all areas of our activities including EHS affairs from many stakeholders, for many years to come.
In Shionogi's Medium-Term Business Plan, "Shionogi Growth Strategy 2020" (SGS2020), our ongoing growth strategy for the year 2020, we uphold our goals of tackling social challenges and enhancing corporate value. We are aware that, in order to actively contribute to society in the economic, social and environmental realms through our innovative drug discovery, environmental protection and employees' health and safety, which are mentioned in the SDGs, are not merely corporate social responsibilities but are the most important prerequisites for our corporate existence. Accordingly, we carefully measure and assess our EHS-related risks and environmental impact, operating in conformity with the Shionogi Group EHS Action Targets. We thus vigorously pursue EHS activities in all our corporate activities not only within the Shionogi Group but throughout its supply chain.
Our vision is to be and remain a business group that actively contributes to realizing a sustainable society by serving all of its stakeholders with corporate and social value. With the ESG Action Plan in place to further promote our ESG activities, we are focusing our efforts on the following global challenges, involving the entire supply chain in corporate activities relating to the environment.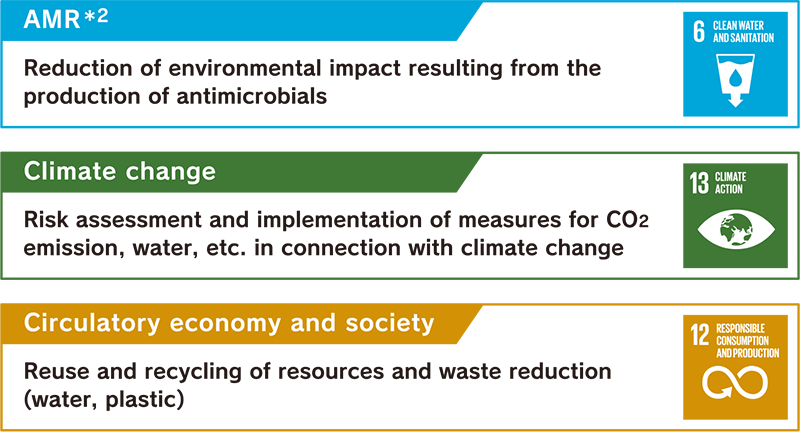 To widely inform Shionogi's stakeholders of its EHS efforts and gain their understanding, we regularly disclose relevant information, starting with the publication of the EHS Report in FY 2017. Further reinforcing our engagement with our stakeholders in this manner and through our efforts as described above, we continually strive to enhance our corporate value in a sustainable manner.
※1

ESG investment: Investment in shares on the basis of companies' performance in terms of environmental, social, and governance aspects.

※2

AMR: antimicrobial resistance.




Shionogi Group EHS Action Targets
1

Promote energy conservation and global warming control measures.

2

Strengthen resource conservation and waste treatment/disposal measures.

3

Manage chemical substances appropriately.

4

Develop EHS management systems.

5

Ensure a sound aquatic environment.

6

Contribute to biodiversity preservation.

7

Work toward zero occupational accidents resulting in lost work time.

8

Introduce EHS initiatives to the supply chain.

9

Promote health and productivity management.