Our Code reflects our Heritage, Vision, Values and Ways of Working (WOWs)
Shionogi Europe's Ways of Working (WOW's) have been woven into the fabric of Shionogi Europe since we launched in 2012. It is through our WOWs that we bring Shionogi's global values to life. Our WOWs and values shape our culture, inform this Code, and guide our decision making so that Shionogi can achieve our global vision of "building innovation platforms to shape the future of healthcare".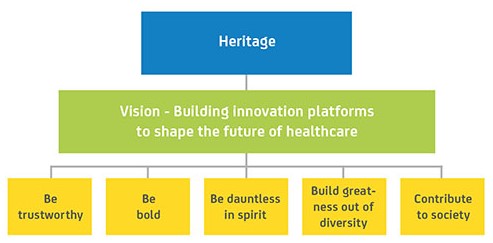 Global Values
1. Be Trustworthy: We pursue honesty, accuracy, fairness and transparency
to uphold society's trust in us.
2. Be bold: We are forward-looking, flexible, innovative and embrace change.
3. Be dauntless in spirit: We aim high, remain competitive, strive to achieve our goals and never give up.
4. Build greatness out of diversity: We celebrate our diverse backgrounds and appreciate that our different perspectives allow us to all achieve our best. We are inclusive and treat everyone equally and with respect.
5. Contribute to Society: We aspire to help people lead longer, healthier lives, support our communities and sustain the global environment.