This page describes Shionogi's manufacturing activities.
Shionogi strives constantly to provide the best possible products for people's health. We put priority on safety and environmental protection as well as product quality in our manufacturing activities.
1

Pursuit of quality: Every product we make should be of the highest quality and give people peace of mind.

2

Environmental protection: All living things on earth are entitled to good health.

3

Securing employee safety: Employees should be able to work with confidence to provide the best possible products.
Establishment of Shionogi Pharma
The new company Shionogi Pharma Co., Ltd., was established on October 1, 2018, to integrate the manufacturing-related functions of the Shionogi Group and began operations on April 1, 2019. In addition to pharmaceutical manufacturing functions, Shionogi Pharma is equipped with manufacturing and sales capabilities with functions in quality assurance and in supply chain, sales, and operations management. It thus has potential to develop a contracting business not only in drug manufacturing but also in investigational drug studies, analytical testing, pharmaceutical engineering, and other areas.
Through strengthening of manufacturing-related functions, we aim to move swiftly ahead with measures to ensure stable supply at reduced cost, maximize the value of long-listed drugs, and expand our contracting business. In this way we will not only advance Shionogi's business strategy, but also contribute to maintaining and improving the health of people around the world.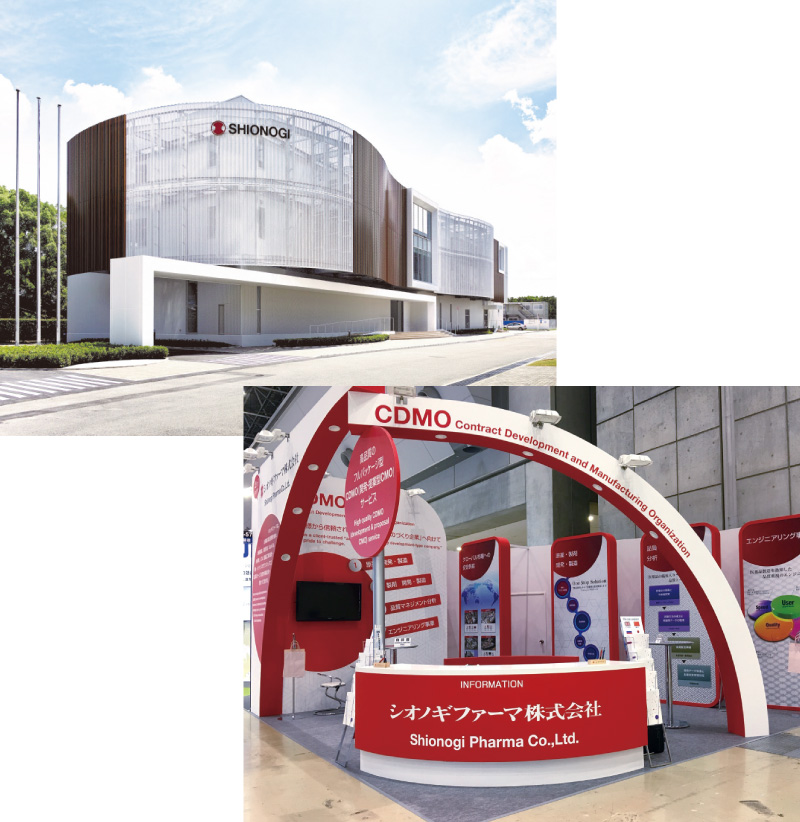 Technology development and manufacturing bases
Settsu Plant (Head Office): main plant handling formulation and packaging for global distribution
Kanegasaki Plant: integrated manufacturing base specializing in antibiotics
Tokushima Plant: manufacturing plant for general APIs, intermediates, and highly potent APIs
Amagasaki Office: R&D (manufacturing technology development), manufacturing base for investigational drugs
One-stop contract manufacturing system — offering solutions to customer issues
Shionogi Pharma's strengths lie in the following three points:
1

As a CDMO (Contract Development and Manufacturing Organization), Shionogi Pharma is equipped with all relevant functions from preparation of, formulation, and packaging to analysis and pharmaceutical engineering. It is thus able to provide a one-stop contract manufacturing system covering all stages from drug development to commercial manufacturing.

2

Technological prowess built up over a long history

3

Experience and trust based on a record of stable supply of high-quality drugs