Promote proper use of anti-infectives
Improving disease awareness, rates of diagnoses and encouraging appropriate use of medicines through health education is an important element of Shionogi's access efforts. 
Initiatives to promote proper use of medicines
The growing problem of antibiotic resistance is a key concern for Shionogi and Shionogi is involved in global efforts to educate healthcare providers on stewardship of antibiotics.
By promoting the proper use of anti-infectives, Shionogi works constantly to prevent the emergence of new drug-resistant bacteria and viruses, and to ensure that patients can continue to receive treatment, both now and in the future In our sales activities, Shionogi does not remunerate sales staff based on sales volume of antibiotics, as highly recognized in the Antimicrobial Resistance Benchmark 2018 survey. We expect that delinking of sales volume from revenue reward will support more proper use over the long term, leading to better patient outcomes and improving antibiotic sustainability.
In manufacturing antibiotics, Shionogi is working to reduce environmental burden.
In addition to promoting proper use of antibiotics, Shionogi supports global and national action plans to conduct more timely and coordinated surveillance for resistant bacteria. We organize and provide relevant information to promote proper use and stewardship of antibiotics, by such means as conducting surveillance programs aimed at gathering accurate epidemiological data, and rigorously analyzing industry guidelines.
In order to promote proper use of our flu drug Xofluza, we also have been assiduously conducting further analysis on mutant viral strains and drug safety, and making our findings public.
Public awareness and education programs
To promote proper use of anti-infectives, it is absolutely essential to conduct awareness-raising and educational activities that result in the understanding and spread of correct information concerning the prevention and control of disease and infection. Shionogi is actively engaging in such activities.
In an industry-government-academia collaboration geared toward combatting infectious diseases in children under five years of age, in fiscal 2018 Shionogi hosted a total of five seminars (attended by 339 nursery school operators and staff), to raise awareness about the MHLW's "Infection Control Guidelines for Nurseries," as revised in 2018. As a means of raising awareness among the general public as well, Shionogi has created a video explaining the guidelines and a website (Kodomo Kansensho Navi) to help parents navigate the subject of infectious diseases in children. 
Shionogi also invited experts from across Japan and Asia to attend the SHIONOGI Infectious Disease Symposium 2019 for a discussion of AMR countermeasures in each country. Our aim in doing so was to broaden engagement in efforts to address the threat of AMR, and promote international cooperation.
Measures to encourage proper use of pain relievers
Shionogi seeks to create a society in which patients suffering from cancer pain are able to use prescription narcotics with peace of mind. 
Back in the late 1980s when the WHO released its cancer pain treatment guidelines, prescription narcotics (opioid pain relievers) for cancer pain were not widely used in Japan. Shionogi already was supplying drugs for pain relief, and we received a request from the then Ministry of Health
and Welfare to develop prescription narcotics.  We took on the development of MS Contin tablets, which we launched in 1989. In the 30 years since then, Shionogi has worked in tandem with regulatory authorities, academia, and medical professionals, to promote the proper use of palliative care and cancer pain relief. Recently the problem of prescription drug abuse, notably the opioid crisis in the US, has spread throughout the world,  becoming a serious social problem.
To ensure that this problem does not arise in Japan, not only are we working to expand our lineup of drugs to alleviate cancer pain, but also we are taking steps in advance against misuse of opioids. In addition to helping create a society in which patients can get relief from cancer pain without causing abuse of opioids, we will work toward realization of Target 3.5 in the United Nations' Sustainable development goals (SDGs), "Strengthen the prevention and treatment of substance abuse, including narcotic drug abuse and harmful use of alcohol."
Drug abuse prevention campaign with Aichi Prefecture
May 2018: Shionogi is collaborating with Aichi Prefecture on a campaign to prevent drug abuse. To ensure that this problem does not arise in Japan, Shionogi pledges to do more to help create a society in which steps are taken in advance to prevent misuse of opioids, so that patients can get relief from cancer pain without causing abuse of opioids.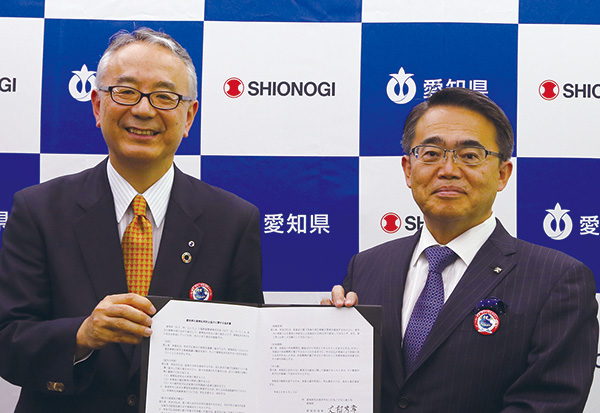 Initiatives to remove communication barriers for sight- and hearing-impaired people
Communication Barrier-free Project(CBF-PJ)
Ensuring that all patients have access to necessary information to receive benefits of best possible medicines

Pharmaceutical products have a direct impact on human health and life, and as such patients are provided with information— for example, through medication guidance from medical professionals—to ensure that drugs have maximum efficacy and minimal side effects.
At Shionogi, we think it extremely important that all patients—whether able-bodied or disabled—have access to the information necessary for medications to work properly. To that end, Shionogi has instigated the Communication Barrier-free Project, which seeks to improve the manner in which information is conveyed and eliminate communication barriers when people with disabilities receive medication instructions.
People with disabilities—in particular those with hearing or visual impairments—sometimes do not take medications as prescribed if they have not received sufficient information. While people with disabilities may struggle to take in information, this problem also can stem from the manner in which information is conveyed. Shionogi conducts activities aimed at educating various parties about the existence of such communication barriers. In 2018, we held a number of awareness-raising seminars targeting medical professionals, attended by 712 doctors, nurses, pharmacists, and so forth, from ten university and public hospitals.
Our aim is to contribute to creating a more vigorous society by ensuring that every individual—able-bodied or otherwise— receives the best possible medicines to protect their health and wellbeing, and is able to take these medicines in the appropriate manner.