Combating challenge of AMR
Combating worldwide public health challenge of AMR
The reality is, though, that many pharmaceutical companies have moved away from infectious disease area, as despite being a public health challenge of utmost importance, from a business perspective this is an area in which profits are hard to come by. Not only is it becoming more and more difficult to conduct R&D into new antibiotics, but also initiatives that restrict the use of new antibiotics have led to uncertainty around market size. It has been reported that only five of the world's top 50 pharmaceutical companies currently have an antibiotics pipeline.
Against this backdrop, Shionogi has made an on-going commitment to the R&D of new antimicrobial therapies, and we will vigorously pursue such activities to ensure that both patients and society as a whole will benefit from new antibiotics.
Shionogi identifies 
"Protecting people from the threat of infectious diseases" as one of material issues we should address to create new values for customers and society, and declares that Shionogi will remain committed to developing new drugs against infectious diseases that lack effective medical treatments, and to promoting antimicrobial stewardship. In 2018, we published the Shionogi AMR Position Paper detailing our point of view and efforts in this regard, and we will continue driving forward our commitment to becoming a leading company in the fight against AMR, by promoting antibiotic R&D, proper use, and access to antibiotics.
Development of cefiderocol
Many of the pathogens in the critical category (deemed in the most urgent need of new R&D) are resistant to carbapenem- type antibiotics, and drugs effective against these pathogens are in high demand worldwide. Shionogi is developing cefiderocol as a candidate for the treatment of multidrug-resistant gram-negative bacterial infections, and we believe it could evolve into a valuable weapon in the fight against the three carbapenem-resistant pathogens positioned by the WHO as the highest priorities.  Cefiderocol was approved in the US on November, 2019 and in Europe on April, 2020.
Shionogi remains fully dedicated to tackling the global public health threat of AMR.
Shionogi and Industry Efforts to Combat AMR
Shionogi also actively participates in various national and international initiatives addressing AMR, as a means of contributing to global resolution of this public health challenge.
Davos Declaration (January 2016)
Declaration by the pharmaceutical, biotechnology and diagnostics industries on combating antimicrobial resistance
Signed by more than 100 companies, including Shionogi, who committed to: work to reduce the development of antimicrobial resistance; invest in R&D that meets global public health needs with new innovative diagnostics and treatments; improve access to high-quality antibiotics and ensuring that new ones are available to all; and remove financial incentives that reward the prescribing of antibiotics in greater volumes.
Industry Roadmap for Progress on Combating Antimicrobial Resistance (September 2016)
Signed by 13 major global pharmaceutical companies, including Shionogi, and laying out a roadmap for four 
key commitments:
acting on environmental pollution associated with antibiotic manufacturing;
supporting improved stewardship of antibiotics;
facilitating improved global access to antibiotics; and
supporting open collaboration between industry and public researchers.
AMR Industry Alliance Board
Seven pharmaceutical companies—Shionogi, Pfizer, Merck, Johnson & Johnson, GlaxoSmithKline, Sanofi, and Roche—form the Board of the AMR Industry Alliance, a coalition of over 100 research-based pharmaceutical, generics, biotechnology and diagnostics companies committed to slowing the spread of AMR and promoting industrywide advances in life sciences.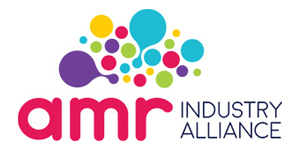 AMR Action Fund (launched on July 2020)
The AMR Action Fund is an initiative of the international body representing the R&D pharmaceutical industry (International Federation of Pharmaceutical Manufacturers & Associations, IFPMA). With the investment from leading biopharmaceutical companies including Shionogi, the AMR Action Fund will be the largest collective venture ever created to address AMR.
The AMR Action Fund will:
Invest in smaller biotech companies focused on developing innovative antibacterial treatments that address the highest priority public health needs, make a significant difference in clinical practice, and save lives.
Provide technical support to portfolio companies, giving them access to the deep expertise and resources of large biopharmaceutical companies, to strengthen antibiotic development, and support access and appropriate use of antibiotics.
Bring together a broad alliance of industry and non-industry stakeholders, including philanthropies, development banks, and multilateral organizations, and help encourage governments to create market conditions that enable sustainable investment in the antibiotic pipeline.