The current approach to social security provision is under question amid increasingly stretched healthcare budgets in advanced markets. Meanwhile, AI and ICT have opened the door to new ways of doing business in the pharmaceutical sector that were not possible in the past. Those trends mean we can no longer rely on our existing business model based solely on selling pharmaceutical drugs.
We seek to continue contributing to patients' treatment and QOL through our strength in the creation of innovative drugs, while also drawing on our expertise, skills, and experience in R&D to explore the possibilities of therapeutic and preventive vaccines, digital treatment option such as healthcare apps, and information services. By doing so, we aim to identify and address the issues that people face in all areas of healthcare, from pre-symptomatic and preventive care through diagnosis and treatment.
Investigational digital therapeutic, AKL-T01 (SDT-001)
AKL-T01 (Shionogi Group development code: SDT-001) is an investigational digital therapeutic for ADHD in-licensed from US-based Akili Interactive. Shionogi has acquired the development and commercialization rights for this product in Japan and Taiwan. In clinical trials conducted by Akili in the US, AKL-T01 showed a good therapeutic effect.
Shionogi
seeks to address the needs of ADHD patients by providing a new digital treatment option with SDT-001, along with the proprietary drugs Intuniv, which is currently on the market in Japan, and Vyvanse, which won approval in Japan in fiscal 2018.
Stimulating the cerebral cortex by simultaneously performing dual tasks (steering and tapping) optimized for each patient
Steering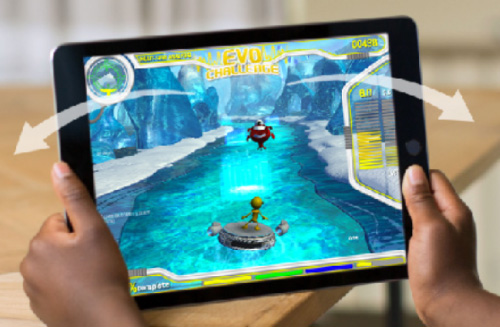 Tapping