Engagement with employees
Morale survey measuring employee satisfaction
Shionogi periodically conducts a morale survey for the purpose of keeping tabs on employee satisfaction and reflecting the results in personnel policies. 
As a means of globally recognizing and awarding activities that embody the Company Policy, we have presented the "SING of the Year" awards every year. Through this initiative we seek to set in place and promote a "culture of recognition," in order to boost employee motivation and further strengthen our organization.
Exchange of opinions with directors
We hold opinion exchange meetings that aid in resolving employees' concerns by providing an opportunity to communicate directly with directors regarding management policy and issues. These meetings also allow rank-and-file employees to express their opinions, which may then contribute to policy enhancement.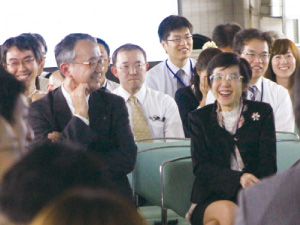 At Shionogi there is a favorable relationship between the labor union and management. Labor festivals held annually across Japan are attended by many employees including directors, with employees' families also welcome. These events help to foster a sense of unity by promoting communication between labor and management.