Shionogi continues work on building an internal management system in accordance with the Shionogi Group Risk Management Policy established in 2015. With the October 2018 establishment of Shionogi Pharma Co., Ltd. to take charge of manufacturing operations, we redoubled efforts to thoroughly raise awareness about the aforementioned policy among existing group companies as well, in order to facilitate business continuity. 
We are also working toward an organizational climate and culture that brings to light risks with potential to threaten business continuity, and ensures the timely reporting to management of all manner of information by Group companies and organizations. Chaired by the General Manager of the Corporate Strategy Division, which oversees groupwide risk management activities, the Corporate Strategy Meeting is a key discussion body for all manner of risks affecting operations. 
In this manner, every Shionogi employee endeavors to protect and make effective use of the Group's valuable business assets, through groupwide risk management activities and a constant and high level of risk awareness. 
Under our Crisis Management Standard, which serves as the basic policy for crisis management, Shionogi aims to build a comprehensive crisis management system that includes guidelines for various countermeasures and accompanying manuals, and enables rapid response in the event of an emergency. Shionogi places the highest priority on employee safety confirmation in the event of a huge natural disaster, and mandates regular training using the safety confirmation system, as well as stockpiling in case of emergency and reviews of disaster task forces, both centrally and at each business site.
Business continuity planning (BCP)
Shionogi formulates business continuity plans (BCPs) for each link in the value chain, so that we can continue to fulfill our corporate social responsibility and supply our products and services to medical institutions in a stable manner even in the event of an emergency. 
With respect to the supply of pharmaceutical products, in fiscal 2018 we established Shionogi Pharma Co., Ltd. to take charge of manufacturing operations. At that time we conducted a BCP review, resulting in a rebuild of both our risk management system and business continuity management system. In addition to the above, we regularly conduct training at both the management and front-line levels to ensure the ongoing viability of operations.
Overview of risk management system and business continuity management system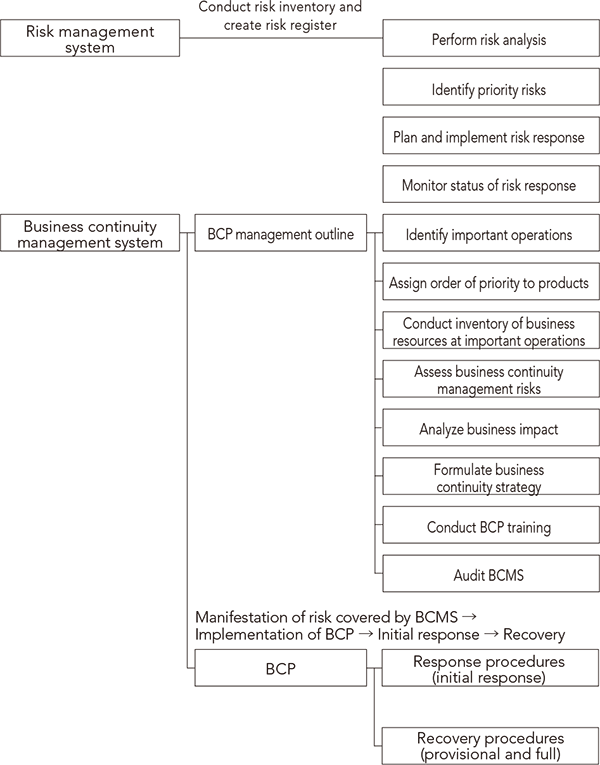 Measures against Pandemic Influenza, etc.
Shionogi is designated by a designated public institution based on Article 3 of the Special Measures Law for the Prevention of Pandemic Influenza, etc. (established in 2012). In the event of a pandemic (pandemic) in which a serious health hazard and a pandemic of pandemic influenza or an unknown infectious disease that is associated with a major social effect outbreak are worldwide, it is necessary to prevent the infection of employees, etc. whenever possible, to prevent the spread of infection in workplaces, and to maintain critical operations during the epidemic duration.
In order to fulfill the social responsibilities played by Shionogi, we have established the Work Plan for the Prevention of Pandemic Influenza, etc. in 2014.
Below, we list and outline the main types of risk that could have a significant impact on Shionogi's operations. The below list does not include all risks to which the Shionogi Group is exposed; other potential risks include political and economic factors affecting business activities, as well as IT security and information management. Forward-looking statements in the text reflect the Group's judgment as of March 31, 2019.
| Risk category | Risk description |
| --- | --- |
| Systemic and Regulatory Risk | In the pharmaceutical industry, revisions to Japan's National Health Insurance (NHI) system are being considered, including revisions to the NHI drug price system. These trends could affect the results of Shionogi. In addition, tougher Japanese and overseas regulations in areas such as the development and manufacturing of pharmaceuticals could present us with additional expenses or make it difficult for its products to comply with regulations. This could impact our performance. |
| Risk of Adverse Drug Reactions | Pharmaceuticals entail the risk of unanticipated adverse drug reactions that could lead to the termination of sales, product recalls, and other outcomes that could affect the results of Shionogi. |
| Pharmaceutical R&D Risk | Pharmaceutical R&D requires substantial commitment of resources and time. In addition, new drugs are subject to numerous uncertainties prior to the start of actual sales. |
| Intellectual Property Risk | Shionogi uses patents as intellectual property to protect the pharmaceuticals it discovers and generate income from them. However, the various types of intellectual property may be unable to provide adequate protection, or may infringe on the intellectual property of third parties. Furthermore, the expiry of intellectual property rights (patents) of pharmaceuticals developed by Shionogi or the launch of generics after such expiry could affect the results of Shionogi. |
| Risk of Dependence on Certain Products | Xofluza and Cymbalta product sales and royalty income from Tivicay, Triumeq and Juluca roughly account for a combined 48% of net sales (fiscal year ended March 31, 2019). If an unexpected factor were to cause a drop in or the discontinuation of the sales of one of these products, this could impact our performance. |
| Risk of Alliances with Other Companies | Shionogi engages in diverse forms of alliances with other companies with respect to joint research, development and marketing, and other activities. These alliances include collaboration with research and development projects, in and out licensing of technologies and also marketing. If such collaboration were to either change or cease, it could impact our performance. |
| Risk of Natural Disasters or Pandemics | The sudden occurrence of a natural disaster, pandemic, or other unforeseen incident could lead to the closure of plants, laboratories or other business sites, which could affect the results of Shionogi. |
| Capital Market and Foreign Exchange Risk | Fluctuations in stock and foreign exchange markets that exceed the projected range could affect the results and financial position of Shionogi. |
| Litigation Risk | Through its business activities, Shionogi is exposed to the risk of litigation related to medication side effects, product liability, workplace disputes, fair trading and other issues. Litigation in those and other areas could affect the results of Shionogi. |
Environmental risk management
Shionogi extraction the risks that environmental changes may have on its business activities, evaluates its effect in its business activities, and considers measures to deal with various issues. In the event of an unexpected event, we are working to minimize the damage from such an event and to improve the level of control and response.