In corporate activities, risk management is essential for corporations to prevent risks from developing into incidents, and in the case of an incident, to handle it so as to minimize damage.
A fundamental of the Shionogi Group is to have each organization take the initiative to manage and deal with business risks. Based on this, we take appropriate measures, including creating new business opportunities and taking risk avoidance and risk reduction actions. In particular, the Board of Director's Meeting and the Corporate Executive Management Meeting deliberate and make decisions on policies for responding to significant risks that could have a major impact on management, and based on the response policy, the supervising department works with the related organizations to implement these measures.
Please click here for Shionogi's risk management.
In terms of the environment, we consider coexistence with the global environment as an important theme and extract environmental challenges. We also report how we assess business risks and opportunities concerning these challenges from the perspective of business continuity and corporate value enhancement, identify environmental materiality, and make relevant decisions.

Identification, assessment results, and responses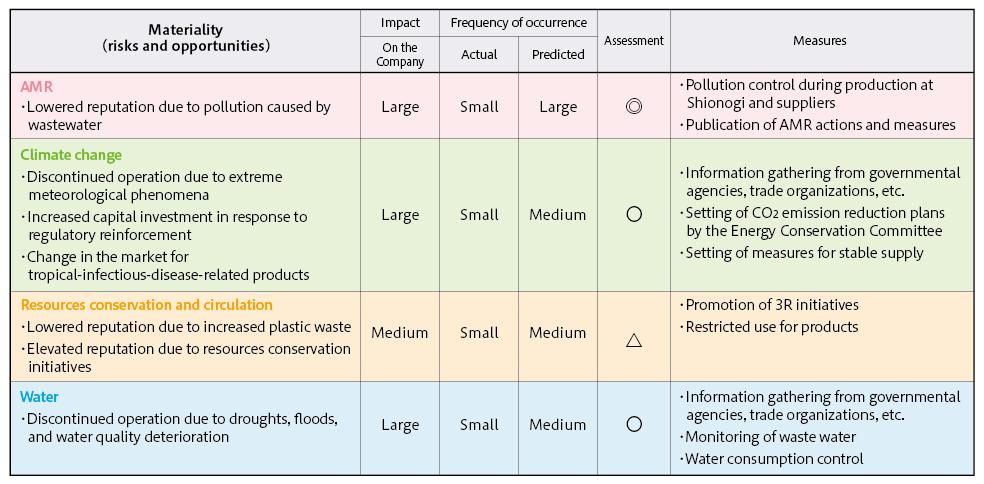 Assessment criteria are provided in the table below; deliberations by the Shionogi Group Companywide EHS Committee are also included.
| Level | Impact | Frequency of occurrence |
| --- | --- | --- |
| Large | Discontinued operation | Frequent in the area/industry |
| Medium | Capital investment | Past incidents |
| Small | ― | No past incidents |