Message from Top Management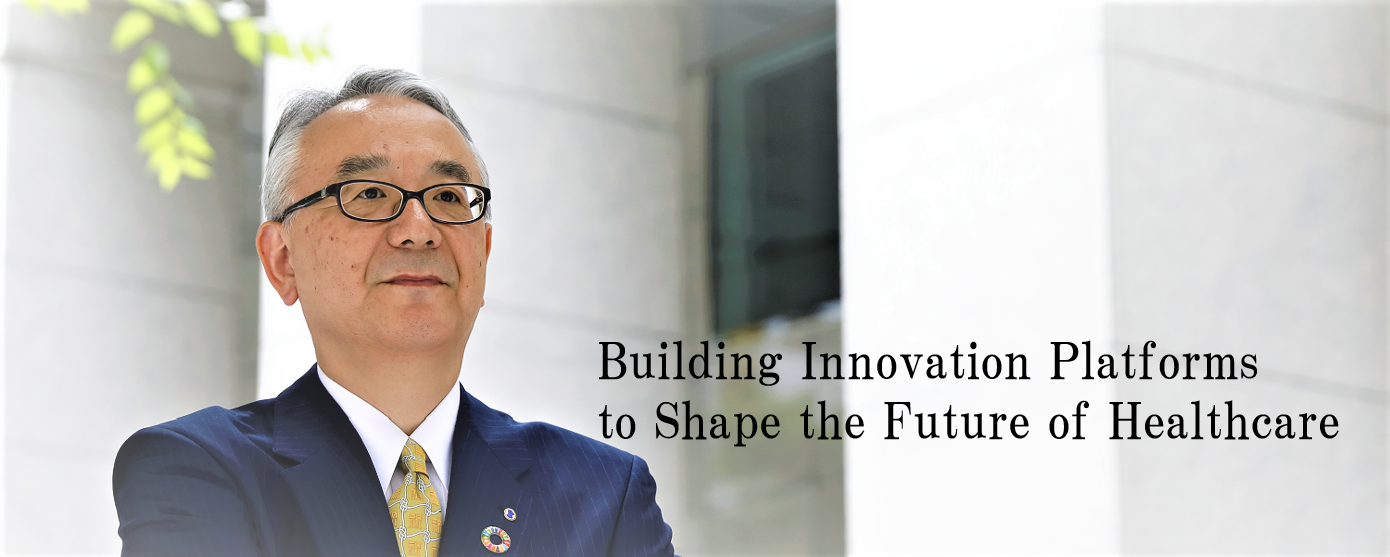 Shionogi traces its roots back to 1878, when it was founded as Shiono Gisaburo Shoten, a drug wholesaler.
Since then, the pharmaceutical market and society have both evolved considerably, and Shionogi has grown by adapting its business in line with the changing times.
However, over the past 140 years, one thing has not changed – our steadfast commitment to develop even better medicines, and to provide clear, accurate, and appropriate guidance for their proper use to healthcare professionals and patients.
Even when business conditions have been tough, we have worked through the challenges without straying from our Company Policy: "Shionogi strives constantly to supply the best possible medicine to protect the health and wellbeing of the patients we serve."
That long-held policy is firmly entrenched in our organization as Shionogi's philosophy, supporting our growth through the years.
The environment around Shionogi is changing rapidly and dramatically, reflecting factors including the growing global population, the increasing average age of society due to the low birthrate in high-and middle-income countries, as well as environmental changes, such as climate change, that are advancing at a faster rate and greater scale than in the past decade. These consequences of these changes are major alterations in the prevalence and patters of disease, which then shifts the demands and priorities for healthcare. Social and technological factors, such as the advancement of information technology, innovations in data analysis, and the democratization of medical information access, as well as the diversification of people's values, also drive changes in the expectations for healthcare providers and the healthcare system overall.
In order for us to respond to these ever greater and more complex social demands, it is essential for us to identify and create new business opportunities through dialogue with stakeholders, and while achieving consistent growth despite the increasing pace of change in the world, which in turn requires us to reduce our business risks while leveraging our strengths.
Shionogi has launched its New Medium-Term Business Plan "STS2030", aiming to realize our vision for 2030: "Building Innovation Platforms to Shape the Future of Healthcare".
We will continue to build upon our established capabilities as a drug discovery-based pharmaceutical company based on innovation and highly advanced expertise, while increasingly catalyzing the formation of new healthcare platforms as the partner of choice for companies and industries with complementary capabilities and expertise in other fields.
In order to create new value by addressing the problems faced by patients and society more thoroughly, Shionogi will evolve from a pharmaceutical company whose primary role is to provide prescription drug to a healthcare provider that offers increasingly comprehensive healthcare services.
Our vision for 2030 is designed to contribute to realizing an ever more prosperous and healthy society by:
Developing preventive methods, including education, that help people to avoid getting sick
Offering new diagnostic technologies that lead to better treatment choices
Continuing to discover innovative medicines that bring hope to patients
Communicating accurate, complete, and accessible information on all of the above that encourage their proper and most beneficial use
Through these efforts, we believe we can help to address key societal needs and thus grow together with society by continuing to provide the "best medicine (healthcare solutions)".
While doing this, we will sustain a work environment in which each Shionogi person takes pride in their work, advances and synthesizes knowledge and technology, and realizes personal and professional growth and fulfillment.
As we target new growth through business transformation, Shionogi's company policy, "Shionogi strives constantly to supply the best possible medicine to protect the health and wellbeing of the patients we serve.", will continue to be our guide and inspiration in all that we do. 
I would like to thank you for your interest in our company and our products and your continued support will be greatly appreciated.