Human Resources Development
This page covers our policy for human resources development, career development, desired human resources, and remuneration and evaluation system.
Policy for Human Resources Development
For sustainable growth of a company, diverse human resources that serve as the foundation therefor are crucial. Integration of diverse values creates various innovations, contributing to society. This facilitates the development of Shionogi.
To develop diverse human resources, Shionogi focuses on the development of new leaders through providing training programs for young, mid-career, and management-level employees and implementing systematic job rotation.
Various development programs, including the President's Management Seminar, in which the President directly trains executives, and seminars in which division heads serve as lecturers to develop candidates for executives, are held to develop human resources who are capable of thinking from the Company's perspective as the prospective next-generation management executives.
Career development at Shionogi
To put the Company Policy into practice globally, our aim is to succeed against global competition by cultivating strong individuals to build our organization based on the policy that people are the source of competitiveness for human resources development.

Shionogi defines career as the action of considering self-discipline necessary to contribute to Shionogi taking advantage of strengths of each individual, paying attention to own relative competitiveness, and linking the individual growth to organizational growth through work. Based on this definition, it has formulated its Career Development Program.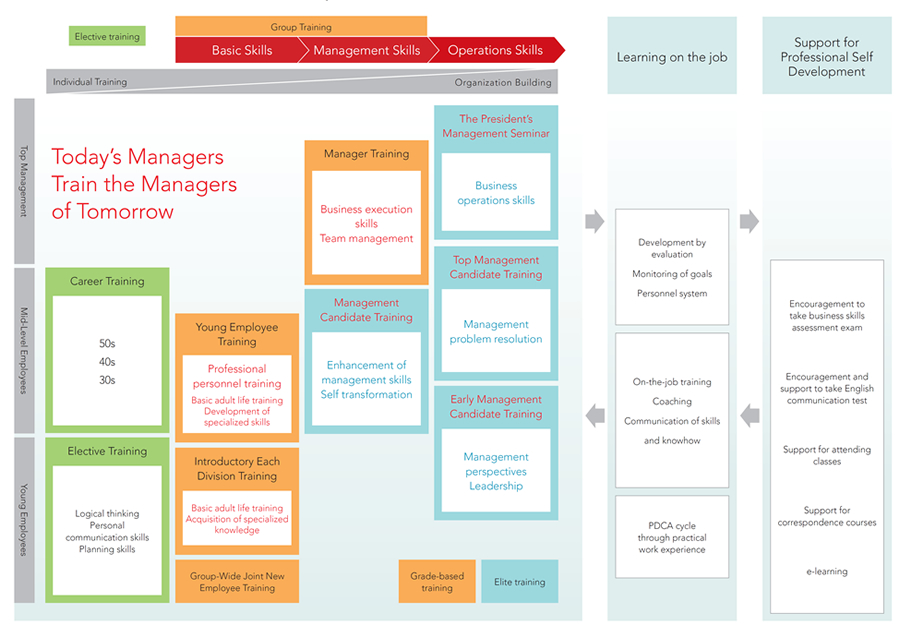 Managers hold dialogue with their subordinates using the Future Career Projection, a tool to encourage employees to autonomously think about their career, and the Footprints of Career Development, a tool for managers to assist the growth of their subordinates. Managers faithfully care for desires of their subordinates and support their investment in themselves toward the achievement thereof.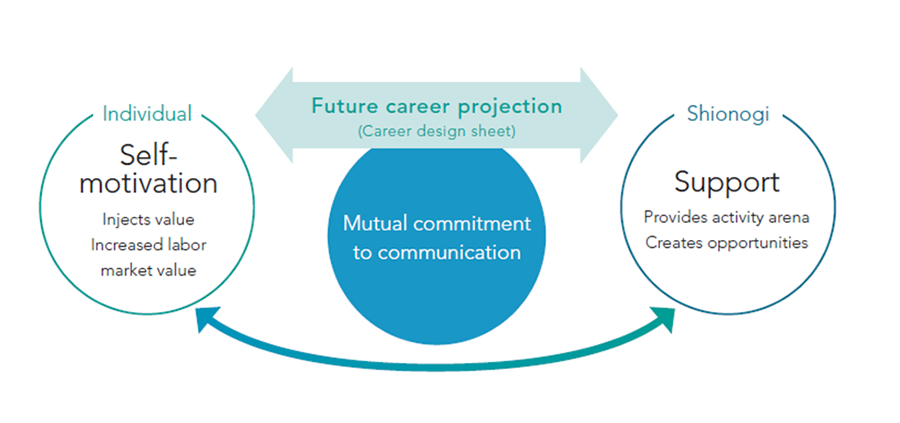 As part of the Career Development Program, Shionogi has introduced the internal job posting system. The objective of the internal job posting system is to support employees who voluntarily take on challenges and to further enhance the organizational strength.
Employee growth is the essential driver of Shionogi's growth. To deliver new value to society, we establish an outline of the human resources profile and the managerial profile that the company requires, and managerial staff take corresponding responsibility for employee development.
Image of personnel desired by Shionogi
Person who fully agrees with the Shionogi's Company Policy and is prepared to win his/her own future by himself/herself.
Desired managers and nurturing the next generation of leaders
Shionogi defines its managers as persons who:
understand well that a manager's duties cannot be performed as an extension of what they have done but should be performed as a totally new job;
see their subordinates as indispensable, know the importance of the responsibility to train them, and therefore study by themselves harder than anyone else;
always pay attention to outside and try to establish networks inside and outside the Company so as to humbly know the level of themselves, while keeping updating information necessary to cause innovation to operation in the group;
think and act not only from the perspective of own organization but from the perspective of overall optimization;
have a fighting spirit and are striving to be an outstanding manager in the organization, by honing the ability to logically promote own proposals;
with experience of being involved in compliance promotion, implement compliance with high awareness; and
always return to the Company Policy, Shionogi's philosophy, have the pride as the member of Shionogi, and work to strengthen own expertise and skills as well as to enhance the dignity as humans.
The President's Management Seminar
The President's Management Seminar, which is led by the President in person, is a forum set up in 2012 to cultivate senior management candidates. Each year around ten candidates are selected to participate in a total of seven to nine seminars held roughly every month over the course of the year.  Through this program, Shionogi cultivates its next generation of leaders by developing diverse human resources with a tenacious approach who can consider issues from a company-wide perspective.
Senior management development through management at group companies
Experience at Group companies Senior management candidates take on roles as presidents, non-executive directors, and auditors of Group companies, where they gain management experience. The president of the Shionogi Group himself confirms the content of discussions at Group companies. At the twice yearly general meeting of shareholders and at business briefing events, the president of the Shionogi Group and officers of Group companies are engaged in comprehensive discussion, providing them with a forum to deepen their understanding of the stakeholder perspective and hone their business instincts.
Divisional rotation of corporate officers
Shionogi carries out a system of corporate officer rotation across divisions. This rotation allows corporate officers to experience management of a number of divisions so that they can practice management not as the representative of one division but from a company-wide perspective.
Remuneration and Evaluation System
"People are the source of competitiveness" is Shionogi's principle for human resources development. Under this principle, aiming to "develop and build strong individuals and organizations capable of surviving global competitions" and help achieve growth through work, Shionogi has established its personnel system based on the concepts of "work is the basis," "behavior change" and "creation of achievements."
The personnel system is also designed to develop highly specialized personnel, in which the definition of "highly specialized personnel" and how such personnel can significantly contribute to the performance of the Company/department are clarified, so as to enable employees to achieve self-fulfillment.
Evaluation of employees focuses on their degree of contribution to the Company/organization (creation of achievements) and processes that lead to the achievements (behavior change), which are reflected on their treatment. In view of the concepts of the personnel system, remuneration is linked to the business performance and a part of earnings are allocated to employees according to their contribution. The objective of this system is to make employees interested in the Company's business performance and feel involved in business management, so that both Company and individuals can grow together.
Outline of the evaluation system
Evaluate the achievements obtained through the performance of duties (creation of achievements) and the actions and processes taken (behavior change).

Comprehensively determine the creation of achievements and the behavior change, and reflect them in treatment.