Human Resources Development
This page covers our policy for human resources development, vision for SHIONOGI's human resources, education and training, career development, and remuneration and evaluation system.
Secure Human Resources to Support Growth
Based on our principle of human resources development, "People are the source of competitiveness," we are working to "develop and build strong individuals and organizations capable of surviving global competition." To achieve STS2030, we are visualizing the necessary human resources that we will need in order to realize human resources development that fosters each person's talents and an environment in which everyone is motivated to work.
Formulating a vision for human resources (Shionogi Way)
With a view to realizing the SHIONOGI Group Vision, we have set forth our vision for human resources that our employees should aspire to as the "Shionogi Way: Be the best that you can be to take on new challenges." To see to it, that each one of our employees grows into human resources that materialize this Shionogi Way, in addition to facilitating the permeation of the "SHIONOGI Group Values" that are indispensable in the achievement of the SHIONOGI Group Vision through training and other endeavors, we promote the acquisition of "Capability/Knowledge" that constitute the skills that all of our members should outfit themselves with as well as the skills required in their individual roles. Moreover, to stimulate employees to autonomously refine their skills and grow into human resources with exceptional talent, we have enhanced our programs for encouraging self-development and new challenges while simultaneously introducing more flexible work systems that allow for learning outside of work. In these and various other aspects, we are pursuing the development of an environment for our human resources.

For Achieve the Shionogi Way
We are working to develop human resources who embody the ideal form defined by the Shionogi Way. We are developing an environment that enables support from various aspects such as personnel system, challenge incentive system, and education and training.
SHIONOGI has a job grade-based personnel system. This system treats employees according to their job grade, regardless of their age, gender, or other traits, and it assesses employees using a combination of a behavioral assessment, which is an absolute evaluation of the behavior that SHIONOGI desires, and a contribution assessment, which is a relative evaluation of the degree to which each employee is contributing. Starting in fiscal 2021, we are adding our five Values to the behavioral assessment items to reflect the Shionogi Way. We also plan to include all of these Values in the human resources requirements in our human resources system from now on.
With respect to our compensation system, we set compensation at levels that are appropriate for the job based on the labor market, so that we can pay people according to their work. Bonuses are performance-linked so that each employee will benefit based on meeting his/her challenges in contributing to the Company's growth.
We have strengthened and enhanced education and training based on the Shionogi Way, including basic training for boosting key capabilities at all levels, distributing video content that increases Shionogi-oriented knowledge (Shiopedia), and education for managers that develops management skills so that we have managers who fit the image we desire. We are also strengthening and expanding DX training, which consists of multiple programs aimed at promoting DX company-wide. Besides offering compulsory training tailored to job grades and business units, we have beefed up what we call affiliated programs, which consist of training through self-learning so that employees can acquire exceptional skills. In addition, as a self-investment support scheme, since fiscal 2019, we have been offering support of up to ¥250,000 per year to union-level employees for self-investment. 
■ Overview of SHIONOGI's Human Resources Development Programs
For the development of human resources with sharp strengths, training for each level from young to mid-career and executives, training to learn various business skills and knowledge from basic to specialized level, career development support such as career interviews By combining on-the-job training (OJT) with self-development support such as self-investment support system and affiliate program, we will create an education provision system that responds firmly to employees' voluntary growth motivation.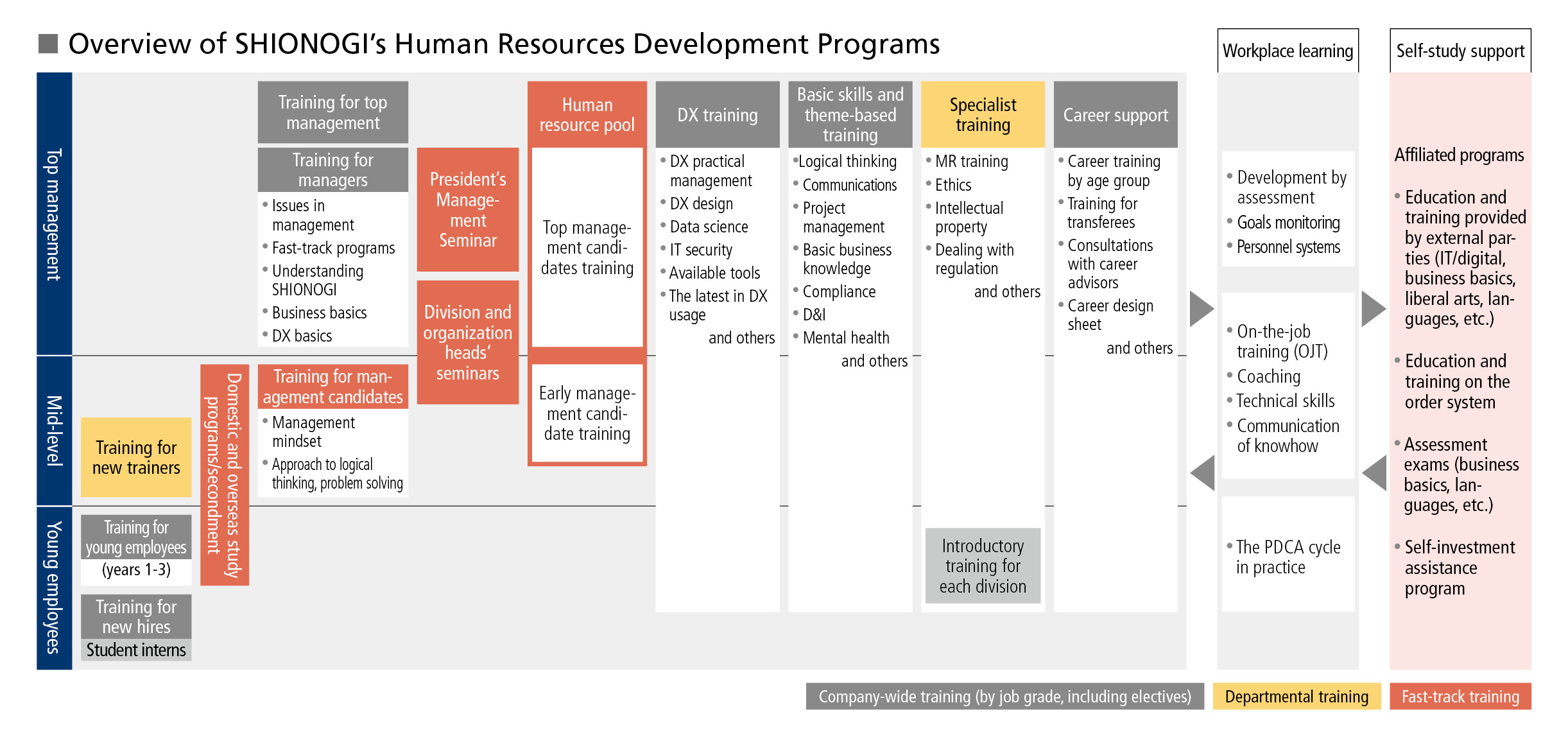 SHIONOGI's career development
SHIONOGI defines career as the action of considering self-discipline necessary to contribute to SHIONOGI taking advantage of strengths of each individual, paying attention to own relative competitiveness, and linking the individual growth to organizational growth through work. Based on this definition, it has formulated its Career Development Program.
At SHIONOGI, we aim to have each employee demonstrate their individual characteristics and strengths and tie their personal growth through their work into the growth of their organization. With a view to the startling environmental shifts both inside and outside our company and the diversification of career challenges, based on the concept of "enabling all employees to autonomously think about their careers and translate that into action when turning points in their individual careers require them to do so," in fiscal 2021, we revised the career training that we had implemented according to age group (30s/40s/50s) until now and improved it so that any employee can undergo that training regardless of their age.
In fiscal 2022 as well, under the leadership of the Career Development Office that was newly established in the Human Resources Department, we will continue to further enhance career development and growth assistance for employees.
As part of the Career Development Program, SHIONOGI has introduced the internal job posting system. The objective of the internal job posting system is to support employees who voluntarily take on challenges and to further enhance the organizational strength.
Strengthening managers and nurturing the next generation of leaders
The success of STS2030 hinges on bolstering our managers, as SHIONOGI's managers are required to support employees' growth, promote transformation of the workplace, and maximize the outputs of the entire organization. With this in mind, in fiscal 2020, we launched PJ-KANAME, a new program for manager development aimed at all domestic managers that stresses managers' personal growth, sophisticated decision-making skills, and a commitment to grow both employees and the organization.
In Project KANAME, "Penetration and practice of medium-term management plan STS2030", "Decision-making / decision-making", "Labor / goal management / personnel evaluation", "DX", "Business creation", "Overseas support", "Logical writing" A wide variety of programs such as "power" and "basic management knowledge" are provided, from management strategy and human resource management to DX and new business creation. Is designed to help you improve your level by continuing to learn every day. In FY2022, using "autonomy" and "actual practice" as our keywords, we will proceed to facilitate the development of a framework that enables employees to personally identify the skills that are ideal for them to build on and required of them and to autonomously study for the purpose of acquiring those skills.
People who contribute to the growth of the company by refining the strengths of people / organizations and making responsible decisions.
To that end, learn and challenge more than anyone else.
Mission: What to do as a manager
• Develop human resources and contribute to the sustainable growth of the company / society through OJT and appropriate evaluation.
• Create challenging organizations and maximize organizational outcomes through optimal and swift decision making.
■ The President's Management Seminar
The President's Management Seminar, which is led by the President in person, is a forum set up in 2012 to cultivate senior management candidates. Each year around ten candidates are selected to participate in a total of seven to nine seminars held roughly every month over the course of the year.  Through this program, SHIONOGI cultivates its next generation of leaders by developing diverse human resources with a tenacious approach who can consider issues from a company-wide perspective.
■ Senior management development through management at group companies
Experience at Group companies' Senior management candidates take on roles as presidents, non-executive directors, and auditors of Group companies, where they gain management experience. The president of the SHIONOGI Group himself confirms the content of discussions at Group companies. At the twice-yearly general meeting of shareholders and at business briefing events, the president of the SHIONOGI Group and officers of Group companies are engaged in comprehensive discussion, providing them with a forum to deepen their understanding of the stakeholder perspective and hone their business instincts.
■ Divisional rotation of corporate officers
SHIONOGI carries out a system of corporate officer rotation across divisions. This rotation allows corporate officers to experience management of a number of divisions so that they can practice management not as the representative of one division but from a company-wide perspective.
Remuneration and Evaluation System
"People are the source of competitiveness" is SHIONOGI's principle for human resources development. Under this principle, aiming to "develop and build strong individuals and organizations capable of surviving global competitions" and help achieve growth through work, SHIONOGI has established its personnel system based on the concepts of "work is the basis," "behavior change" and "creation of achievements."
The personnel system is also designed to develop highly specialized personnel, in which the definition of "highly specialized personnel" and how such personnel can significantly contribute to the performance of the Company/department are clarified, so as to enable employees to achieve self-fulfillment.
Evaluation of employees focuses on their degree of contribution to the Company/organization (creation of achievements) and processes that lead to the achievements (behavior change), which are reflected on their treatment. In view of the concepts of the personnel system, remuneration is linked to the business performance and a part of earnings are allocated to employees according to their contribution. The objective of this system is to make employees interested in the Company's business performance and feel involved in business management, so that both Company and individuals can grow together.
Outline of the evaluation system
Evaluate the achievements obtained through the performance of duties (creation of achievements) and the actions and processes taken (behavior change).
Comprehensively determine the creation of achievements and the behavior change and reflect them in treatment.
SHIONOGI's approach to human resource development and career development is also published on the SHIONOGI Group's recruitment information "SHIONOGI Recruiting Site."