Medium-Term Business Plan STS2030(FY2020 – FY2030)
Shionogi has formulated what we want to achieve by 2030, namely "2030 Vision", and has formulated the New Medium-Term Business Plan "Shionogi Transformation Strategy 2030 (STS2030)" as a strategy to achieve the 2030 Vision.
Shionogi seeks to address the issues facing patients and society by transforming ourselves from a pharmaceutical company that provides only ethical drugs to "a healthcare provider" that provides comprehensive healthcare services and continuously offers new value to society.
To this end, we must further evolve our strengths as a drug discovery-based pharmaceutical company based on innovation and advanced expertise, while increasingly catalyzing the formation of new healthcare platforms as an attractive company that is chosen by other companies and industries with different strengths.
Shionogi will work to realize our vision by accepting diversity, without fear of change, and by going beyond our conventional concept to "Transform".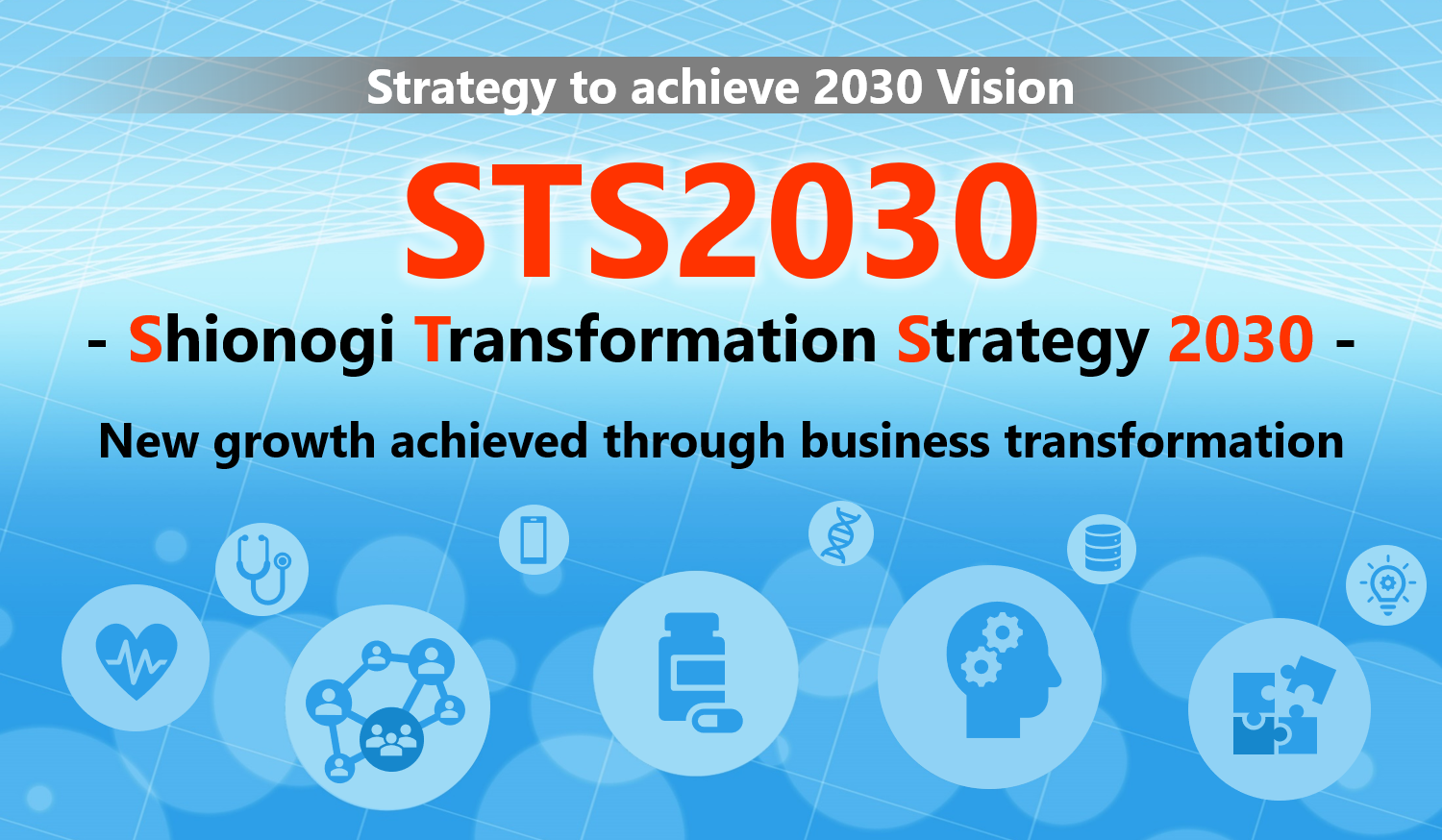 2030 Vision - What we want to achieve by 2030 -
Building Innovation Platforms to Shape the Future of Healthcare
As Shionogi family we promise to:

Imagine new ways to deliver innovation, and catalyze the formation of new healthcare platforms
Create innovative products and deliver them worldwide compliantly with high quality at a fair price
Embrace social responsibility and contribute to longer, healthier lives everywhere
Direction for the New Shionogi to Achieve 2030 Vision
Delivering value by providing healthcare as a service
(Healthcare as a Service:HaaS)
Generate new value and solve problems faced by patients and society through collaborative invention with a diverse range of partners
Augment the strengths we have acquired through the discovery and development of "medicinal drugs," and leverage those strengths
Continuously enhance our "strengths" as a drug-discovery-oriented pharma company, become the premier partner for other companies/industries for its unique strengths, build new platforms in the healthcare arena, and provide new value to society as a healthcare provider.

Basic Policy and Strategy for STS Phase1 of Medium-Term Business Plan
Realize transformation to a new growth as a total healthcare company

Three strategies for STS Phase1
ⅰR&D strategy, ⅱTop-Line Strategy, ⅲManagement Foundation Strategy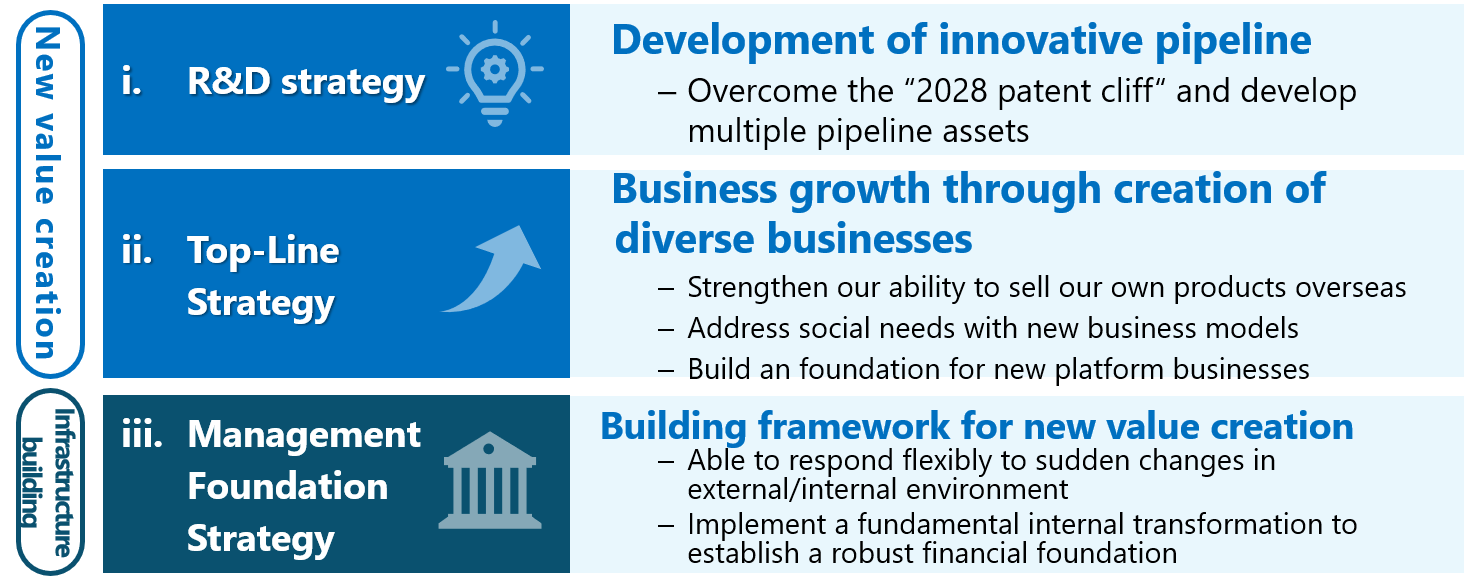 Financial Policy for STS Phase1
Determine investment criteria and invest in growth opportunities with clear rationale
Achieve both sustainable growth and shareholder returns

Flexible capital strategy
Business investment in new growth drivers: 500 B yen
Expand overseas businesses
Invest in the launch of new businesses

Business investment to enhance the profitability of existing businesses
R&D investment: Increase R&D investment by at least 20% during the period compared with the past five years
Build a portfolio of products for the domestic market
IT investment

Shareholder return policy through which shareholders can feel our growth
Stable dividends
Enhance capital efficiency through share buybacks, cancellation of treasury shares, and unwinding of cross-shareholdings
Establish EPS, DOE, and ROE as related indicators
Continue to increase revenue and maintain an operating profit margin of at least 30% while investing sufficiently in R&D to deal with the patent cliff
Define KPIs that demonstrate our return on investment from overseas sales
High original pipeline ratio as a metrics which attracts potential business partners
Define KPIs related to profitability and shareholder returns, and aim to return value to shareholders in a stable fashion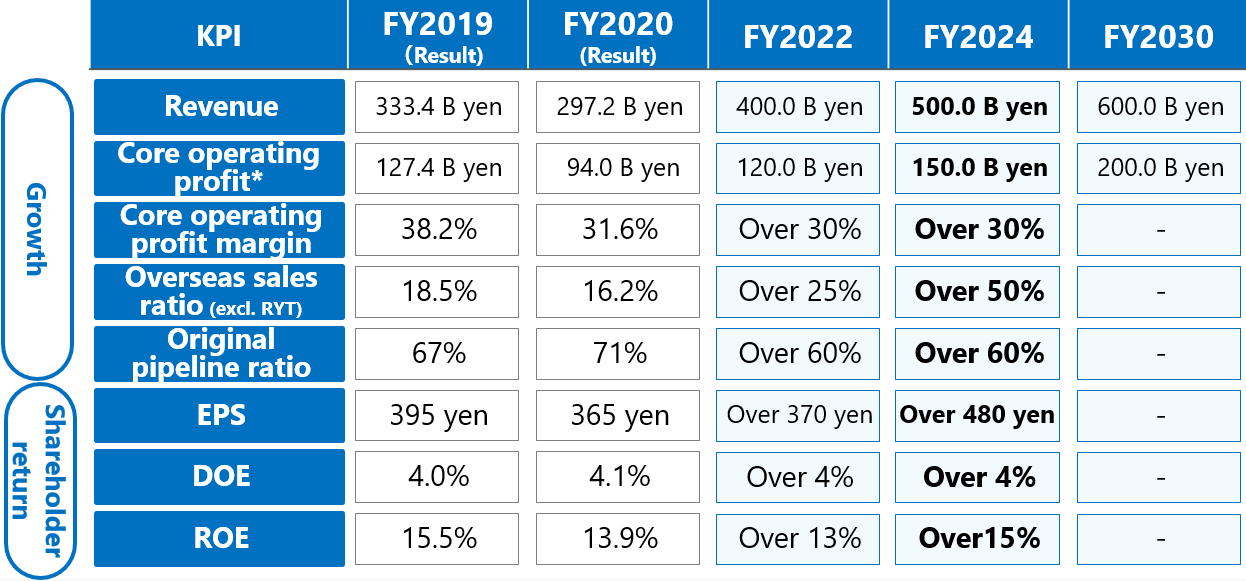 * Core operating profit: Operating income adjusted for one-time factors (asset impairment, gains on sale of tangible assets, etc.)
Past Medium-Term Business Plan