FY2015

(JGAAP)

FY2016

(JGAAP)

FY2017

(JGAAP)

FY2018

(JGAAP)

FY2018

(IFRS)

FY2019

(IFRS)

Net sales
309,973
338,890
344,667
363,721
367,960
333,371
Operating income
91,406
108,178
115,219
138,537
145,081
130,628
Ordinary income
100,869
123,031
138,692
166,575
ー
ー
Profit attributable to owners of parent
66,687
83,879
108,866
132,759
137,191
122,193
Performance in fiscal 2019
Sales and profits down in fiscal 2019
 • Revenue fell 9.4% year on year to ¥333.4 billion.
⇒Among the main components of revenue, exports and overseas subsidiary sales were ¥30.8 billion (up 1.1% year on year), but overall revenue fell due to a decline in domestic prescription drug sales, royalty income, and milestone income.
• Operating profit and profit attributable to owners of parent also declined.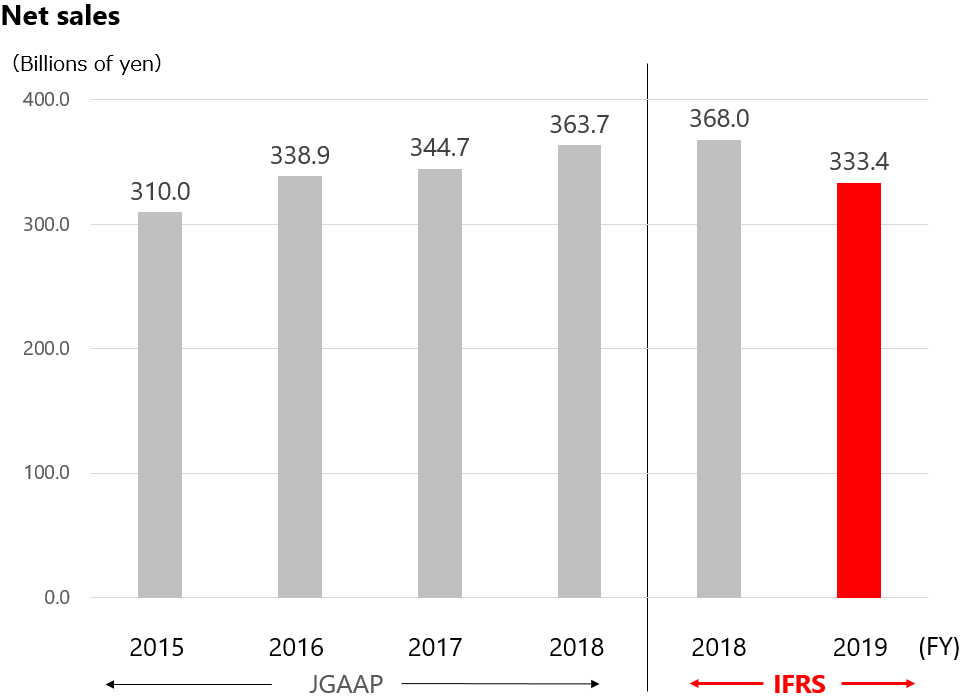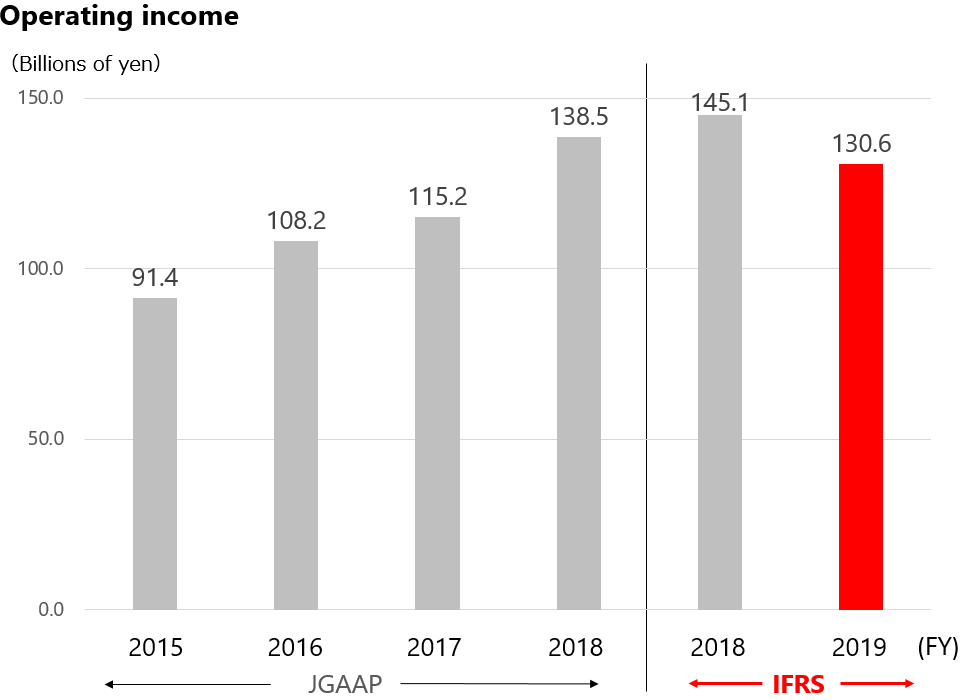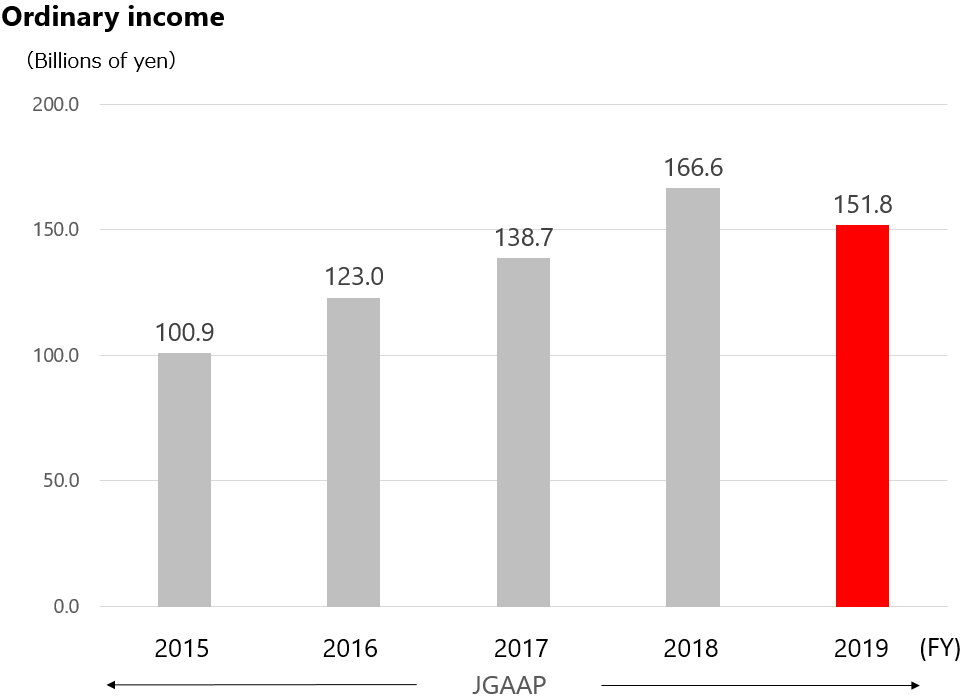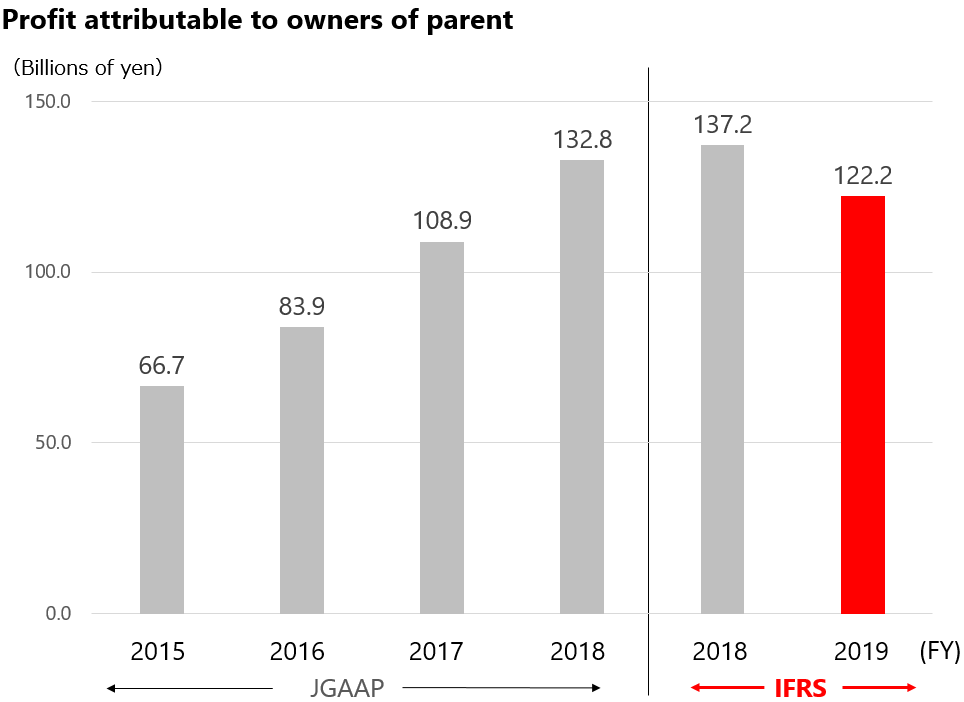 Shionogi has adopted International Financial Reporting Standards (IFRS) from the fiscal year ended March 31, 2020. The financial figures are shown for both JGAAP and IFRS for the fiscal year ended March 31, 2019. 
• Royalty income reached ¥127.1 billion (up 2.1% year on year) on the back of a steady increase in global product sales in the HIV franchise.
• Dividend income was stable, underpinned by favorable earnings at ViiV Healthcare's global HIV business.
• Shionogi received milestone payments from Roche in connection with progress in global development for the flu drug Xofluza, but the amount was less than in the previous year when multiple payments were received
Return on equity (ROE),*1 return on invested capital (ROIC),*2 and cash conversion cycle (CCC)*3 were set as key indicators for the quantitative targets of growth, efficiency, and shareholder returns in the previous Medium-Term Business Plan (SGS2020) updated in October 2016. In the fiscal year ended March 31, 2020, ROE was 15.5% (down 2.3 points year on year), ROIC was 13.2% (down 0.8 point), and CCC was 7.7 months (a 1.1 month improvement from the previous year). Moving forward, we will work to achieve the management indicators set out in STS2030.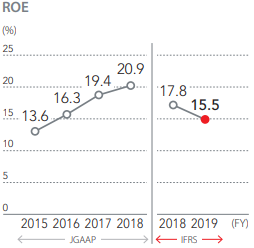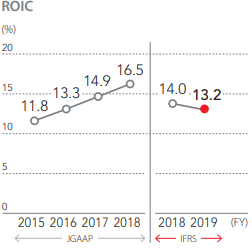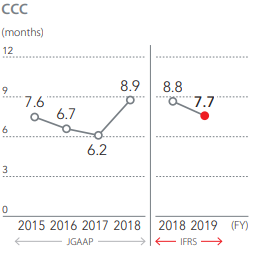 * Return on equity: Profit attributable to owners of parent ÷ (Shareholders' equity + accumulated other comprehensive income) × 100 (%)
* Return on invested capital: After-tax operating income ÷ (Interest bearing debt + Shareholders' equity + Non-controlling interests) × 100 (%)
* Cash conversion cycle: The number of days between investing cash (for raw materials, product purchases, etc.) and the time when that is ultimately converted into cash again. (This indicator is used for capital efficiency.)
Working hard to ensure that shareholders also can experience growth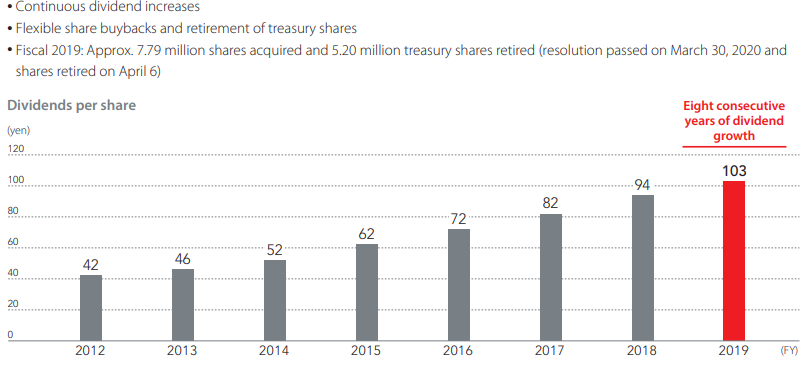 1

. From the fiscal year ended March 31, 2015, the Company has adopted a new accounting standard for research and development expenses (business research expenses). This change has been reflected in figures for the fiscal year ended March 31, 2014.

2

In the fiscal year ended March 31, 2019, the Company changed the presentation method for tax effect accounting. The change has been reflected in figures for the fiscal year ended March 31, 2015, and subsequent periods.

3

International Financial Reporting Standards (IFRS): Accounting standards defined by the non-government organization International Accounting Standards Board (IASB) headquartered in London.

4

IFRS adopted from the fiscal year ended March 31, 2020