The present Environment Report covers results achieved during the period of the fiscal year 2019 (from April 1, 2019 through March 31, 2020) in Japan and the calendar year 2019 (from January 1 through December 31, 2019) outside Japan. The report also covers our activities conducted immediately before or after these periods.
The report covers the environmental activities of Shionogi & Co., Ltd. and the Shionogi Group companies within Japan. Sections of the report that concern a different set of organizations are clearly indicated as such in each instance. Since the previous year, the composition of the Shionogi Group companies has changed due to the establishment of a subsidiary that is charged with manufacturing and related functions of the Shionogi Group, while some establishments have changed their names. With regard to the Nanjing Plant of C&O Pharmaceutical Technology (Holdings) Limited, a non-Japanese Shionogi Group company and manufacturing base, the relevant data are disclosed separately from those of the Shionogi Group under "Site Data."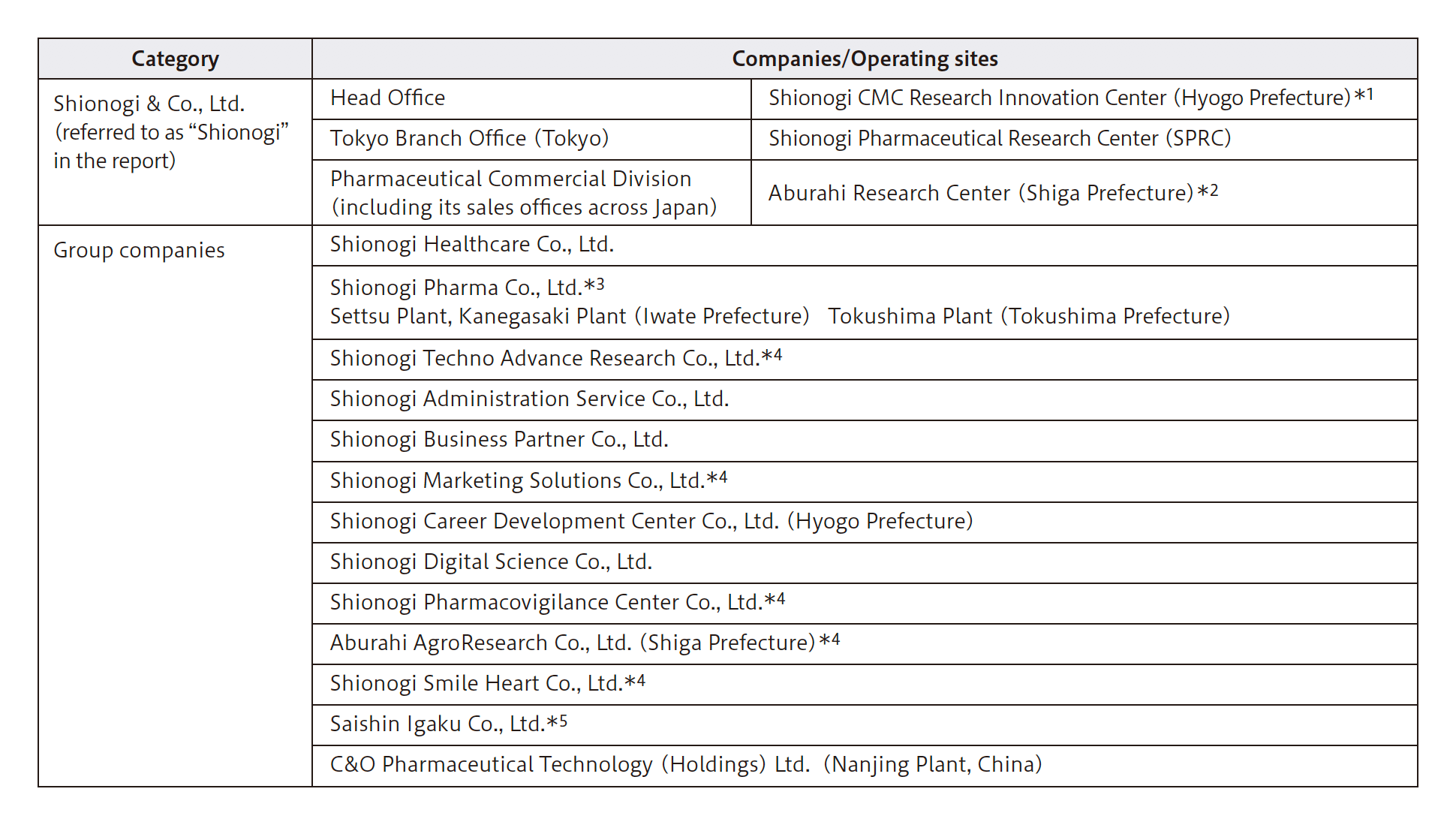 The companies and operating sites with no indication of location are all situated in Osaka Prefecture.
*1: Formerly Kuise Site, the name was changed on April 1, 2020.
*2: Formerly Aburahi Facilities, the name was changed on April 1, 2020.
*3: Commenced operation on April 1, 2019 as Shionogi Pharma Co., Ltd., a wholly owned subsidiary of Shionogi & Co., Ltd. in charge of manufacturing and related functions of the Shionogi Group; Shionogi Pharma Chemicals Co., Ltd. and Shionogi Analysis Center Co., Ltd. were absorbed by and merged into Shionogi Pharma Co., Ltd.
*4: Located on the premises of Shionogi & Co., Ltd.
*5: Liquidation completed on March 27, 2020.
Numerical data and graphs
The numerical data provided in the report are obtained by rounding off digits smaller than the units indicated. Accordingly, the actual sums of the individual figures in the graphs and charts do not necessarily correspond to the total figures in the same graphs and charts. The CO2 equivalent conversion of energy source is based on the numerical measures adopted in-house for the management of progress toward target attainment, namely adjusted emissions coefficients indicated in "Emission Factors by Power Suppliers (for the calculation of GHG emissions by specified emitters) (FY 2008 results)," published by the Ministry of Environment and the Ministry of the Economy, Trade and Industry of Japan.
To the Nanjing Plant, the coefficients indicated below are applied:
Up to FY 2017: Ministerial Guidelines for GHG Emissions Accounting and Reporting (Climate Change Agency of the Chinese National Development and Reform Committee)(2005 results)
Since FY 2018: International Energy Agency (IEA) Emissions Factors (2016 results)
The Environmental Reporting Guidelines of the Ministry of the Environment of Japan (edition 2018) are used as a reference.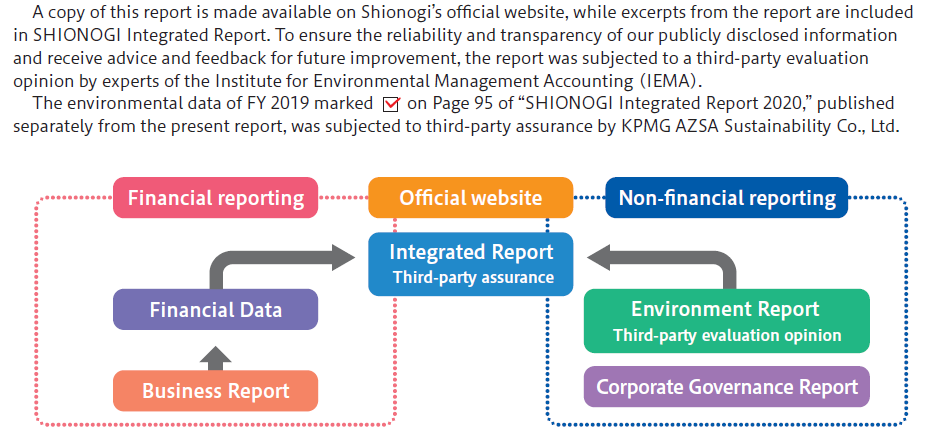 Trends of major performance assessment indicators