Commitment by the EHS Corporate Officer
~To create a sustainable society~
The Sustainable Development Goals (SDGs), which have been adopted as international goals aiming for a sustainable and better world by 2030, have been drawing an increasing amount of attention. In the environment surrounding corporations, expectation is growing stronger for corporations to adequately address challenges related to the environment ("E"), society ("S"), and governance ("G").

In April 2020, we at Shionogi established the Sustainability Management Office as the section comprehensively charged with ESG-related affairs. Since then, we have strengthened our efforts to address ESG issues. In July 2021, to meet the further demands of society, we expanded the section and reorganized it into the Sustainability Management Department with the aim of promoting fair corporate activities and further enhancing our governance and compliance functions. We will continue to work to realize our own corporate growth and contribute to a sustainable society through business activities and to take responsibility for enhancing our efforts to work on environmental and other challenges. We believe that by doing so we can be and remain a business group that all our stakeholders find valuable and indispensable.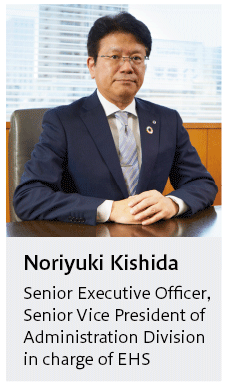 As a medium-term business goal, in June 2020, we announced our New Medium-Term Business Plan, "Shionogi Transformation Strategy 2030 (STS2030)," to realize the vision of "Building Innovation Platforms to Shape the Future of Healthcare" by 2030. Toward this goal, we have set "Contribute to society" as one of our essential values and have been determined to begin our own innovation and transform ourselves into a business group that continues to enjoy society's trust and the privilege of working with our many valued partners. Specifically, to realize our contribution to a sustainable society, we have identified "Protecting the environment" as one of the Shionogi Group's material issues (Materiality) that we should prioritize and have extracted environmental materiality in consideration of its impact on the sustainability of global ecosystems and on stakeholders based on the Environmental Reporting Guidelines. We have also adopted EHS action targets, including medium- and long-term environmental targets (2020–2024/2030/2050), with regard to the four global challenges of AMR,*1 climate change, resource conservation and circulation, and water, and we have focused on priority initiatives aimed at achieving the targets.

In particular, in response to climate change, companies are urgently required to take measures to support the goal of achieving net zero greenhouse gas (GHG) emissions by 2050, which was announced by the Japanese government, and to reduce GHG emissions worldwide. We have set medium- and long-term GHG emissions reduction plans, for which we obtained approval from the SBT*2 Initiative, an international environment initiative, in June 2021. (→See "Topics" for details.)
We are working to enhance information disclosure to gain understanding from our stakeholders about our efforts for the environment. Through our activities relating to the environment, we will continue to strive to further reinforce our engagement with our stakeholders and sustainably improve our corporate value.
*1 AMR:Antimicrobial Resistance

*2 SBT:Science-based targets, that is, CO2 emissions reduction targets based on scientific data