Commitment by the EHS Corporate Officer
To create a sustainable society

Since the adoption of the Sustainable Development Goals (SDGs) by the United Nations in 2015, these goals to be achieved by 2030 worldwide have been drawing an increasing amount of attention. In Japan, Shionogi's home, in the same spirit of seeking a sustainable society, expectation is growing stronger for corporations to adequately address challenges related to the environment ("E"), society ("S") and governance ("G") and to expand their ESG investment*1. In response, we at Shionogi are reinforcing our efforts to work on environmental and other challenges so as to continue our active participation in the construction of a sustainable society while realizing our own corporate growth. We believe that by so doing we can be and remain a business group that all our stakeholders find valuable and indispensable.
In April 2020, we established the Sustainability Management Office under the Corporate Planning Department of the Corporate Strategy Division, as a section comprehensively charged with ESG-related affairs. The addition of this section to our organization allows us to operate a more efficient company-wide system for promoting sustainability initiatives while ensuring Shionogi's growth.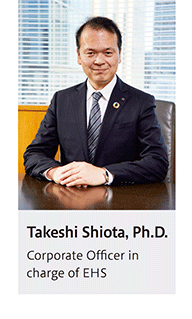 In June 2020, we announced our New Medium-Term Business Plan, "Shionogi Transformation Strategy 2030 (STS2030)," to realize the vision of "Building Innovation Platforms to Shape the Future of Healthcare" by 2030. Toward this goal, we must begin our own innovation, transforming ourselves into a business group that continues to enjoy society's trust and the privilege of working with our many valued partners. To do so, we are fully aware that it is essential to work in harmony with, and for the benefit of, society at large, particularly in the area of global environmental protection. Accordingly, we have adopted new EHS action targets, including mediumand long-term environmental targets (2020-2024/2030/2050), with regard to three global challenges that need to be overcome to build a sustainable society: AMR,*2 climate change, and resources conservation and circulation.
We regularly disclose relevant information to gain understanding from our stakeholders about our efforts for the environment. Through our activities relating to the environment, we are striving to further enhance our corporate value and reinforce our engagement with our stakeholders.
*1 ESG investment: Investment in shares on the basis of companies' performance in terms of environmental (‶E"), social ("S") and governance ("G") aspects
*2 AMR: Antimicrobial Resistance