Shionogi, which has declared its wish to create a more vigorous society, recognizes the importance of respect for human rights and related initiatives. We believe that it is important for each employee to respect human rights and to act from a high ethical stance.  The Shionogi Charter of Conduct, which lays down standards for employee conduct, contains clear statements regarding Respect for the Individual and Acceptance of Diversity.
Shionogi supports international human rights standards, including the Universal Declaration of Human Rights, the ILO Declaration on Fundamental Principles and Rights at Work and its Follow-up, and the UN Global Compact.
Moreover, in accordance with the UN Guiding Principles on Business and Human Rights, Shionogi continuously respects human rights in its entire business activities and ensures compliance with the international human rights obligations and relevant laws and regulations. The Company will never infringe on the human rights of others. It will consider and address in the best way possible the impact of its business activities on human rights, and endeavor to respect human rights in cooperation with all its business partners.
Since joining the PSCI*1 in 2017, Shionogi has been progressing with human rights initiatives embracing all of its corporate activities, including suppliers.
※1

PSCI: Pharmaceutical Supply Chain Initiative (a non-profit body formed by more than 40 pharmaceutical manufacturers worldwide to promote CSR-based procurement in the pharmaceutical industry)
Please refer to "Supply chain management" for the detail of our CSR procurement.
Action on UN Global Compact
With business operations set to extend worldwide, Shionogi has the responsibilities of a global corporate citizen and needs to contribute to resolving social issues as part of its management activities. Accordingly, in August 2019 Shionogi declared its participation in the United Nations Global Compact.
In the interests of sustainable growth, Shionogi endorses the essential values expressed in the ten principles of the United Nations Global Compact relating to human rights, labor, the environment and anti-corruption. Going forward, Shionogi will continue to support and respect the protection of human rights, avoid complicity in human rights abuses, and promote still more energetically global-level initiatives to eliminate forced labor and child labor.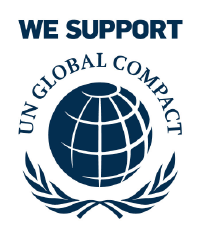 The Ten Principles of the UN Global Compact
Principle 1: Businesses should support and respect the protection of internationally proclaimed human rights; and
Principle 2: make sure that they are not complicit in human rights abuses.

Principle 3: Businesses should uphold the freedom of association and the effective recognition of the right to collective bargaining;
Principle 4: the elimination of all forms of forced and compulsory labour;
Principle 5: the effective abolition of child labour; and
Principle 6: the elimination of discrimination in respect of employment and occupation.

Principle 7:  Businesses should support a precautionary approach to environmental challenges;
Principle 8:  undertake initiatives to promote greater environmental responsibility; and
Principle 9:  encourage the development and diffusion of environmentally friendly technologies.

Principle 10:  Businesses should work against corruption in all its forms, including extortion and bribery.