At Shionogi, we think sustainable growth hinges not only on new drug creation, but also on consolidating our strengths in areas of strategic focus. In this era of diversifying healthcare needs, there seems to be risk in having both a great deal of infrastructure and not much infrastructure. To maintain large infrastructure, it is necessary also to keep a bulging pipeline. However, this adds to the volume and type of work that in theory should be performed in-house. Through external partnerships, we seek to enhance overall productivity through collaboration in areas where it would be difficult for us to go it alone. By keeping our head office functions comparatively lean while at the same time retaining certain strengths in this ever-changing world, we aim to stay nimble and ensure that our presence is felt.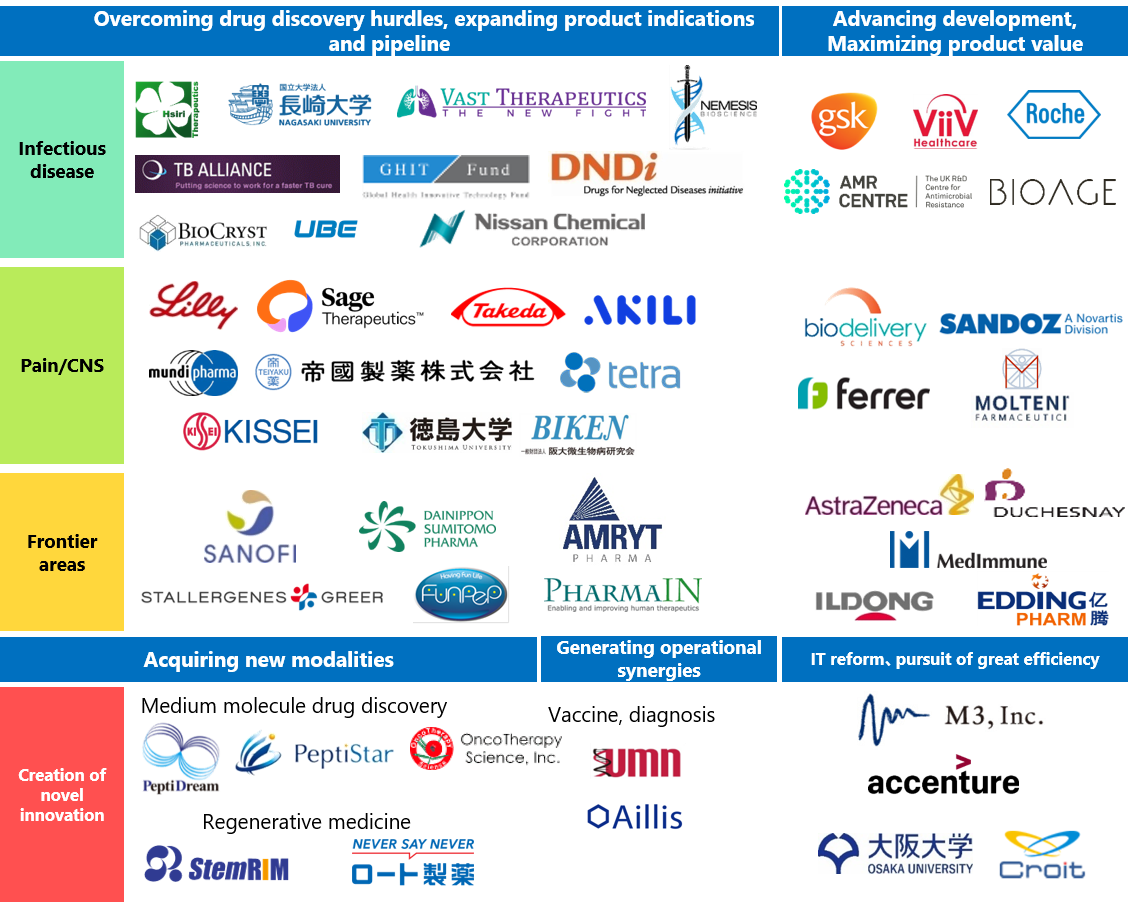 Shaping the future of healthcare
Rapid advances in information technology are driving significant changes in how healthcare is provided. For example, the foundations are being laid for the delivery of personalized treatment through aggregation and analysis of big data on individual patient health profiles. New systems are also being worked out to allow patients to receive medical examinations and guidance on drug compliance without having to visit a medical facility and for pharmaceuticals to be delivered directly to the patient's home. Shionogi is responding to these changes and working to build healthcare platforms, creating value with partners that have complementary capabilities and aligned visions for the future of healthcare, as part of the Company's goal of developing HaaS to shape the future of healthcare.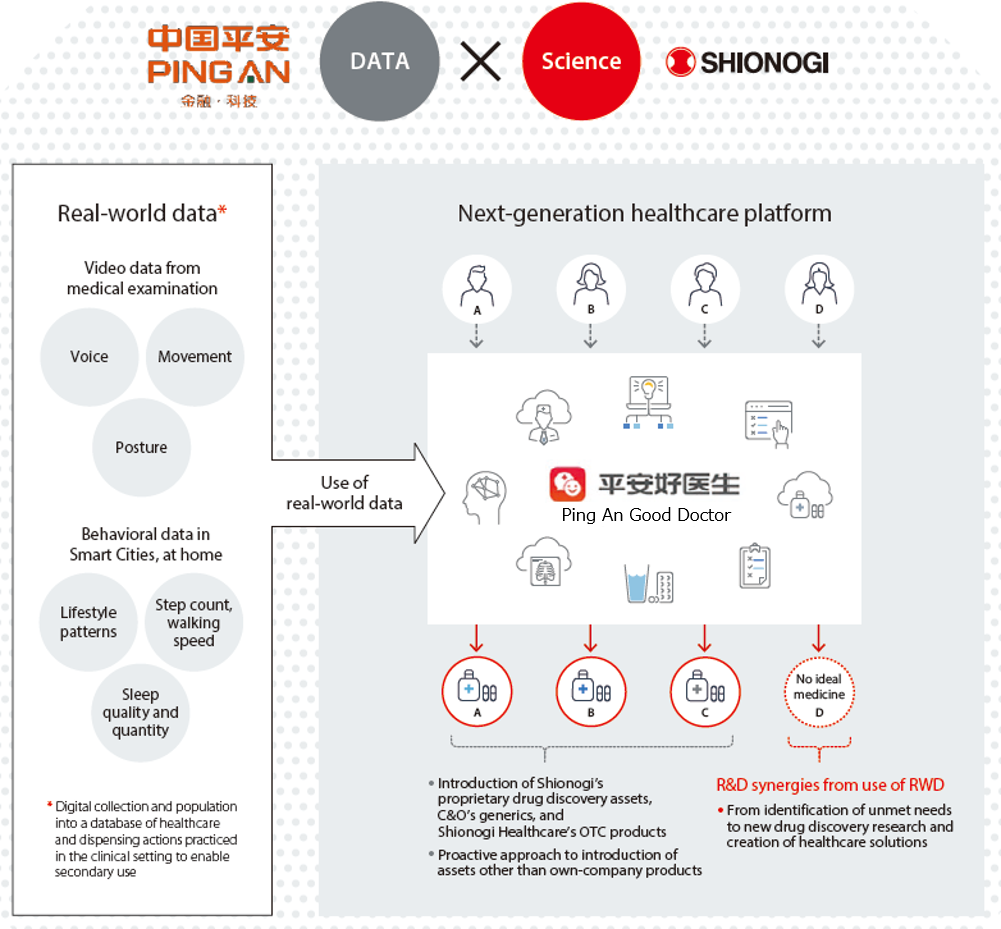 Strategic alliances geared toward sustained growth after 2020
While Shionogi will continue to develop pipeline projects created in-house, we think expansion of pipeline projects and technologies through alliances also is essential for driving innovation. In order to flesh out  our product pipeline over the medium and long term, in fiscal 2018 Shionogi set aside a special budget of ¥20 billion for strategic R&D investment in addition to ordinary R&D expenses, and entered into a number of strategic business alliances. 
In the field of infectious diseases, Shionogi traditionally has focused on HIV, influenza virus, and multidrug-resistant bacteria. In recent years, though, we have expanded the scope of our research to include the three major infectious diseases (HIV as well as tuberculosis, and malaria) and intractable infectious diseases. To that end, we have in-licensed research assets geared toward accelerating our research into the three major infectious diseases, while also investing in entirely new technologies for the treatment of intractable infectious diseases. 
In the pain/CNS area, we have in-licensed assets that should enable us to provide a broader range of treatment options, thereby fleshing out underpopulated portions of our pipeline. We also have expanded into new modalities in order to address medical needs that have not been met by small molecule drugs, acquiring new technologies that will further our research into medium molecule drugs. 
Against this backdrop, we plan to harness our competitive edge in small-molecule drugs and develop an order of priority for investment of our limited resources, in order to achieve ongoing improvement in R&D efficiency, both in-house and at partner companies. To further contribute to better health through the use of IT, we look to deepen our collaboration with the IT sector and other industries, tackling new modalities including digital therapeutic apps. In this manner, we aim to provide patients with an increasingly diverse range of treatment options. 
Strategic Business Investments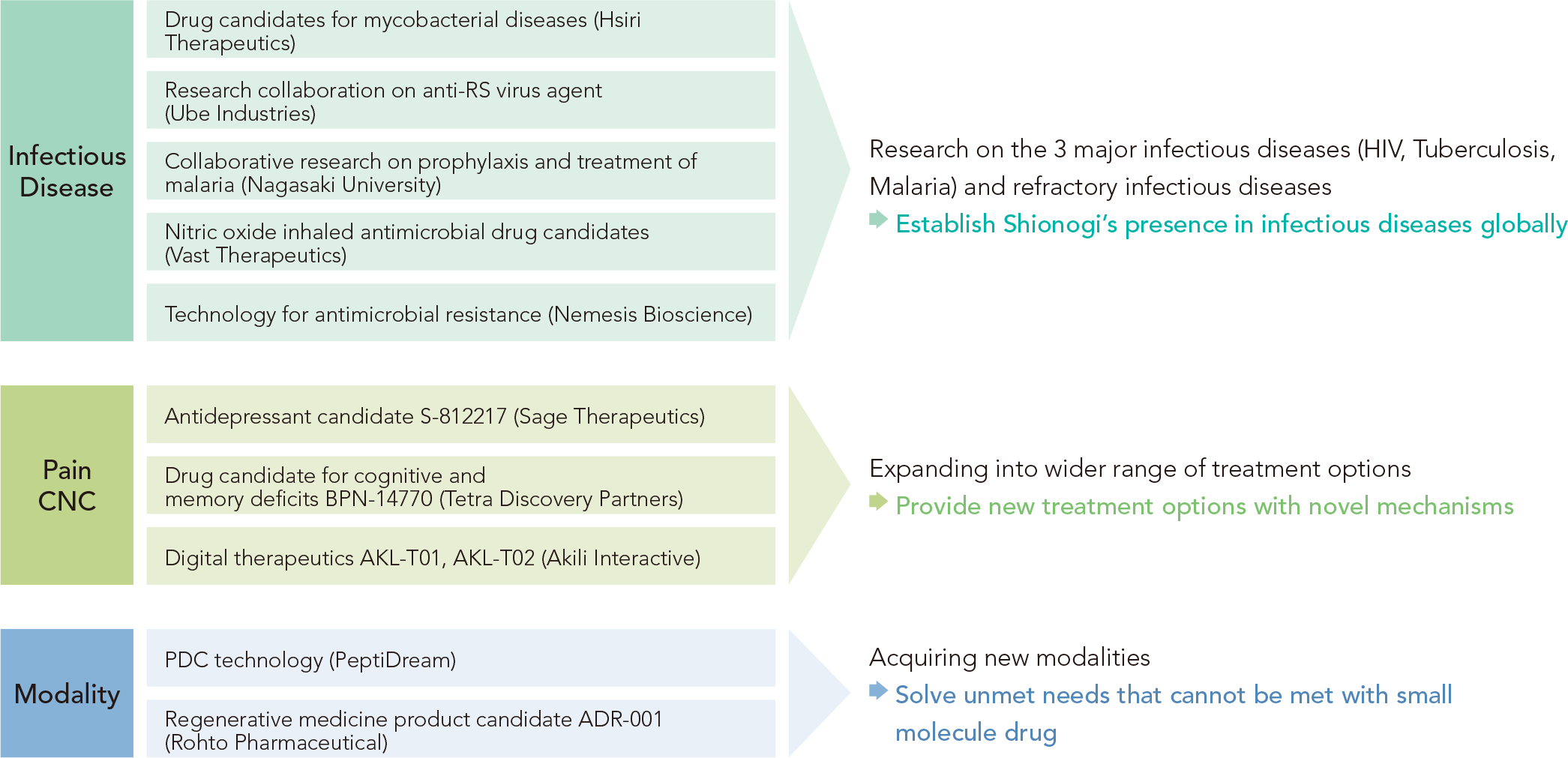 Entered into 10 new strategic partnerships with view to sustained growth after 2020