Shionogi and Hirakata City, Osaka Sign Partnership Agreement for Support and Awareness-Raising of Infectious Disease Control
OSAKA, Japan, October 17, 2022 - Shionogi & Co., Ltd. (Head Office: Osaka, Japan; Chief Executive Officer: Isao Teshirogi, Ph.D.; hereafter "Shionogi") and Hirakata City, Osaka (Mayor: Takashi Fushimi) announced that they have signed a partnership agreement for support and awareness-raising of infectious disease control (hereafter, the "Agreement") as below.
Infectious diseases are caused by various pathogens, such as bacteria, viruses and parasites, and range from the common cold with relatively mild symptoms to more severe infections requiring inpatient treatment, which in some cases are life-threatening. Anyone can come into contact with pathogens in the course of their daily activities. If you become infected and develop symptoms, it can affect not only yourself, but also those around you. Therefore, understanding infectious diseases and correctly fearing them enables you to protect the health of yourself and those around you.
Under the Agreement, Shionogi and Hirakata City will work closely together to carry out the following initiatives mainly in the field of infectious diseases while leveraging their respective strengths.
1

Initiatives concerning the prevention of infectious diseases

2

Initiatives concerning education and awareness raising related to infectious diseases

3

Initiatives concerning infectious disease control during a disaster

4

Other initiatives that serve the objectives of the Agreement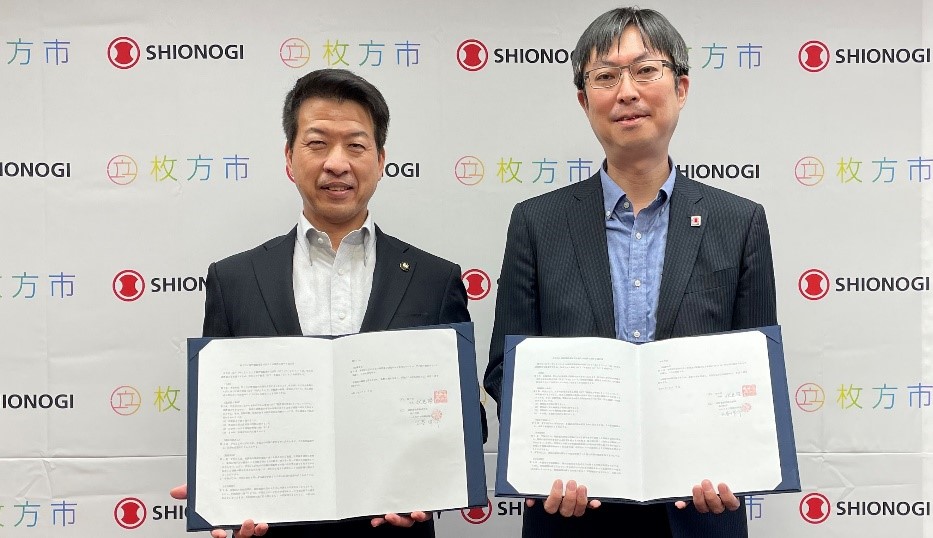 <From the left of the photo>
Takashi Fushimi, Mayor of Hirakata City, Osaka
Yousuke Miharu, Corporate Officer, Senior Vice President of Integrated Disease Care Division, Shionogi & Co., Ltd.
With the conclusion of the Agreement, Shionogi and Hirakata City will work together to improve public health and maintain/improve the health of Hirakata residents by not only providing them with correct information on infectious disease control measures, but also providing training opportunities to the staff of Hirakata City and public health centers to improve resident services. 
Forward-Looking Statements
This announcement contains forward-looking statements. These statements are based on expectations in light of the information currently available, assumptions that are subject to risks and uncertainties which could cause actual results to differ materially from these statements. Risks and uncertainties include general domestic and international economic conditions such as general industry and market conditions, and changes of interest rate and currency exchange rate. These risks and uncertainties particularly apply with respect to product-related forward-looking statements. Product risks and uncertainties include, but are not limited to, completion and discontinuation of clinical trials; obtaining regulatory approvals; claims and concerns about product safety and efficacy; technological advances; adverse outcome of important litigation; domestic and foreign healthcare reforms and changes of laws and regulations. Also for existing products, there are manufacturing and marketing risks, which include, but are not limited to, inability to build production capacity to meet demand, lack of availability of raw materials and entry of competitive products. The company disclaims any intention or obligation to update or revise any forward-looking statements whether as a result of new information, future events or otherwise.
About Shionogi & Co., Ltd.
Shionogi has identified "Protecting people from the threat of infectious diseases" as a material issue (Materiality), and is making efforts for total care for infectious diseases covering pre-symptomatic, and preventive care through education, prevention, diagnosis, and control of disease severity, not only research and development of treatments. As a leading company in infectious diseases, we will strengthen our efforts including the corporation with outside partners to provide healthcare solutions to as many patients as possible.
About Hirakata City, Osaka
Located in the northeastern part of Osaka Prefecture, almost halfway between Osaka and Kyoto, Hirakata City prospered as a river port for water transportation along the Yodo River and a post town on the Tokai-do Road in ancient times. The City is a commuter town with a population of about 400,000 where abundant nature, such as the Yodo River and satoyama woodland, and urban areas coexist in perfect harmony. In 2022, Hirakata City celebrates the 75th anniversary of its inauguration under the municipal system. The City is promoting ICT education as well as initiatives to support child-rearing and to extend healthy life expectancy by actively utilizing public-private partnerships. The City will undertake new initiatives in collaboration with various entities so that the residents will wish to continue to live in Hirakata forever.
For Further Information, Contact: