Shionogi Certified as the First Eco-First Company in the Pharmaceutical Industry of Environmentally Advanced Company
OSAKA, Japan, April 12, 2023 - Shionogi & Co., Ltd. (Head Office: Osaka, Japan; Chief Executive Officer: Isao Teshirogi, Ph.D.; hereafter "Shionogi") announced that, Shionogi has been certified as the Eco-First Company on April 5, 2023, by the Ministry of the Environment, which is promoting the Eco-First Program. Shionogi is the first company in the pharmaceutical industry to be certified as the Eco-First Company.
The Eco-First Program is a system under which the Minister of the Environment certifies the companies that conduct the advanced, unique, and industry-leading business activities in the field of the environment as Eco-First Companies. The Minister of the Environment evaluates and certifies the Eco-First Commitment that indicates the voluntary efforts of each company to protect the environment, such as climate change, waste disposal, and recycling.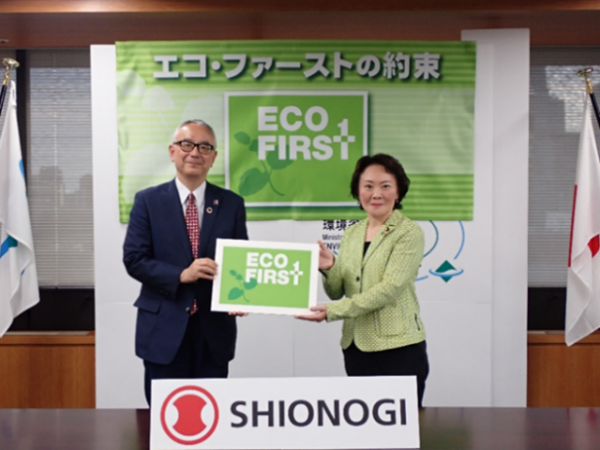 The SHIONOGI Group has identified Protect the Environment as one of our material issues to be addressed based on SHIONOGI Group Heritage (The Company Policy of SHIONOGI), SHIONOGI Group Code of Conduct. This Eco-First Company certification means that the SHIONOGI Group's environmental efforts, such as those described below, are advanced, unique, and industry-leading.
・Appropriate use of antimicrobials including the management of environmental release
・Actions against climate change
・Resource Recycling Project (horizontal recycling of label backing paper) of Shionogi Pharma Co., Ltd.
・Reforesting Kombu Project (protection of natural Gagome kombu kelp) of Shionogi Healthcare Co., Ltd.
Shionogi will continue to progress and expand sustainability activities toward the achievement of the SDGs (Sustainable Development Goals) and continuously work to ensure that corporate growth is aligned with contribution to a sustainable society through our business. We will strive continuously to grow as a company that is contributes to all our stakeholders.
[Contact]
Shionogi & Co. website inquiry form:
https://www.shionogi.com/jp/ja/quest.html#3.