Climate change can have devastating global impact on the economy and social systems. An early transition to a low-carbon, and eventually carbon-free, society is now an urgent challenge facing the whole world. Risks relating to climate change and the process of transitioning to a low-carbon society impact almost all industrial sectors. At Shionogi, we are carefully assessing and working to minimize climate change risks.
To assess the impact of climate change and reinforce our preparedness while responding to society's growing demand for related information disclosure, we are working to improve and expand our information disclosure relating to climate change with reference to the Task Force on Climate-related Financial Disclosures (TCFD) framework.
The Shionogi Group Companywide EHS Committee operates as the organization that deliberates on important EHS subjects for eventual decision making, such as environmental policies, medium- and long-term targets, performance review, identification of environmental challenges, and environmental risk assessment. The Energy Conservation Committee is more narrowly specialized in issues relating to climate change and energy conservation. The Corporate Executive Management Meeting deliberates on risks and opportunities relating to climate change, before the Board of Directors makes final decisions about them.
At Shionogi, we view global warming and other climate change-related issues as management challenges that we should tackle in earnest and incorporate our understanding of climate change risks and opportunities into our business strategies. Using the scenarios of RCP2.6 and RCP8.5*1 of the IPCC *2 Fifth Assessment Synthesis Report (AR5) as reference, we measure the financial impact of climate change risks and assess Shionogi's resilience.
*1 RCP: Representative Concentration Pathways
*2 IPCC: Intergovernmental Panel on Climate Change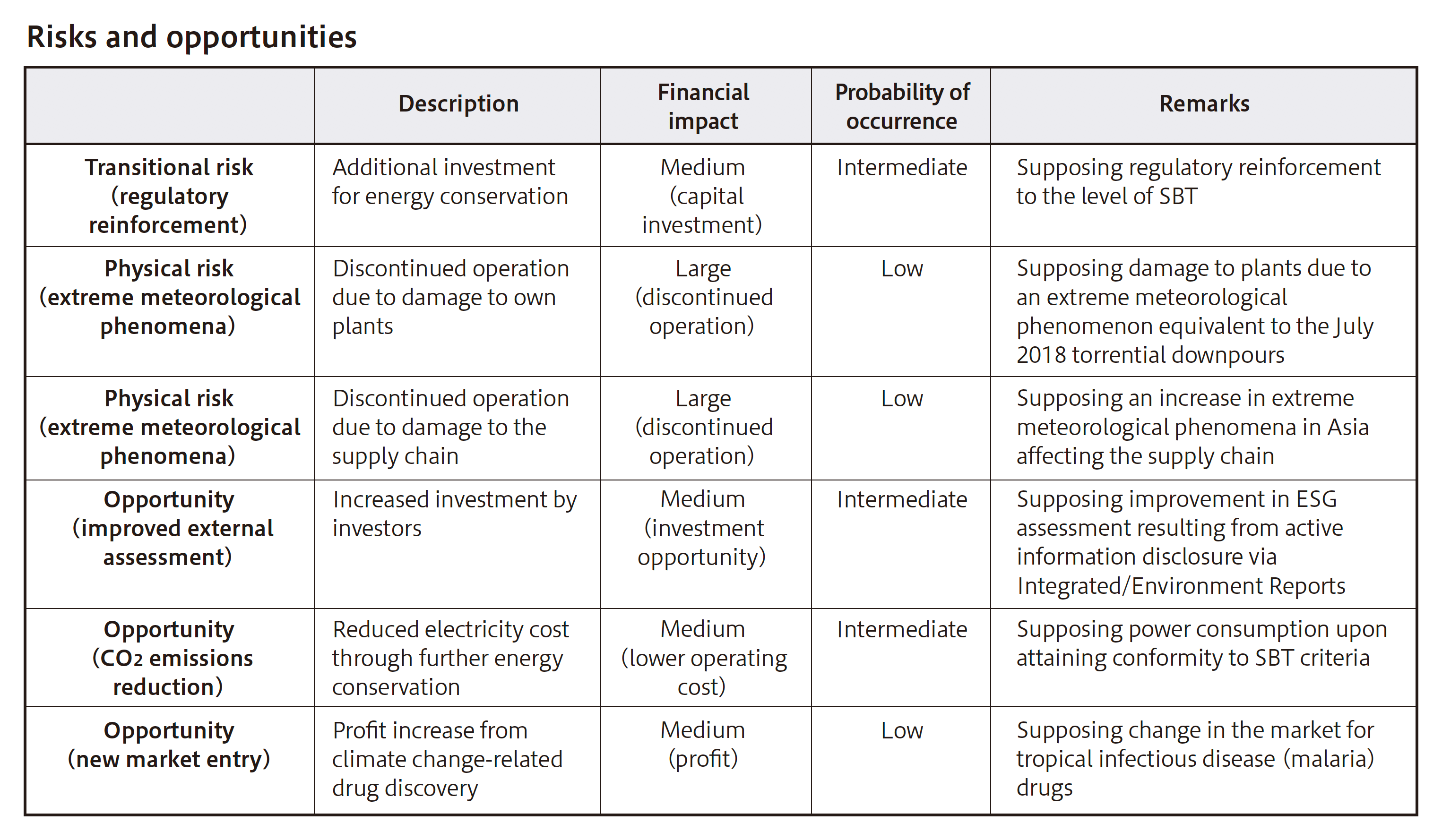 Shionogi's risk management is systematized in the following manner: The Shionogi Group Companywide EHS Committee and the Energy Conservation Committee assess the timing of emergence, financial impact, and other factors of climate change, adopting and implementing measures to respond to climate change risks in the order of priority. The Risk Management Subcommittee within the Corporate Strategy Committee comprehensively assesses climate change risks in consideration of other corporate risks before the Corporate Executive Management Meeting deliberates on them, and then the Board of Directors makes relevant final decisions.

We set medium- and long-term CO2 reductions plans following the worldwide movement toward the goal of attaining actual zero emissions by 2050.
In the future, we intend to work toward the approval of SBT*3 initiatives with regard to our medium- and long-term targets.
*3 SBT: Science-based targets, that is, CO2 emissions reduction targets based on scientific data

Internal carbon pricing will be applied to our medium- and long-term CO2 emissions reduction plans and be used as criteria for investment decision making.
Shionogi's tackle against AMR, which can further spread due to climate change
Shionogi's tackle against AMR (antimicrobial resistance) is presented on the website "Climate Change Adaptation Information Platform (A-PLAT)" operated by the National Institute for Environmental Studies, Japan.
- Ranked "S" for the fifth consecutive year in the assessment of business operators under the Energy Conservation Act ‒
In FY 2016, under the Energy Conservation Act, the Japanese government established a system to evaluate and classify business operators into four ranks (S, A, B, and C) according to their energy conservation initiatives, thereby publicly announcing exemplary business operators. In this system, Shionogi has been ranked as "S" for the fifth consecutive year as an excellent business operator practicing advanced energy-saving initiatives.
In compliance with the "Act on Rational Use and Proper Management of Fluorocarbons" Shionogi identifies refrigeration, air-conditioning and other types of applicable equipment that it possesses and operates, carries out simplified and periodic inspections, keeps related records, and calculates the amount of leakage. In FY 2019, Shionogi's calculated Fluorocarbons leakage was 456 tons-CO2. In compliance with the Kigali Amendment to the Montreal Protocol*4, we are promoting a switch to Fluorocarbons-free or low-GWP*5 equipment on the occasion of renewal.
*4 The Montreal Protocol on Substances that Deplete the Ozone Layer, based on the Vienna Convention for the Protection of the Ozone Layer, restricts substances likely to destroy the ozone layer, namely chlorofluorocarbons (CFCs) and hydrochlorofluorocarbons (HCFCs). The Kigali Amendment to the Montreal Protocol includes the restriction of production and consumption of hydrofluorocarbons (HFCs), a non-ozone-depleting Fluorocarbons alternative with a high greenhouse effect.
*5 GWP: Global Warming Potential
Vehicles for sales activities
Shionogi is striving to reduce CO2 and gas emissions by improving fuel efficiency through promoting the introduction of more fuel-efficient hybrid vehicles (HVs) to be rented by our medical representatives (MRs). All vehicles for use by our MRs in Japan are now HVs, except in cold regions. Starting from 2020, we are gradually introducing HVs also in cold regions toward a complete replacement by 2024.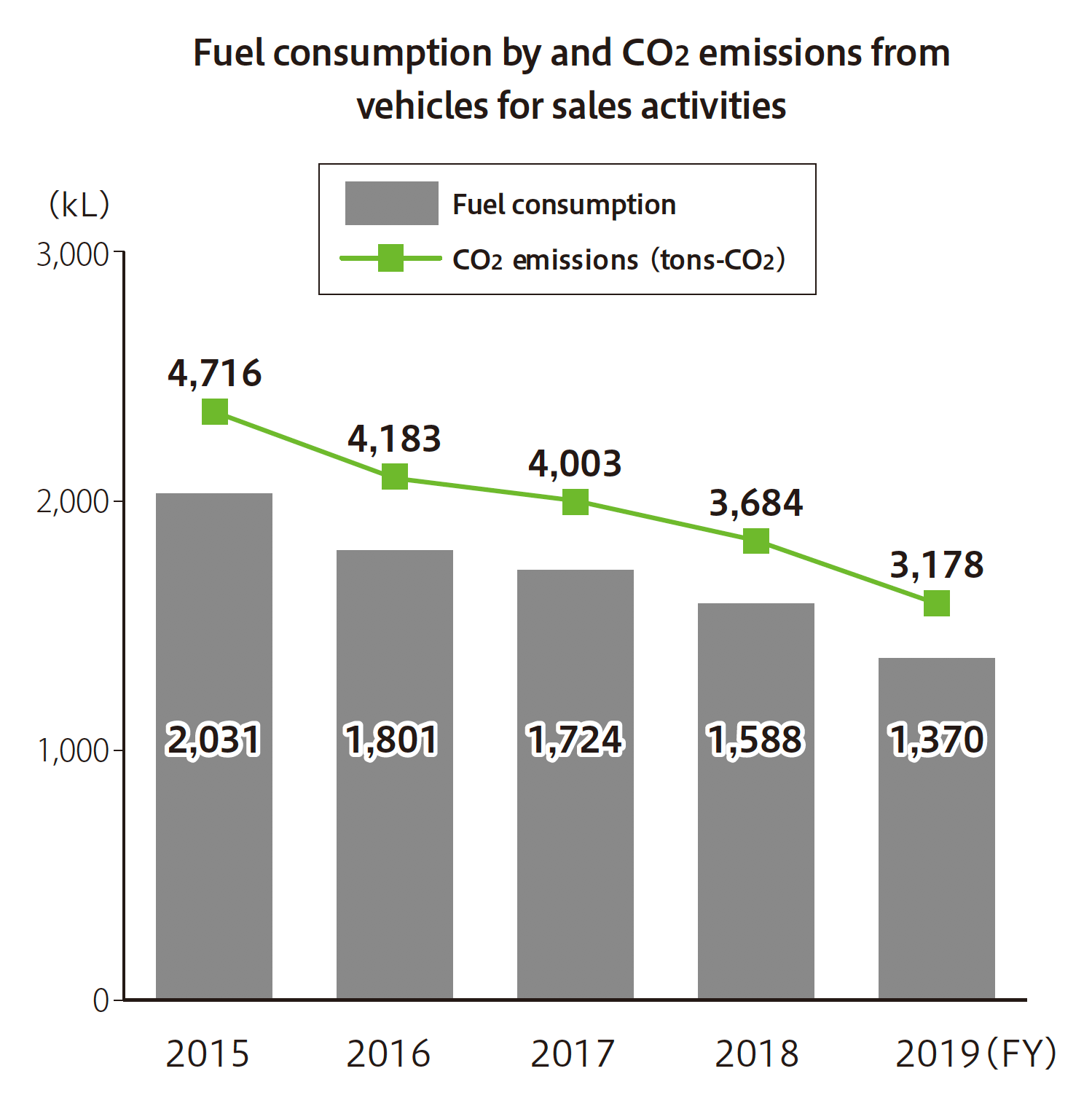 The Shionogi Group is actively working to reduce CO2 emissions to contribute to global warming mitigation.
The Federation of Pharmaceutical Manufacturers' Associations of Japan (FPMAJ) has adopted, as part of its action plan to realize a low-carbon society, the goal of reducing CO2 emissions by pharmaceutical companies by 23% in FY 2020 from the FY 2005 benchmark (Phase I) and by 25% in FY 2030 from the FY 2013 benchmark (Phase II). As an FPMAJ member, the Shionogi Group has set targets above these criteria and the goal of improving specific energy efficiencies by 1% per year. Moreover, we are also promoting the introduction of highly energy-efficient equipment to reduce energy consumption while continuously reviewing our operational modes.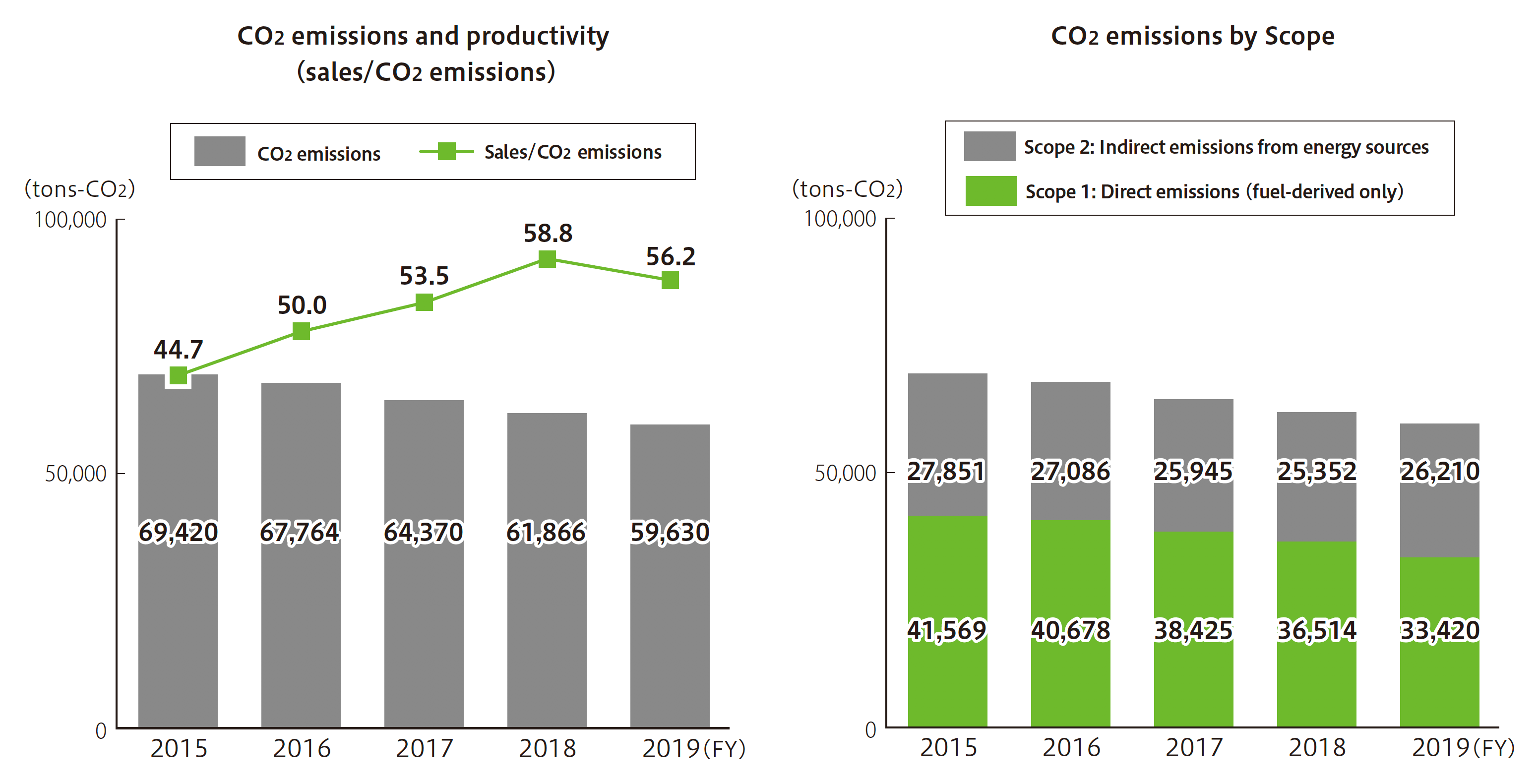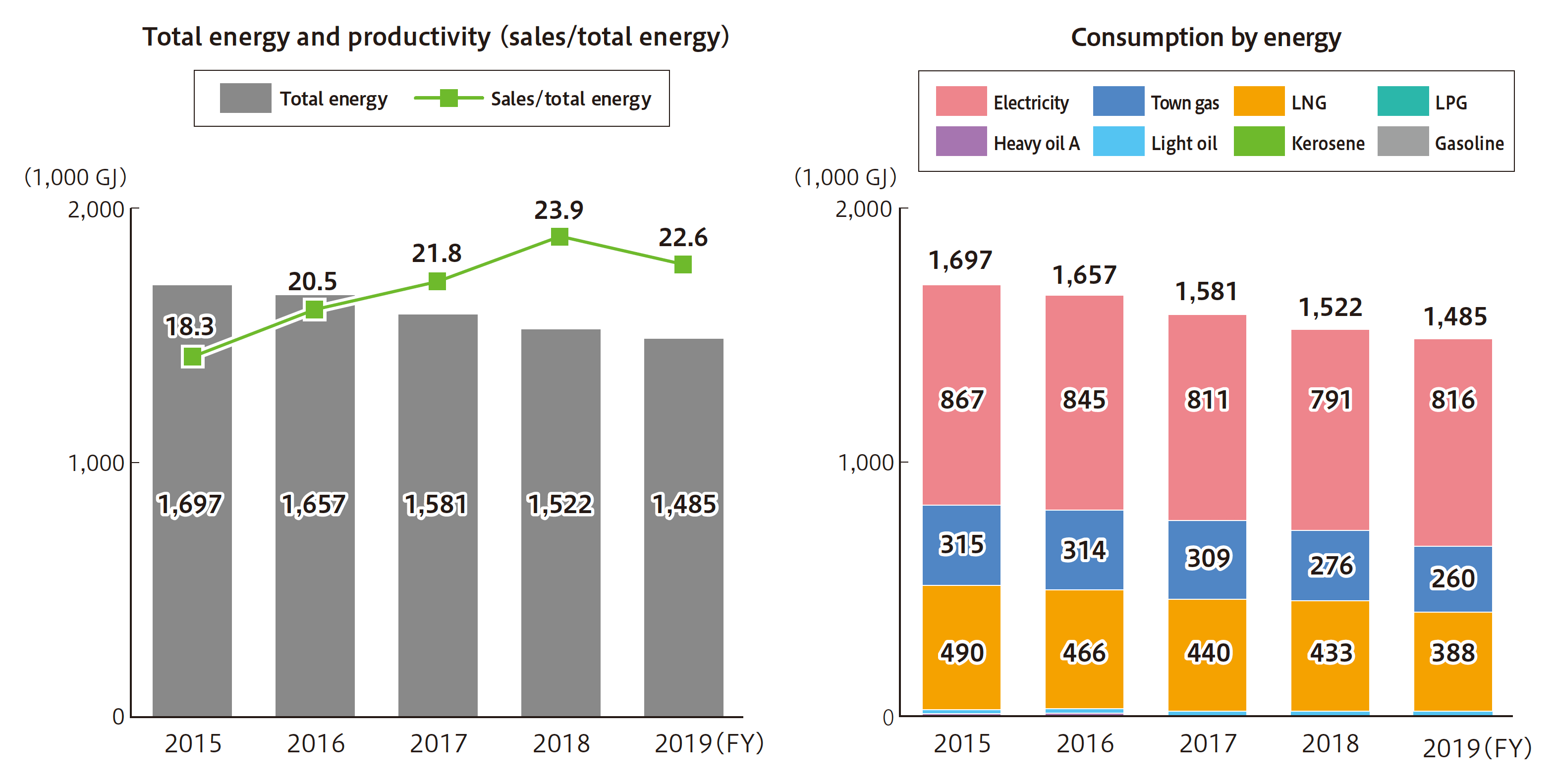 Scope 3 (Greenhouse gas emissions throughout the supply chain)
A company's business activities form a supply chain of its partners through purchasing, sales and so forth. For truly effective CO2 emission control, it is essential to measure and regulate CO2 emissions not only from the company's own activities but also throughout the supply chain.
At Shionogi, we measure our CO2 emissions throughout the supply chain of purchase/procurement, manufacturing, distribution and sales in accordance with the "Basic Guidelines on Accounting for Greenhouse Gas Emissions Throughout the Supply Chain" published by the Ministry of the Environment and the Ministry of Economy, Trade and Industry of Japan.