As countries around the world push forward with measures against climate change, in October 2020, the Japanese government declared its goal to achieve carbon neutrality by 2050. With this as a starting point, the transition to carbon-free society is accelerating in Japan.
As a corporate group that employs natural capital to operate its business, SHIONOGI recognizes that realizing a sustainable society through the conservation of the global environment is an important responsibility that the Group must fulfill. The SHIONOGI Group has identified "Protect the environment" as one of the material issues and has been reporting to the Board of Directors on the progress of our countermeasures on this issue in a timely manner.
*1  Task Force on Climate-Related Financial Disclosures: An organization established by the Financial Stability Board (FSB) in response to a request from the G20 to discuss how climate-related information should be disclosed and how financial institutions should respond.
Metrics and Targets for the SHIONOGI Group Climate Change Countermeasures
The SHIONOGI Group has set "reduction of greenhouse gas (CO2) emissions" as a metric for reducing risks related to climate change as part of our medium- to long-term EHS*2 Action Targets. In response to the Japanese government's declaration of "Carbon Neutrality by 2050" and the worldwide movement toward reducing CO2 emissions, SHIONOGI has established SBT*3 as the FY2030 greenhouse gas emissions reduction targets, aiming to achieve carbon neutrality by 2050. This target was approved by the SBT initiative in June 2021.
・Metric: Greenhouse gas (CO2) emissions reduction (FY2019 benchmark)
・Targets:
- Reduce greenhouse gas emissions (Scopes 1 and 2) by 46.2% by FY2030 compared to FY2019.
- Cut down greenhouse gas emissions (Scope 3 Category 1: Purchased goods and services) by 20% by FY2030 compared to FY2019.
We have also set the climate change countermeasures to achieve the above targets and are promoting internal activities.
・Climate change countermeasures for achieving the targets:
- Reducing energy consumption and improving energy efficiency
    -  Promoting energy-saving initiatives aimed at reducing energy intensity by 1% per year
    -  Promoting the introduction of high-efficiency equipment
- Reducing greenhouse gas emissions
    -  Promoting the introduction of renewable energy
    -  Promoting the introduction of high-efficiency equipment


* Target approved by the SBTi
Results of initiatives related to climate change
Reducing our Scope 1 and 2 emissions
To achieve our FY2030 targets, we work to reduce CO2 emissions by gradually introducing electricity derived from renewable energy mainly to the SHIONOGI Group's major sites, such as plants and research laboratories. We also aim to improve energy intensity by 1% per year and introduce equipment with high energy consumption efficiency. In addition to promoting the introduction of highly energy-efficient equipment, we continuously review our operational modes to reduce energy consumption.
In terms of transition to renewable electricity, we have completed the introduction of electricity derived from renewable energy to the head office building in FY2021 and to the Aburahi Research Center in FY2022 based on a plan to switch to renewable energy-derived electricity for the SHIONOGI Group's major sites. Meanwhile, in terms of improvement of energy efficiency, we were unable to achieve our FY2021 targets due to an increase in CO2 emissions and energy consumption because we not only actively worked on COVID-19-related research and development, but also implemented the advanced manufacturing of COVID-19 therapeutic drugs with the aim of promptly supplying them after approval. We will continue to consider and implement further measures to reduce CO2 emissions, including the active introduction of renewable energy-derived electricity, in order to achieve our SBTs.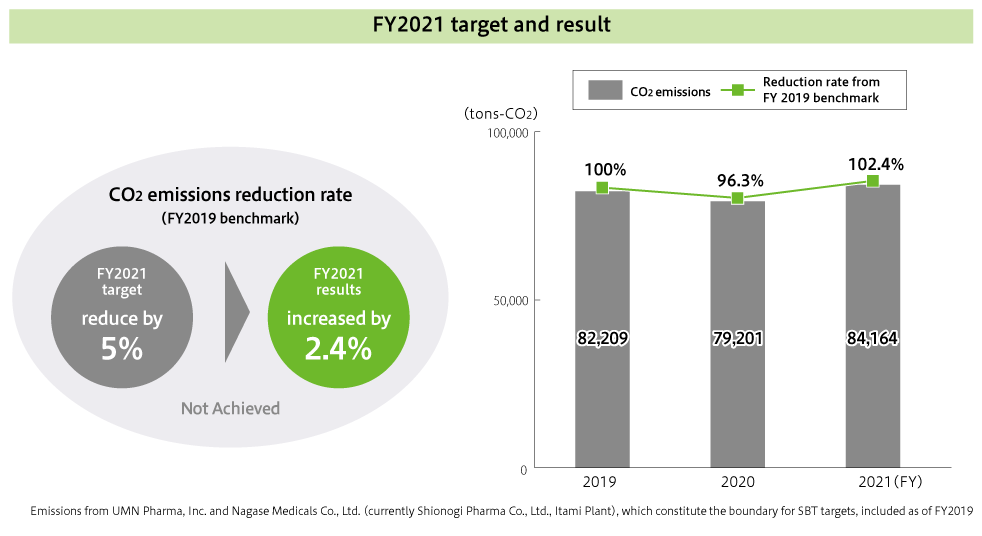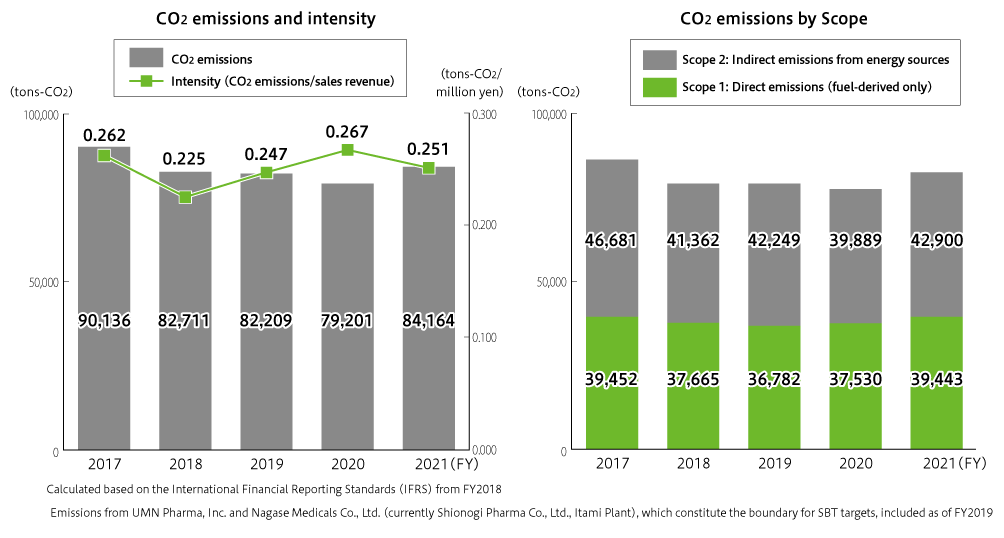 Vehicles for sales activities
Shionogi is striving to reduce CO2 and exhaust gas emissions by improving fuel efficiency through promoting the introduction of more fuel-efficient hybrid vehicles (HVs) to be rented for our medical representatives (MRs). All vehicles for use by our MRs in Japan are now HVs, except in the colder regions. Starting from 2020, we are gradually introducing HVs also in the colder regions toward complete replacement by 2024.
In FY2021, continuing on from FY2020, fuel consumption decreased due to the effect of curbing face-to-face medical information provision activities and shifting to online activities in association with the spread of the COVID-19 pandemic.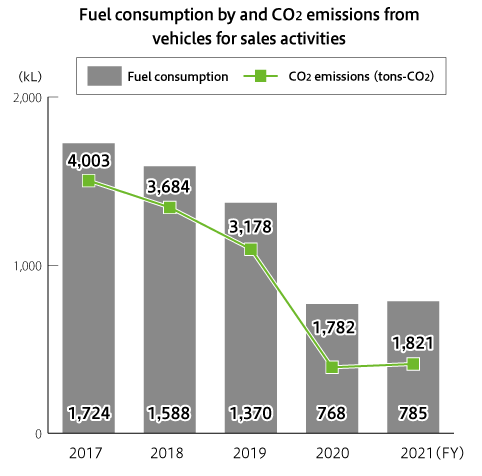 In compliance with the Act on Rational Use and Proper Management of Fluorocarbons, the SHIONOGI Group identifies the relevant refrigeration, air-conditioning, and other types of applicable equipment that it possesses and operates, carries out simplified and periodic inspections, keeps related records, and calculates the amount of leakage. In FY2021, the SHIONOGI Group's calculated fluorocarbons leakage was 355 tons-CO2. In compliance with the Kigali Amendment to the Montreal Protocol,*4 we are promoting a switch to fluorocarbon-free or low-GWP*5 equipment at the time of renewal.
*4 The Montreal Protocol on Substances that Deplete the Ozone Layer, based on the Vienna Convention for the Protection of the Ozone Layer, restricts substances likely to destroy the ozone layer, namely chlorofluorocarbons (CFCs) and hydrochlorofluorocarbons (HCFCs). The Kigali Amendment to the Montreal Protocol includes the restriction of production and consumption of hydrofluorocarbons (HFCs), a non-ozone-depleting fluorocarbon alternative with a high greenhouse effect.
*5 GWP: Global Warming Potential
Reducing our Scope 3 emissions
Scope 3 emissions of the SHIONOGI Group account for about 60% of total emissions. It is essential to work with suppliers to reduce CO2  emissions throughout the supply chain in order to achieve its SBTs. Among our Scope 3 emissions, Category 1(Purchased goods and services)is given high priority, accounting for more than 50% of our Scope 3 emissions. We set the medium-term target on this category and are promoting the consideration and implementation of reduction measures on it.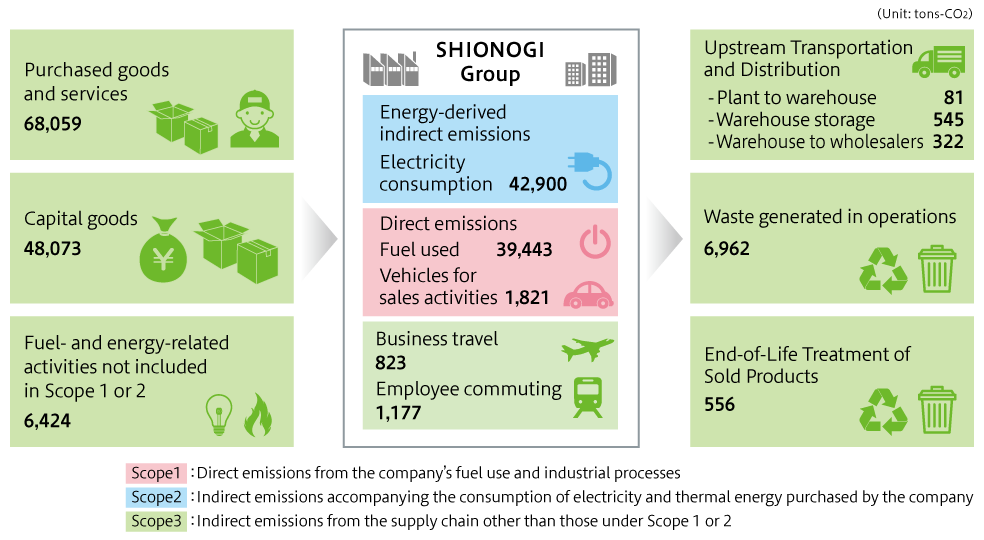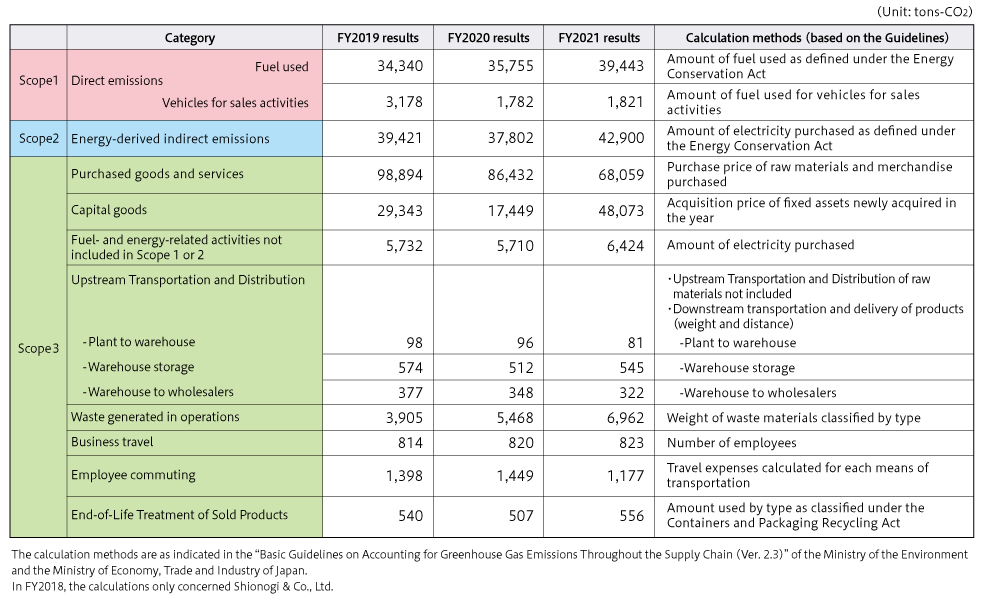 The SHIONOGI Group also participated in the Fiscal Year 2021 Model Project for Supporting Achievement of the Decarbonization Targets of the Entire Supply Chain, which is a project of the Ministry of the Environment aimed at helping companies achieve their GHG emissions reduction targets for the entire supply chain, and formulated measures to reduce CO2 emissions throughout the supply chain. We have built a collaborative system, including Group companies, to promote supplier engagement, and have implemented the supply chain engagement process*6 formulated in this project to achieve our SBTs.
As of June 2022, we have conducted supplier engagement activities for our top 21 suppliers by purchase amount, including checking the status of their efforts to reduce CO2 emissions and holding briefing sessions to promote their understanding of the SHIONOGI Group's policy on climate change. In the future, we will select important suppliers for CO2 emissions reduction to ask them to reduce their CO2 emissions and support their efforts on a priority basis.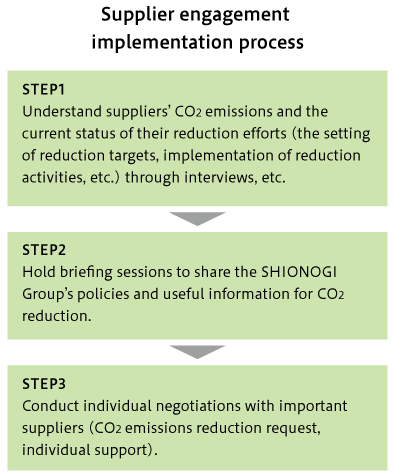 External activities for addressing climate change
Support for the messages from the Japan Climate Initiative (JCI)
The Japan Climate Initiative (JCI) is a network aimed at realizing a decarbonized society by enhancing information dissemination from and exchange of views between companies, local governments, and NGOs that are actively involved in climate change initiatives in Japan. The SHIONOGI Group participated in the JCI in April 2021. As a member company, SHIONOGI expressed its support for the messages published by the JCI to the Japanese government in April 2021, June 2022 and April 2023.
The SHIONOGI Group has set its SBTs as medium- and long-term targets and is working daily to reduce CO2 emissions. Believing that expanding access to renewable energy will be an effective means of achieving the targets, we strongly support the JCI messages.

Participation in a panel session held as part of the Japan Climate Action Summit (JCAS) 2021
In October 2021, the Head of the Sustainability Management Department participated in Panel Session 2, titled "New challenges of addressing the climate crisis," at the Japan Climate Action Summit (JCAS), which was hosted by the Japan Climate Initiative (JCI).     
Today, the distribution of infectious diseases in tropical regions has expanded with climate change. As a representative of a leading company in the field of infectious diseases that has set "Protect people worldwide from the threat of infectious diseases" as one of its material issues (materiality), she introduced how preparing for the next pandemic would also serve as an adaptation strategy for climate change. She also explained our medium- and long-term targets for reducing GHG emissions and the acquisition of approval from the SBTi for the targets.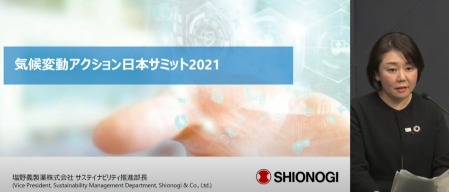 Our efforts against AMR, which could spread further due to climate change
The SHIONOGI Group's efforts against AMR (antimicrobial resistance) are presented on the website "Climate Change Adaptation Information Platform (A-PLAT)" operated by the National Institute for Environmental Studies, Japan.