We believe that the most important requirement for us to achieve this mission, particularly in a drastically changing environment, is to support all Shionogi employees in sustaining and improving their physical, mental and social wellbeing, which in turn allows them to achieve their goals in work and in life.
Therefore, in furtherance of the above, Shionogi and its employees will strive, in their respective positions, to: Improve the health literacy of employees; support the maintenance and improvement of the mental and physical condition of employees and their families; and sustain and continuously improve a supportive and productive working environment, as well as the employees' home environment.
Accordingly, we established the Shionogi Group Health Policy in fiscal 2020.
By aligning the direction of Shionogi and its employees and promoting initiatives, Shionogi will continue to ensure its employees' wellbeing and provide meaningful and valuable advances in healthcare.
We believe that health management is effective in not only enhancing employee productivity but also securing quality human resources indispensable to build Innovation platforms to shape the future of healthcare and increasingly taking on challenges in the face of the dwindling working-age population in Japan. Shionogi is determined to continue its health management initiatives to be and remain a company that is needed and cherished by its stakeholders for many years to come. All Shionogi employees hope for good health for all people as their personal wish, earnestly engaging in their day-to-day operations and acting out the corporate philosophy to make greater achievements.
The following are the five focal points of the Shionogi Health Policy. For their realization, we are carrying out a range of policy measures to allow the employees to fully demonstrate their abilities at work.
1. Maintain a 100% health checkup receipt rate on a domestic consolidated basis, and promote awareness-raising activities at overseas group companies.
We intend to maintain the rate of participation in periodic physical checkups among Shionogi Group employees in Japan, which has remained at 100% for some time. With regard to Group company employees outside Japan, we have begun looking into their status of physical checkups, preparing to implement measures to encourage greater participation.
2. Reduce the number of employees receiving specified health instructions to prevent the deterioration of lifestyle-related diseases to zero.
We have established a system of collaboration between the Company and the health insurance association for employee health enhancement. Concretely, the two parties share employees' health data, which are analyzed to provide personalized instruction for health maintenance and enhancement and effective disease prevention. As part of this system, two sets of policy measures have been drafted to target employees referred to instruction in lifestyle-related diseases following a physical checkup: one for those in a serious condition and the other for those referred to specific health instruction. 
3. Reduce presenteeism loss.
Presenteeism loss refers to loss attributed to employees who are present at work but are unable to perform as usual or as expected because of their poor mental and/or physical condition.
Shionogi promotes educational activities for employees and society through  following initiatives.
We organized seminars for employees and media organizations on the theme of "presentism loss," a notion that has come to draw attention in recent years as an indicator of labor productivity. The invited expert speaker (Dr. Kou Matsudaira, the 22nd Century Medical and Research Center of the University of Tokyo Hospital) communicated not only medical knowledge but also shared practical information with the audience, such as simple exercises one can do at work to alleviate lower backache. Through this kind of activity, Shionogi strives to raise health awareness on the part of not only its employees but also society at large.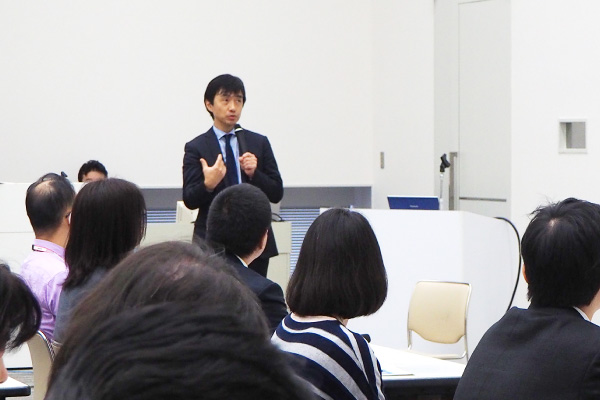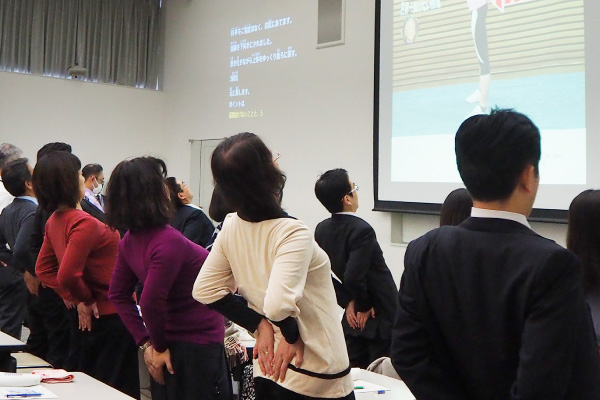 In response to the spread of remote work, we carried out e-learning to introduce work environment improvement at home, back pain countermeasure exercise, lifestyle improvement, etc.
4. Make all business sites smoke free, aiming to achieve the goal of reducing the employee smoking rate to zero.
In July 2018, a law to partially revise the Health Promotion Law was enacted (fully enforced in April 2020), and efforts to prevent unwanted second-hand smoke changed from manners to rules.
The Shionogi Group Smoke-Free Declaration was issued to seize the opportunity of an environment in which all companies were having to ramp up their smoking countermeasures.
Under this declaration, we will promote thorough smoking cessation measures to protect not only Shionogi Group employees and their families, but also all people related to Shionogi from the health hazards of active and second-hand smoke.
As one of the specific internal efforts, we have formed a smoking cessation promotion project by volunteer members. On the 22nd of every month, non-smoking day declared by Tobacco Control Medical-Dental Research Network, project members issue an e-mail newsletter to all Shionogi Group employees that provides useful information as well as messages from Board members including the president to smokers, non-smokers and former smokers alike.
As an initiative for smokers, we are recruiting "smoking cessation challengers" in-house, and smokers are working on smoking cessation with the support of workshops and web interviews with clinical psychologists / certified public psychologists. In 2020, all five Challengers quit smoking for one year and were presented with a smoke certificate. We also provide assistance for smoking cessation treatment and online smoking cessation programs by the health insurance association.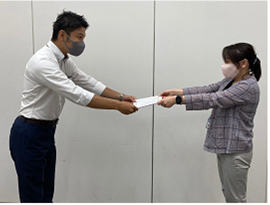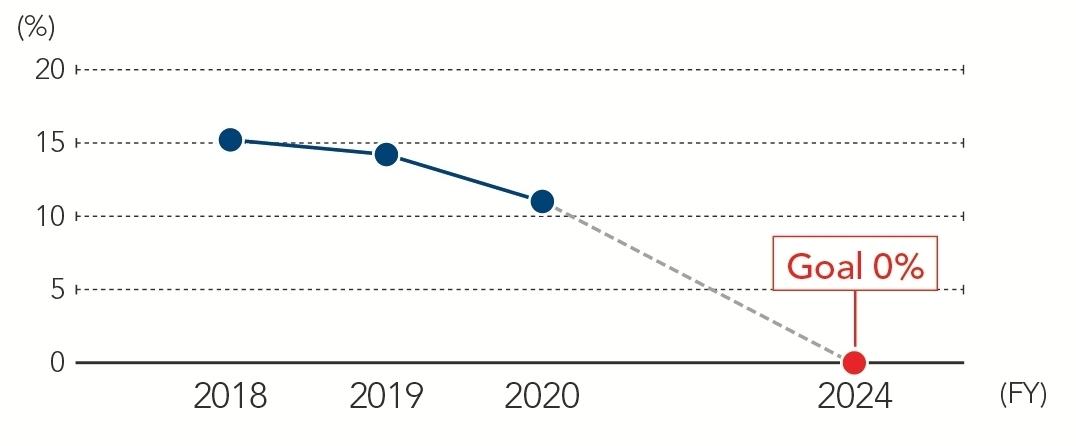 As a result of these efforts, the smoking rate of employees who had exceeded 13% before the Shionogi Group Smoke-Free Declaration was issued decreased to about 7% (as of November 2021)

In addition, we participate in a consortium of smoking cessation promotion companies and, while utilizing information on advanced companies regarding smoking cessation in our internal efforts, are promoting efforts aimed at achieving a zero smoking rate for employees.
5. Promote efforts to create a comfortable workplace environment that is free from mental health problems.
To realize a workplace environment that does not trigger mental health issues among employees, various measures are implemented: for example, educational and training programs for employees, including those in managerial or supervisory posts; counseling; legally recognized tests to check employees' stress levels; and advice and supervision for employees working long hours. Moreover, support is provided to employees on leave due to mental health issues to assist them in planning their return to work and reconciling therapy with work.
As a result of Shionogi's health management initiatives conducted thus far, in March 2022, the Company was selected for the 2022 list of the "Companies with Excellent Health Management."
Under the recognition program, the Nippon Kenko Kaigi examines large enterprises, SMEs and other organizations engaging in initiatives for overcoming health-related challenges in communities or for promoting health-conscious activities led by the Nippon Kenko Kaigi, and recognizes outstanding enterprises engaging in efforts for health and productivity management as the Companies with Excellent Health Management.
As a company selected for the list of the "Health & Productivity" stocks, Shionogi actively assists other companies in their promotion of health management by, for example, speaking with journalists from specialized magazines and sharing information on Shionogi's health management initiatives with other companies at their request to support their drives for health management.