Initiatives at SHIONOGI Group and Offices
Shionogi Group is actively engaged in activities that lead to the development of local communities.
Next generation development
The Shionogi Group is working on various types of support that will lead to the development of children who will lead the next generation.
● Factory tours
Shionogi Pharma Co., Ltd. Kanegasaki Factory, Settsu Factory and Tokushima Factory accept factory tours from high schools and universities in the prefecture. At the Kanegasaki Factory and UMN Pharma Inc. Akita Factory, employees visit high schools and conduct on-site lessons.
2021
2022
Factory tour
Number of times
11
15
Total participating students
134
265
Total participating employees
42
73
On-site lessons
Number of times
3
4
Total participating employees
5
8
● Laboratory tour
At the Pharmaceutical Research Center (Toyonaka City), we have a track record of accepting factory tours for high school, university, and graduate school students for "one-day internships," "comprehensive exploratory learning," and "excellent graduate school programs."
2022
Laboratory tour
Number of times
4
Total number of participating students
47
Total number of participating employees
25
Voices of participating students
・I learned a lot and felt strongly that I would like to be more grateful that we can use medicines with peace of mind.
・Deepened my understanding of the research environment
・The image of working at a company has changed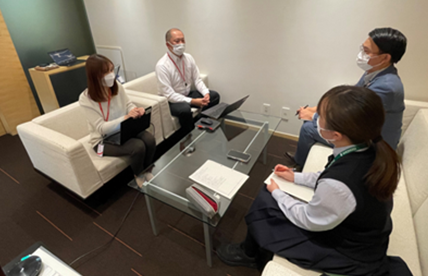 ● Work experience training
Shionogi Smile Heart conducts workplace experience training for employment support organizations and special support schools.
| | |
| --- | --- |
| | 2022 |
| Number of times | 5 |
| Total number of participants | 7 |
| Total number of participating employees | 20 |
● Softball class
To support the development of the next generation through sports, the women's softball club holds softball classes for elementary and junior high school students and high school students.
| | | |
| --- | --- | --- |
| | 2021 | 2022 |
| Number of times | 3 | 5 |
| Total participants | 255 | 373 |
| Total participating employees | 27 | 34 |

● Visiting companies for junior high school students
Giving the next generation, who will be responsible for the future, an opportunity to think about social issues surrounding infectious diseases
We aim to help junior high school students acquire correct knowledge about infectious diseases and contribute to a safe and secure daily life in society.
In addition, we convey the appeal of Shionogi, which is involved in pharmaceutical research and development, from the perspective of career education, as well as the social issues surrounding infectious diseases and Shionogi's efforts to address those issues. We hope that this will give them an opportunity to think about what they can do in society.
We want to convey that if each person thinks for themselves in their daily lives and takes action, even on small things, they will not only protect themselves, but will also protect the people around them and help solve problems facing society as a whole. 
● Cooperation with the National High School Students Town Development Summit 2021 in Amagasaki
Shionogi Career Development Center Co., Ltd. provided a venue for the summit held by high school students working on regional activities all over the country, and gave a lecture as a lecturer (August 2021).
● Medicine Class
In December 2021, the winter vacation event "Medicine Class" of the kids school Gloridge in Osaka City was held at the Shionogi Co., Ltd. CMC Innovation Center.

At Gloridge, this event was planned because Shionogi employees are undergoing training at V: DRIVE (a dispatch training program at a venture company operated by the Osaka Industry Bureau).
Twelve children aged 3 to 6 participated in the event. Through lectures (about colds, hand washing, medicines) and hands-on experiments (tablet / capsule making, analysis experience, etc.) by researchers belonging to the CMC Research Headquarters, the participating children became an opportunity to deepen their curiosity about science and medicines.
Environmental conservation
Activities through the Aburahi Botanical Garden
At Aburahi Botanical Gardens, we are working to conserve rare species, including endangered species (about 60 species) that fall on the Red List issued by the Ministry of the Environment, in collaboration with botanical gardens around the country. In addition, as an educational support for children who will lead the next generation, we have set up a herb garden in a nearby elementary school and are conducting hands-on lessons using the plants cultivated there. We invite teachers from the botanical gardens of Kobe Pharmaceutical University and Kyoto Pharmaceutical University as lecturers.
The botanical garden tour is also used as a learning opportunity for seniors living in Shiga Prefecture, where the Aburahi Botanical Garden is located.
2021
2022
Botanical garden tour
Number of times
4
13
Total participants
84
153
Total participating employees
13
64
Visiting classes
Number of times
4
4
Total participating employees


12
20

● Received a letter of appreciation from the Governor of Shiga Prefecture

Aburahi Botanical Garden exhibited approximately 120 Lilium lilies that bloomed in conjunction with the tree planting festival at the 72nd National Tree Planting Festival Shiga 2022 held in Koka City, Shiga Prefecture on June 5, 2022. received a letter of appreciation from Shiga Prefecture.
Because the flowering period of Sasayuri is short, about one week, it is difficult to get flowers to bloom on a set schedule. We cultivated while making adjustments, and on the day of the ceremony, we succeeded in exhibiting beautifully blooming lilies.

Kelp Forest Regeneration Project
Shionogi Healthcare Co., Ltd. has launched the "Kelp Forest Regeneration Project" in July 2021 in Hakodate City, Hokkaido, in collaboration with Hakodate City with the aim of protecting endangered natural Kjellmaniella crassifolia kelp and building a mechanism to improve the use of cultured Kjellmaniella crassifolia kelp. The natural product of Kjellmaniella crassifolia kelp, which contains a large amount of "fucoidan", is in danger of disappearing due to the effects of rising seawater temperature. By switching from natural to aquaculture, we would like to restore the production of Kjellmaniella crassifolia kelp through the protection of natural Kjellmaniella crassifolia kelp.
Cleaning activities around the offices
At Shionogi Pharmaceutical Research Center, Shionogi Smile Heart Co., Ltd., Shionogi Pharma Co., Ltd. Kanegasaki Factory, Tokushima Factory, Itami Factory, and UMN Pharma Inc. Akita Factory, we are cleaning the area around our offices. At the Shionogi Pharma Co., Ltd. Kanegasaki Factory, snow removal work is also carried out in winter.
This activity also serves as a watch over the elderly who live alone to make sure that they are doing well.
| | | |
| --- | --- | --- |
| | 2021 | 2022 |
| Number of times | 20 | 74 |
| Total participating employees | 350 | 686 |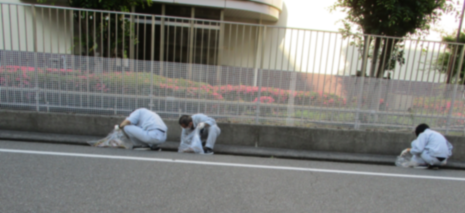 ● Donation to food bank

By donating the emergency food stockpiled in our offices and factories to the food bank and making effective use of them at welfare facilities and support organizations, we contribute to the creation of a place where "food" connects and the reduction of food loss in the community. This activity was started based on a proposal from SHIONOGI employee. We will continue to work toward discovering and solving social issues with the aim of realizing a sustainable society.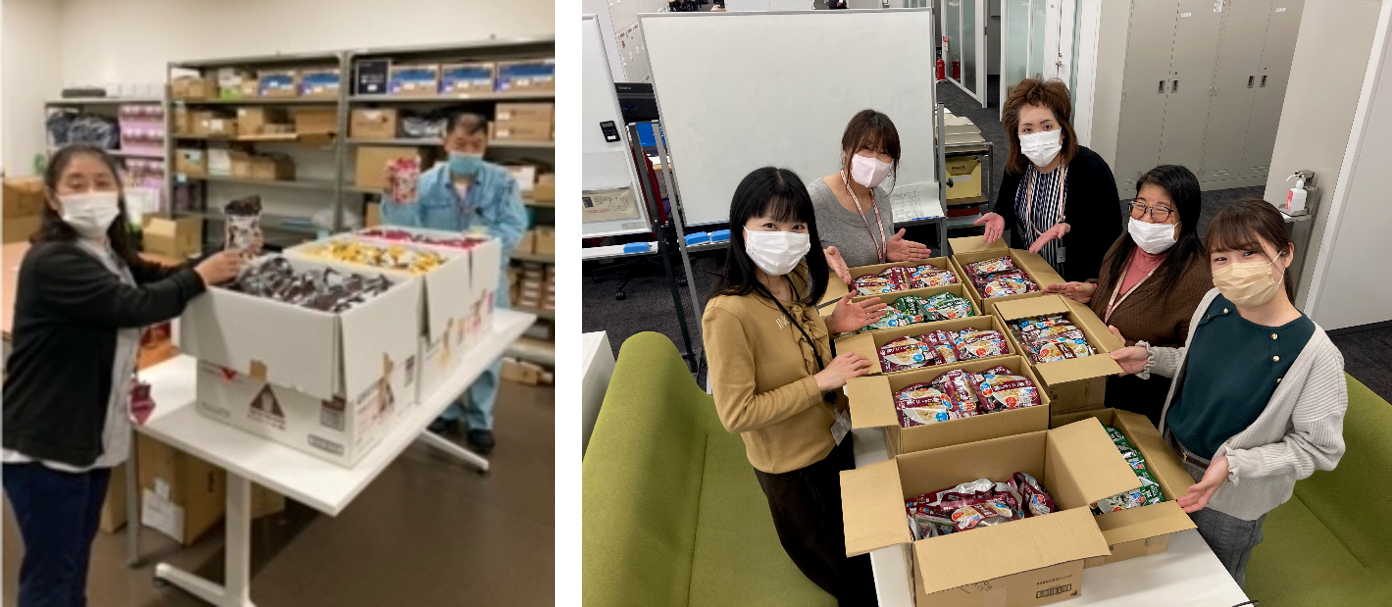 ● Donation to Keep Mama Smiling
In fiscal 2021, Shionogi Healthcare will provide "Isodine Clear Mouthwash" as an infection control to "Keep Mama Smiling," a non-profit organization that supports families accompanying children in the pediatric ward. We donated "Kenko Keikaku Totono Ale" to support health food. The donated products were delivered to the families with attendants as "meal de smiling" delivered with lunch boxes and "attendant life support pack".
Voices from accompanying family members

•It was nice to use mouthwash because the room was dry.

• It was helpful to have a mouthwash that is unique to today.

•I want to try "Totono Ale" as soon as possible because my life has changed and my bowels aren't feeling well.

● Donate a part of the sales of vending machines
Since 2021, a part of the sales of Asahi Soft Drinks Co., Ltd. vending machines※1 installed at the head office and neighboring offices has been donated to the "National Food Support Activity Cooperation Association"※2.
※1

A mechanism that can automatically donate a part of the sales commission acquired by the installation site to the desired donation destination according to the sales amount

※2

The "National Food Support Activity Cooperation Association" is called "Meals on Wheels Logistics System (commonly known as MOWLS)" and is working to improve the food distribution system through activities to create a place for children such as cafeterias.
● Acceptance of factory tours
UMN Pharma Inc. Akita Factory, in collaboration with the Akita Sales Office, 1st Sales Department, Pharmaceutical Business Headquarters, accepts factory tours for doctors from the Akita Medical Association and Akita City Medical Association.
| | |
| --- | --- |
| | 2021 |
| Number of times | 4 |
| Total participating doctors | 12 |
| Total participating employees | 8 |
● Blood donation activities
Shionogi Group carries out blood donation activities at its business sites every year.
| | | |
| --- | --- | --- |
| | 2021 | 2022 |
| Number of participating offices / factories | 6 | 5 |
| Total number of times | 9 | 7 |
| Total participating employees | 248 | 157 |
● Social contribution activities through recycling
Shionogi Pharma Itami Factory provides vaccines to developing countries by recycling PET bottle caps, and donates wheelchairs by recycling drink can pull tabs.

● Initiatives at Shionogi Inc.
・ Donated to the Burn foundation of America, which operates a simple accommodation facility where you can stay with your family during the treatment period.
・ Supporting a shelter for women who have been abused locally by donating by participating in the 5km marathon sponsored by Verizon.

・ Food drinks, stationery, etc. were presented to people working at hospitals around Phoenix, Arizona, with a message.