Shionogi is committed to protecting biodiversity. We endorse the "Declaration of Biodiversity by Keidanren and Action Policy," publishing our ambitious action policies f or and specific activities on biodiv ersity as part of the "Initiative based on the Declaration of Biodiversity by Keidanren". (Refer to"Topics" )
With regard to our environmental activities concerning biodiversity, we set action targets and organize related programs, including education for employees. All such activities conform to the Act Concerning the Conservation and Sustainable Use of Biological Diversity through Regulations on the Use of Living Modified Organisms ("Cartagena Act") and the Invasive Alien Species Act.
At the Botanical Gardens within the Aburahi Research Center, we preserve endangered species and rare plants. We also use the Botanical Gardens for the benefit of the local community mainly through events that we organize to support education for local children, future community leaders.
As our general education support at Aburahi Elementary School, a public school in Koka City, we organize workshops in which pupils try their hand at dyeing goods with dyes taken from indigo plants and purple gromwell cultivated in the herb garden we have created on the school grounds, and we organize classes wherein pupils learn about plants by touching and observing plant roots, leaves, seeds, and fruits in the Botanical Gardens. We hold these events in partnership with Kusuri Gakushukan (Pharmacological Learning Center) in Koka City and other local corporations, with experts from the botanical gardens of Kobe and Kyoto Pharmaceutical Universities serving as guest lecturers. The events are highly appreciated as initiatives that support children's learning for the future through collaboration among local government, academia and the business c ommunity. In 2019, Aburahi Elementary School was honored with the Education Minister's award in the National Schoolyard and Childcare Centre Yard Biotope Contest for the school's activities, which were recognized as the best among the contestants.
As for the preservation of endangered species and rare plants, in FY 2019 we transplanted some wild anemones (Anemone keiskeana), autogenous on the premises of Taki Shrine, a protected natural habitat in Shiga Prefecture, to the Aburahi Botanical Gardens, thereby starting ex situ conservation in anticipation of extinction in the natural habitat. In Shiga Prefecture, Anemone keiskeana is designated as a rare wild plant species and as a species exposed to increased risk of extinction.
The Shionogi Group intends to continue the management and maintenance of the Aburahi Botanical Gardens, through which we carry out conservation activities as described above and contribute to education in the local community.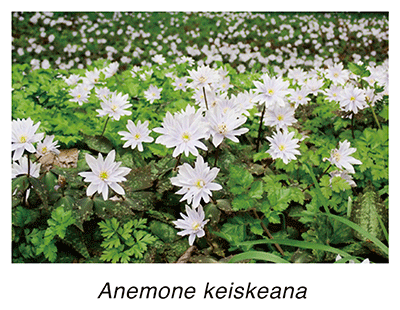 "Shiga Prefecture Certificate of Biodiversity Initiatives" for the Botanical Gardens
The Aburahi Botanical Gardens has obtained a "Shiga Prefecture Certificate of Biodiversity Initiatives (One Star)" in recognition of community activities viewed as effective initiatives for the protection of biodiversity and the sustainable use of natural resources.