First Term Project : Ilaramatak, Osupuko Division, Narok County, the Republic of Kenya
In Africa, the lack of quality and accessible healthcare, complications during pregnancy and unsafe birth settings have resulted in one of the world's highest maternal mortality rate, approximately 77 times higher than Japan[*].
Mother to Mother SHIONOGI project in collaboration with international NGO World Vision is committed to improve effective healthcare for mothers and children in Kenya.
* Retrieved from WHO, "Trends in Maternal Mortality: 1990 to 2013".
Vision
To develop sustainable community for the well-being of mothers and children.
Project Goal
Pregnant and lactating women and children under 5 years of age have improved maternal and child health
Location
Ilaramatak, Osupuko Division, Narok County, the Republic of Kenya
Target population
14,612 (direct beneficiaries: 5,947; indirect beneficiaries: 8,665人)
Term
April 2015 to September 2020 (Five years)
October 2020 to July 2021 (Extended due to COVID-19)
Budget
106.15 million yen
Healthcare issues for mothers and children in Ilaramatak
Project location:
Ilaramatak, Osupuko Division, Narok County, Republic of Kenya
Project population:
14,612 people, which includes 2440 children under 5 years old and 3,507 reproductive-age women.
Osupuko Division, Narok County, is one of the areas with extremely high poverty rates in Kenya. While offering views of Africa's grand nature and wildlife, the people live in harsh conditions due to the lack of social infrastructure, such as electricity and water supply. As schools and clinics are scarce, it is not unusual for children to travel 10 kilometers one way to school each day or for sick people to walk long distances to a clinic to receive basic treatment. With the nomadic Maasai people accounting for more than 90% of the residents, the area retains a strong influence of traditional customs.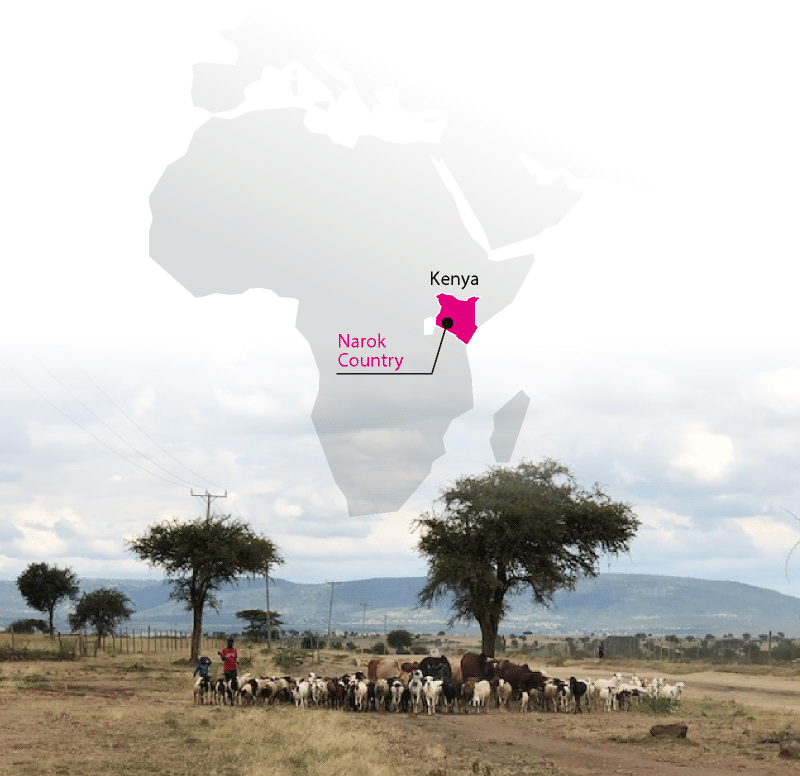 Health data (reference values)
Japan
Kenya
Ilaramatak*5
Deliveries at health facilities*1
100%
43%
9.4%
Stunt rate (chronic malnutrition)
Kenya*2, Japan*3
6.3%
26%
39.3%
Wasting rate (acute malnutrition)
Kenya*2, Japan*3
2.3%
4%
10.9%
Full vaccination coverage
Kenya*4, Japan*1
>90%
79%
73.8%
The above is the data prior to start of the Project. The sources are as follows:
*1 The State of the World's Children 2015, UNICEF
*2 Data of Kenya, excerpted from UNICEF Data Warehouse. https://data.unicef.org/dv_index/
*3 Data of Japan, excerpted from WHO Website. https://platform.who.int/data/maternal-newborn-child-adolescent-ageing/indicator-explorer-new
*4 Kenya Demographic Health Survey 2014
*5 All figures about Ilaramatak are excerpted from WVK Internal Assessment Report (2014). 

Various health indicators show that maternal and child health in the project location, Ilaramatak is lower than the entire country's average.
Causes:
Lack of capacity and quality healthcare.
Lack of structure and management of community health volunteers and hospital.
Lack of training and skills of community health volunteers. Lack of understanding about the importance of health among local residents.
Gender inequality, and others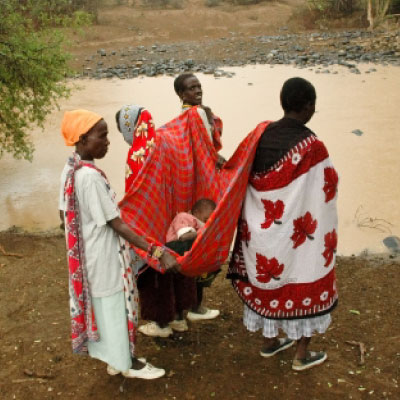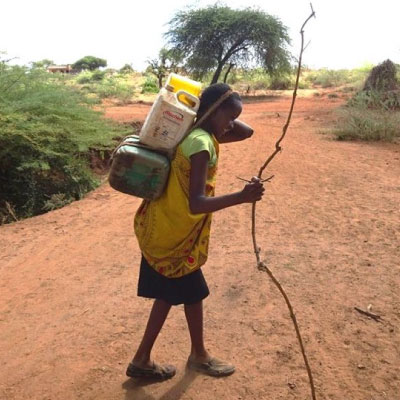 Description of activities
The Project aims to improve the health conditions of children and mothers of the region by raising the quality of healthcare facilities, improving healthcare services for mothers and children, and raising awareness and changing the behaviors of residents in Osupuko Division, Narok County.
Build healthcare facilities and mobile clinics
Construction of healthcare facilities and mobile clinic to improve uptake of maternal and child health services.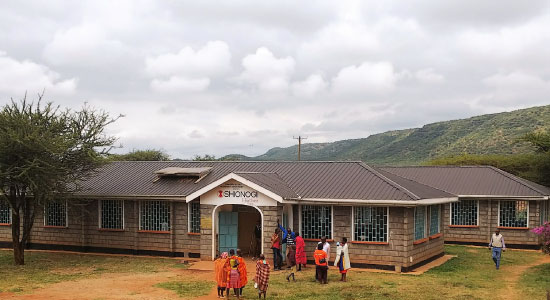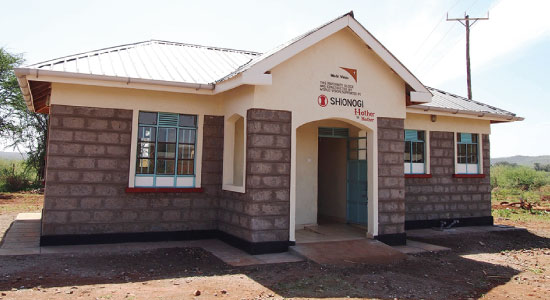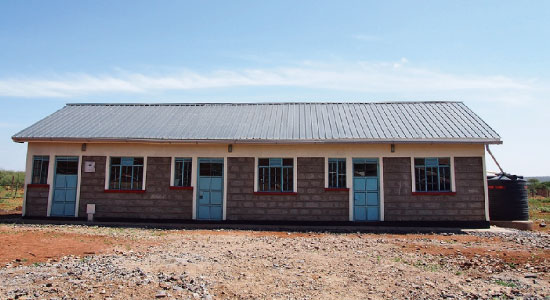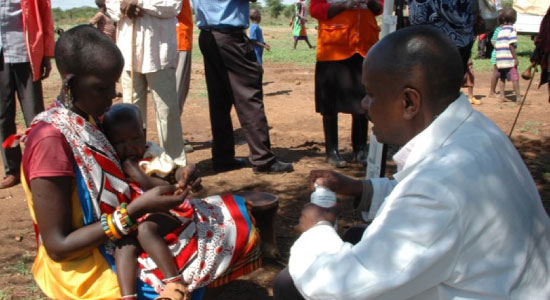 Build water supply facilities
Difficulty in securing safe drinking water
Issues in hygiene practices (handwashing, outdoor excretion)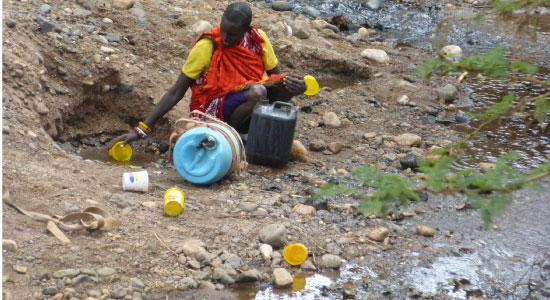 Well digging and construction of water supply tanks
Water stations and water holes for livestock
Handwashing guidance at schools
Construction of toilets by households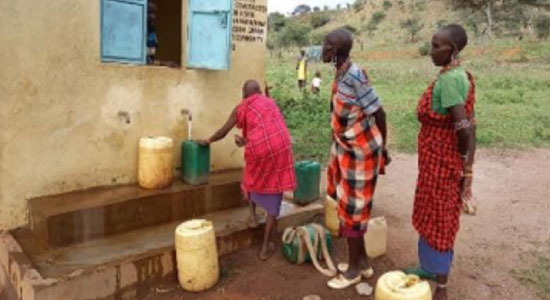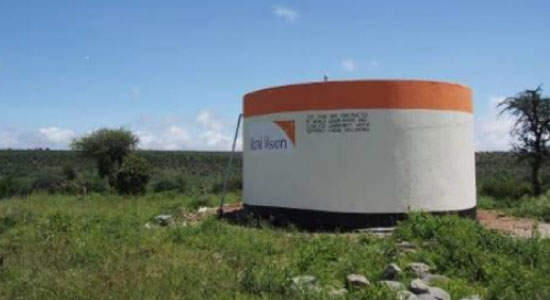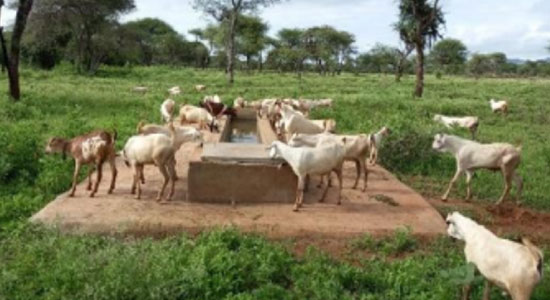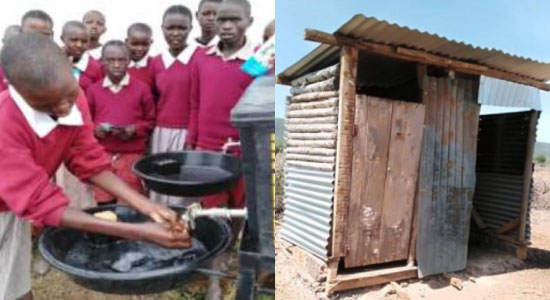 Education for health professionals and residents of the local communities
Awareness-raising campaigns were implemented through Community Health Volunteers (CHVs), Mother to Mother groups, and health clubs at schools to ensure that appropriate knowledge on hygiene and behavior can be disseminated in communities and schools.
Handwashing, wearing masks, awareness-raising activities on infectious diseases, and the distribution of sanitizers and disinfectants were also carried out.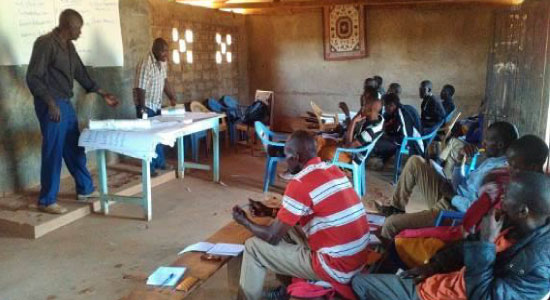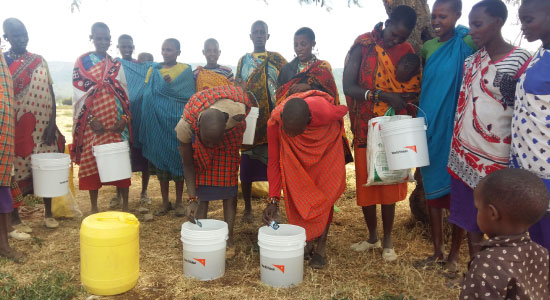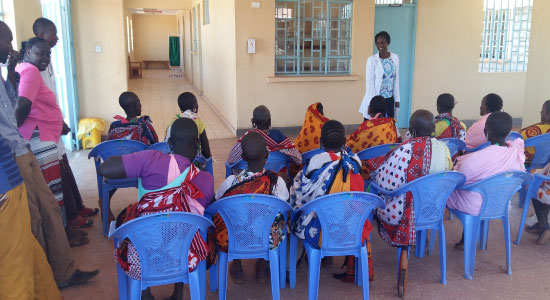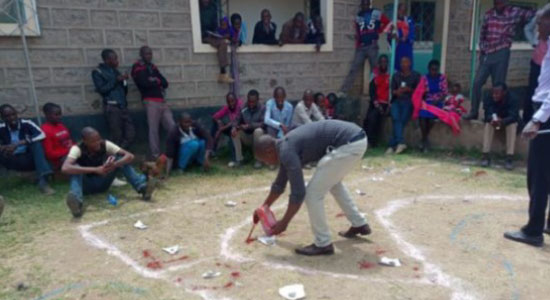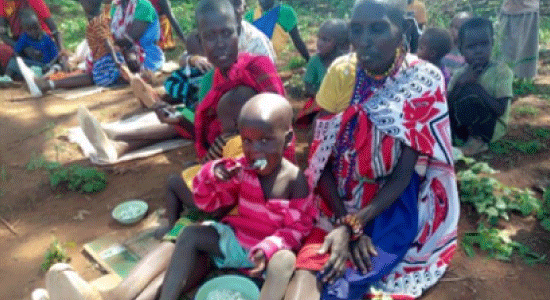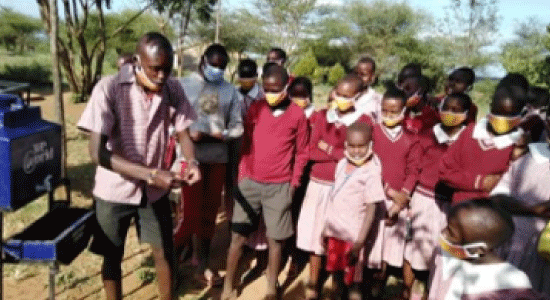 Improved access to medical services
The Project built healthcare facilities and water hygiene infrastructure, as well as providing education to local health personnel and residents. These activities led to local residents' greater understanding of the importance of healthcare services, resulting in an increase in the number of people visiting health facilities by 1.8 times compared to that before the Project started and a rise in the percentage of childbirth in healthcare facilities from 4% to 47%. The full vaccination coverage of infants aged 12 to 23 months also improved, enabling more people to receive healthcare services.
Access to wells during the dry season has also improved with the construction of water supply facilities and education on hygiene for residents. The percentage of people washing their hands with soap and exclusively breastfeeding has also increased, while the frequency of detecting E.coli in households both in and around water sources has improved by 66%.
This comprehensive approach has resulted in improvements in the prevalence of diarrhea and stunting and wasting rates among children.
Increase in access to clinics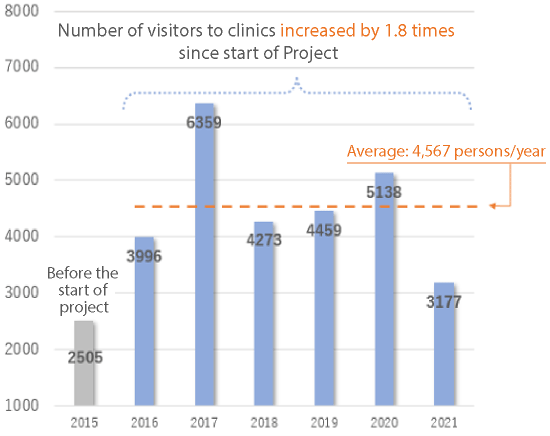 Increase in maternal/child health service users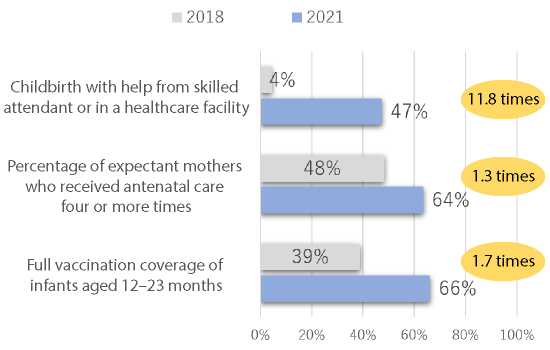 Source: World Vision Evaluation Results
Voices from the community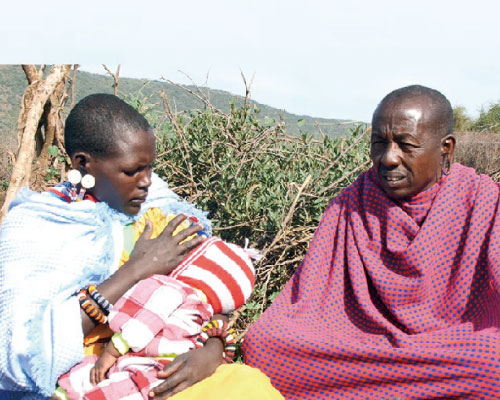 "My wife recovers faster after giving birth in health facility compared to giving birth at home."
Village chief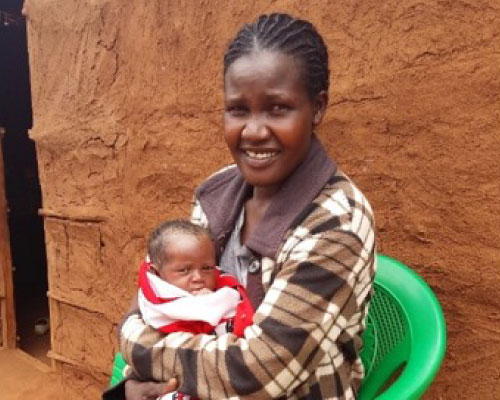 "This child was born in a hygienic environment of a clinic built by the Project and was able to receive vaccination immediately. The clinic also taught me that it is better to breast-feed a baby until it is 6 months old."
Evaline Moloi (mother of seven)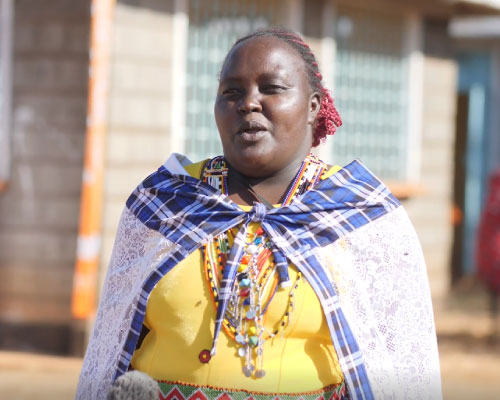 "I used to travel to a hospital 62 kilometers away to receive my medicine. Since this Project provided a maternity ward and medical equipment as well as clean water, mothers can now give birth in the clinic."
Jenifer Mbung'i (a mother in the region)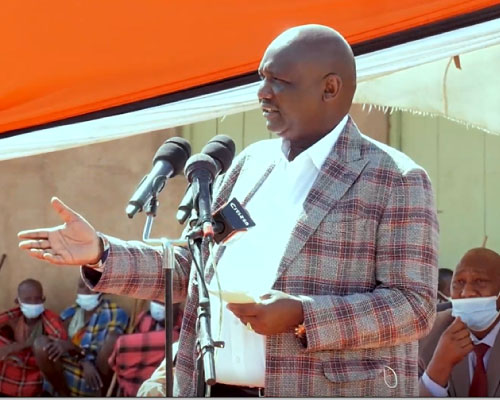 "Since the completion of the clinic, the government of Narok County has been hiring clinic staff and providing pharmaceuticals. We will continue to make efforts to upgrade the clinic to a healthcare center. "
Governor of Narok County (speaking at the clinic's opening ceremony)
Media Seminar (March 16, 2022)
A seminar for the media was held on March 16, 2022 to present the results of comprehensive project activities in the First Term. Results from an epidemiological study by the Institute of Tropical Medicine at Nagasaki University, which examined changes in the behavior and health of the Maasai, were also presented at this seminar.
Please check out the approaches taken during this activity.
Photographs courtesy of World Vision Japan